BLOG
Bobby's Fully Charged!
A massive thanks to Mr Red Dwarf EV evangelist Robert Llewellyn, who came to my place for a chat and drive in the Flux Capacitor. Judging by the giggles I think he enjoyed himself. Some tyres were harmed in the making of this video...
Special thanks to Nicky boy Farrow at www.gasit.co.uk for always being there to prep the Enfield and make sure she didn't electrocute us.

Behold! Europe's Quickest Street Legal EV
Apologies for going quiet on the blog recently. If you've been following me via Twitter (@carpervert) you may know that since late April the Flux Capacitor became track-worthy and ready for shakedown. Here is what happened when I first got behind the wheel after 3 years of getting the Flux Cap to this level. Be warned, I was a little excited...

Within half a dozen runs on Santa Pod's strip we'd added amps gradually and gone from a 16 second to a 12 second quarter mile. The first weekend's racing finished on a 12.56 second pass @ 101mph. We broke the 100mph barrier at 1400 (of the 2000 available) amps.
The Flux Cap Enfield wasn't even breaking a sweat, or traction for that matter. The wheelie bars were there for precaution, but the street tyres and four-link rear suspension seemed to cope just fine.

The next event we experienced a technical brain freeze with the ECU, which was deflating, but came back to Santa Pod raceway the following meeting with repairs made and teeth gritted. It was time to feed in a few more amps (which is torque) and volts (which dictates our top speed). In July I entered the 11 second bracket, which was a speed I'd never thought possible in the Enfield. We also started baiting Supercars, like this modified 600bhp 997 911 Turbo (with launch control - something I definitely don't have) and losing windows at speed. The latter wasn't so much fun, so I've now bolted them in:

And then we pitted up against a fully fledged BTCC touring car Audi A4, complete with slicks. Bear in mind I'm always racing on street tyres. Let's just say Rob Austin Racing didn't enjoy getting their arses kicked by a 9ft long yellow Lego brick.
Without the help and tireless R&D of Olly Young at Current Racing this project would never have got this far. Olly and his brother Sam are the only other electric drag racers in the UK, so we thought we'd have a heads-up race. I lost, but mine is street legal ;-)
With careful tweaks to the ECU and working our way up the amps slowly, the Enfield kept progressing. We had no idea that the car could go beyond an 11.67 @ 109 mph, but we wanted to give it a shot. So, we changed the rear axle gears for a taller final drive. Until now it was 3.00:1 ratio, and it was swapped for a very rare (totally obsolete) 2.49:1 ratio. Why? Because the Enfield's twin 9" electric DC motors were hitting their 5000rpm limit before the finish line, and as we had no gearbox, the only solution was to bring the revs down by making the gearing higher. The results were good. Very bloody good actually.

First early 11s were achieved. Which pricked up the ears of the BBC regional news...

And then, with an MoT and all, we smashed the Tesla Model S P85D quarter mile of 11.6 by going into the 10s. Here's what it looked like. Smooth and stable, and rather slow when racing next to a 2000bhp Nissan GT-R:

We were now going properly fast. 0-121mph in 10.84 seconds.

0-102mph in 6.9 with an estimated 0-60 up there with P1s and LaFerraris. I'm serious.
It's now I need to thank the people who have enthusiastically and patiently supported the project from the start;
Adrian Flux Insurance, npower energy, Hyperdrive Innovation, Red Maple IT solutions, Plastics4Performance, Black Cat Race graphics, Roadhouse Retro, BG Developments, Wicked Wheels and my good friend / crew chief Nick at Gas It refillables.
Amazing to think it all started like this in 2012:
Stay tuned to Twitter for updates and future plans for 2016. I've got a few ideas...

I'M ALL ABOUT THE BASELINE.
The Enfield 8000 is now up to full fighting kerb weight. The light is glinting at the end of the tunnel. Baseline time, which basically means setting up the car to a decent standard ready for some shakedowns.
And who better to do this than the man who built the cage, suspension and chassis mods in the first place – Jon Webster at Webster Race Engineering. It looked a bit out of place next to his slingshot Hemi nostalgia dragster…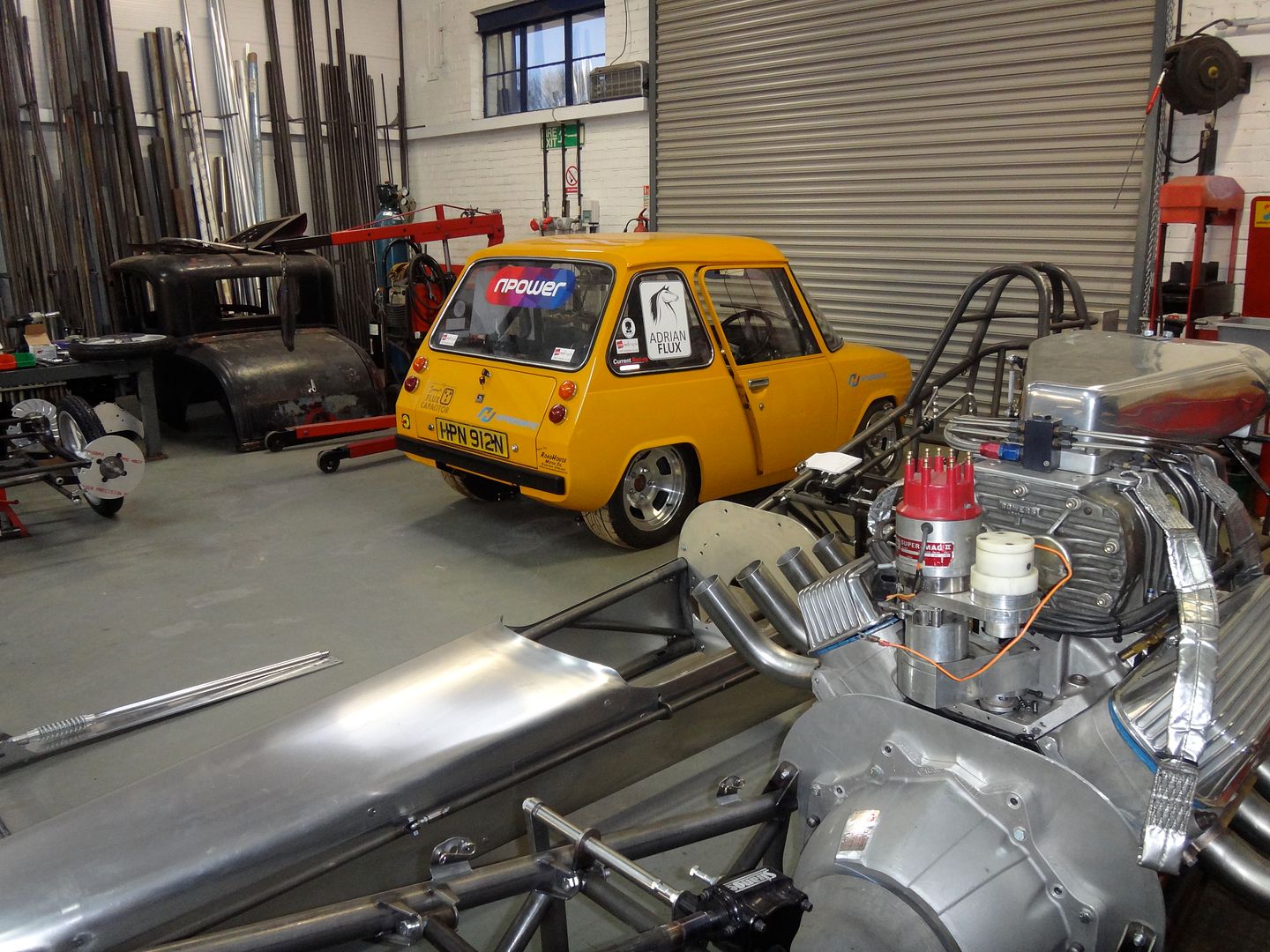 Jon wasted no time in first fitting the crucial motor coupling – the vital machined link between the two series mounted 9-inch 'leccy motors – which you can see sitting in their box steel cradle under the car.
Here's that tiny but vital motor coupling.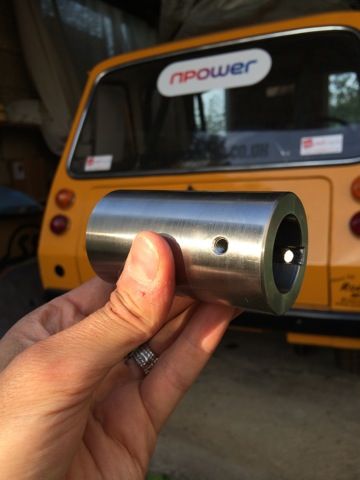 To remind you, here's what the teeny tiny propshaft looks like suppling drive to the narrowed four-linked Ford 9-inch drag axle.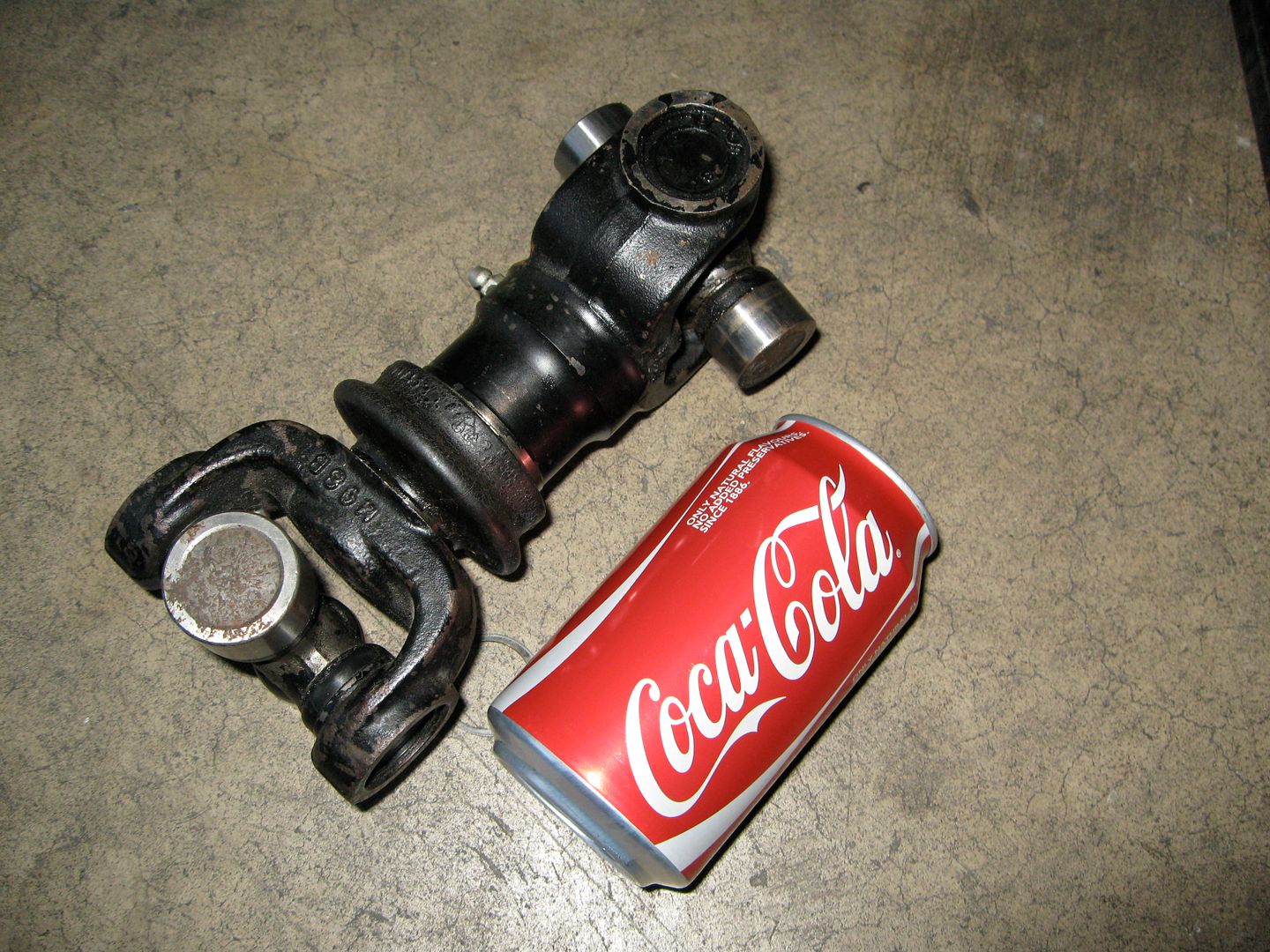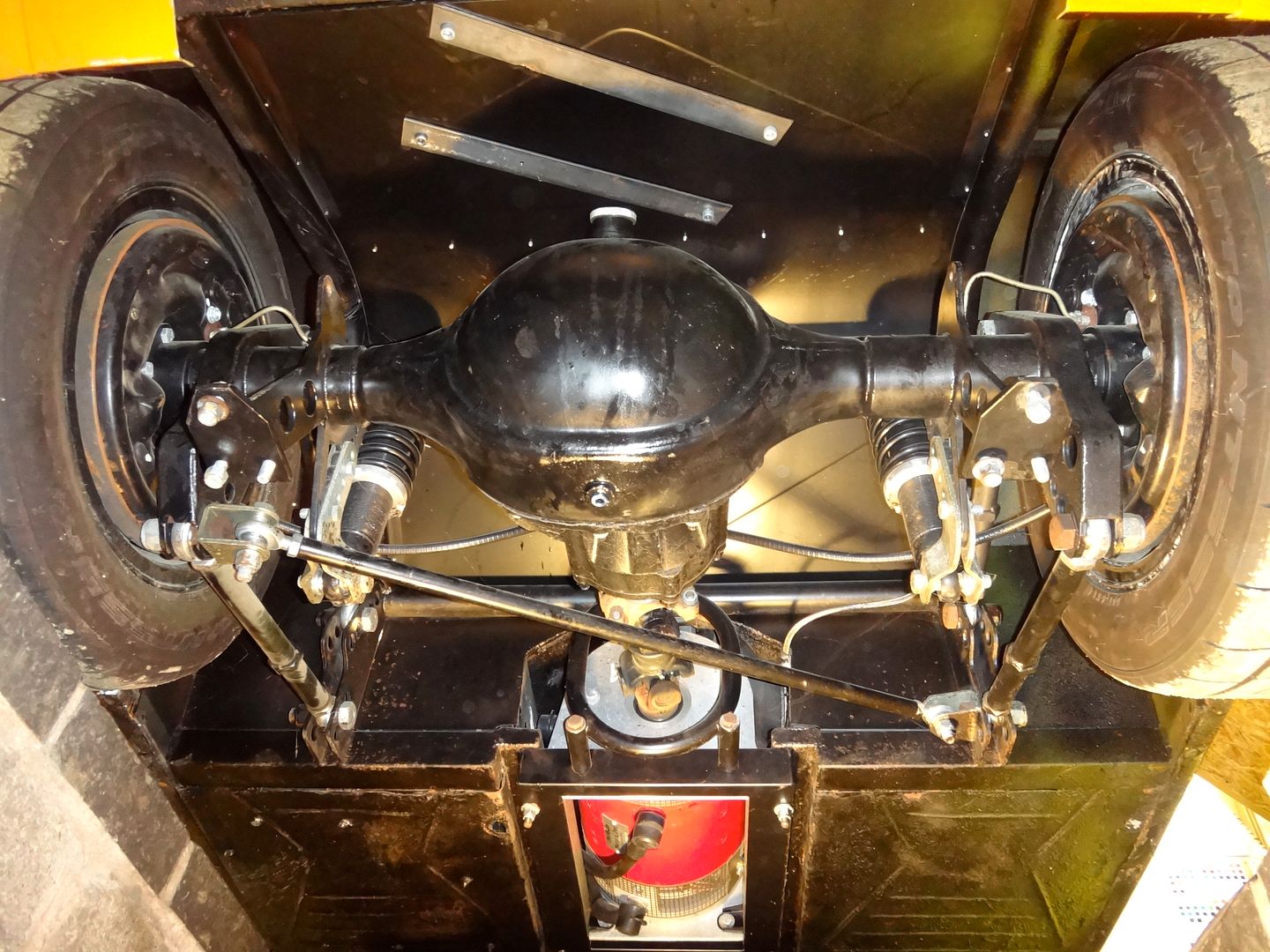 Jon then checked and filled the brake system. The custom made front disc conversion from BG Developments nipped up a treat. I've said this before, but the calipers and carriers are feather-weight things of beauty.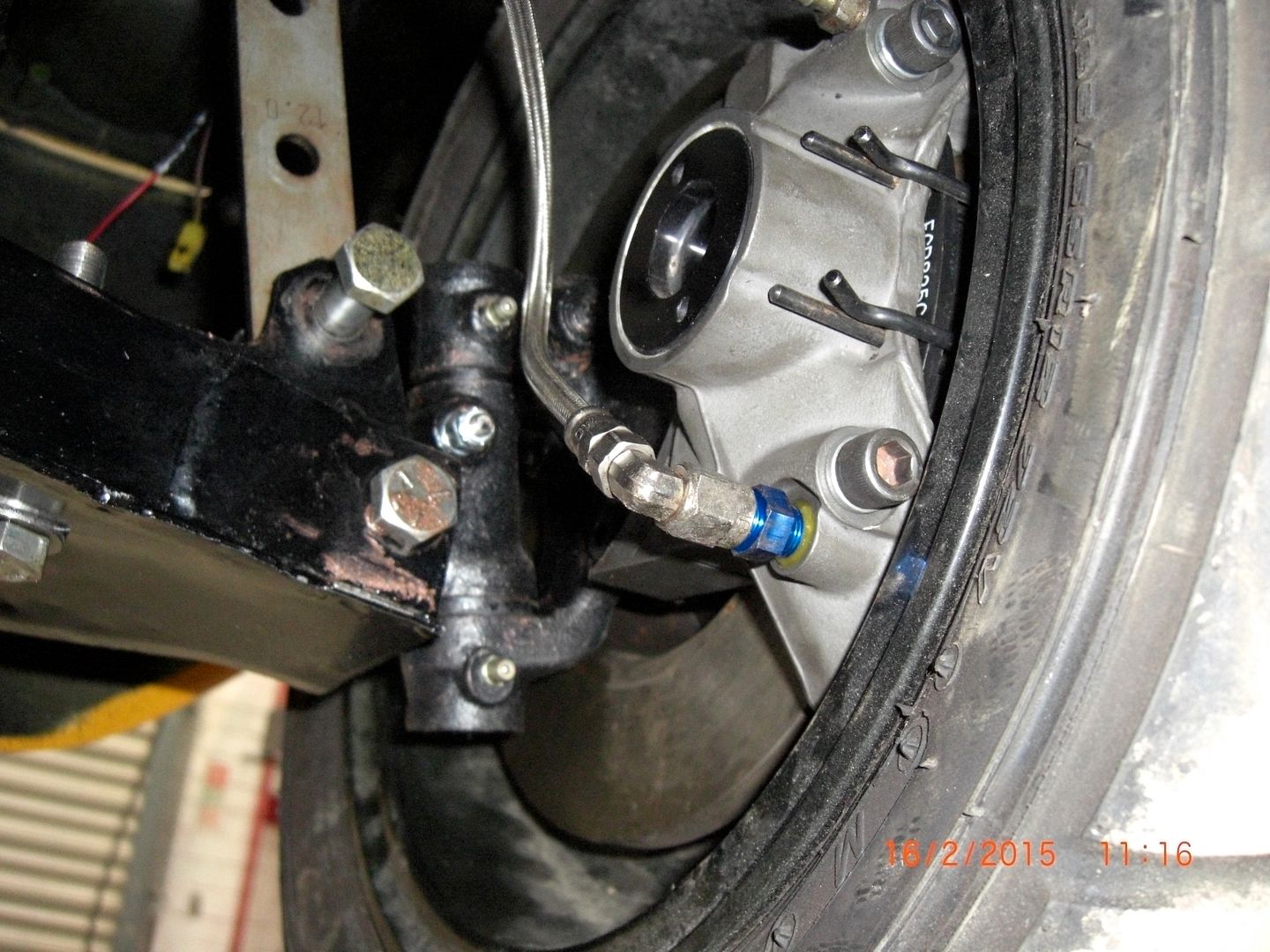 With the tracking adjusted and correct damping rate Avo shocks fitted, Jon got the corner scales out. Here are the stats:
1064lbs = 482.6kg front.

881lbs = 399.6kg rear.
1945lbs total. That's 882kg in new money.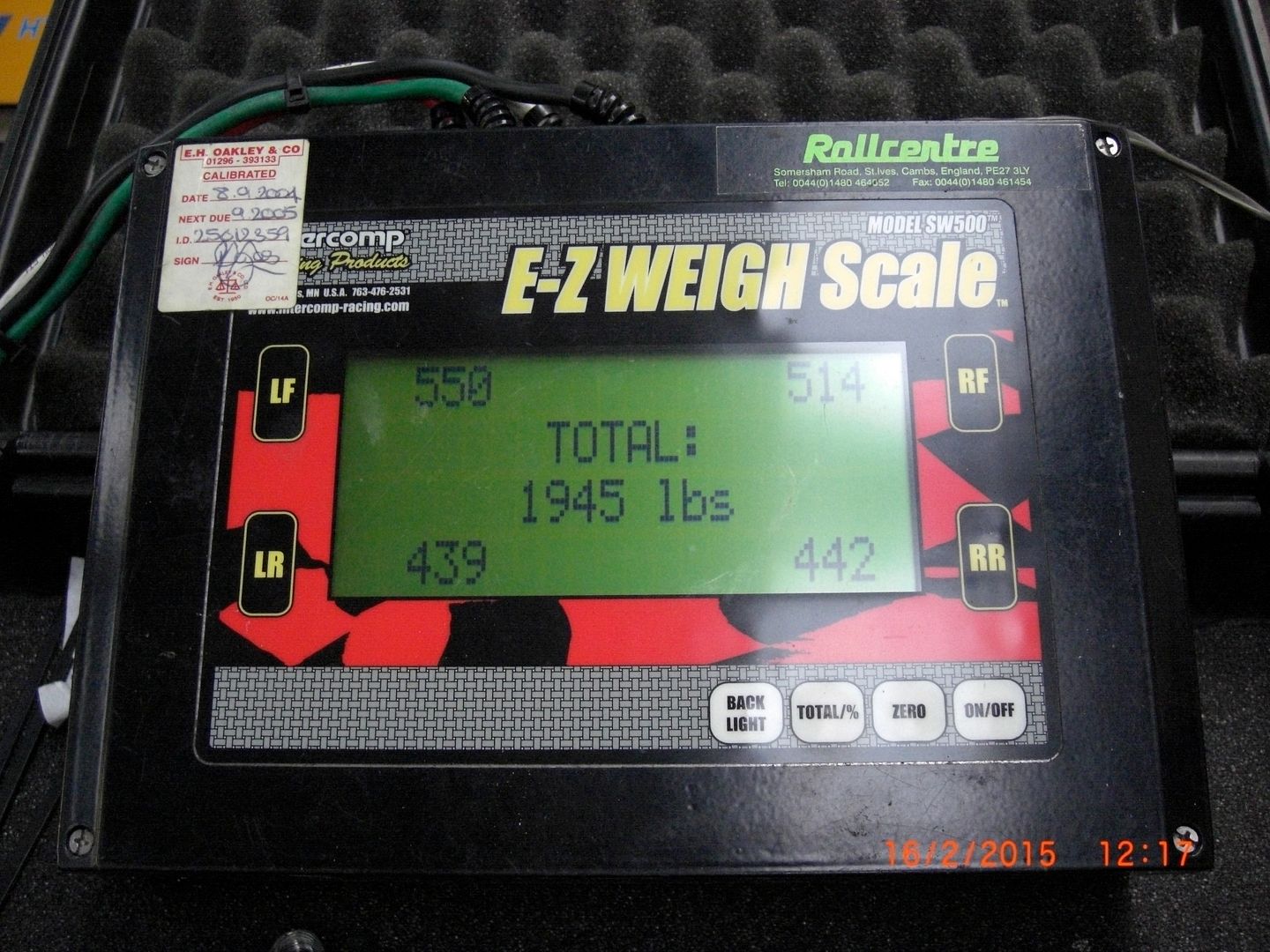 More weight up front is regarded as advantageous in drag racing, and then as you accelerate that mass pushes to the rear. It would have been good to have got the kerb weight under 800kg but I don't want to hack the car about to the point of zero originality. Remember the entire bodyshell and about 60% of the chassis is factory standard!
Jon adjusted the steering geometry (original Hillman Imp rack was fine but I replaced all track rods with beefier mk2 Fiesta items and urethane wishbone bushes).
So now the Flux Capacitor's brakes work. It steers properly. The driver's door shuts properly. It was time to make it drive under its own volts for the first time. Off to Hungerford where my EV mentor Olly at Current Racing would help me.
BATTS OUTTA HEAVEN!
Fiiiiiiiiiiiiiiiiinally. Here is the completed battery pack for the Flux Capacitor as made by Hyperdrive Innovations using Kokam lithium-ion cells.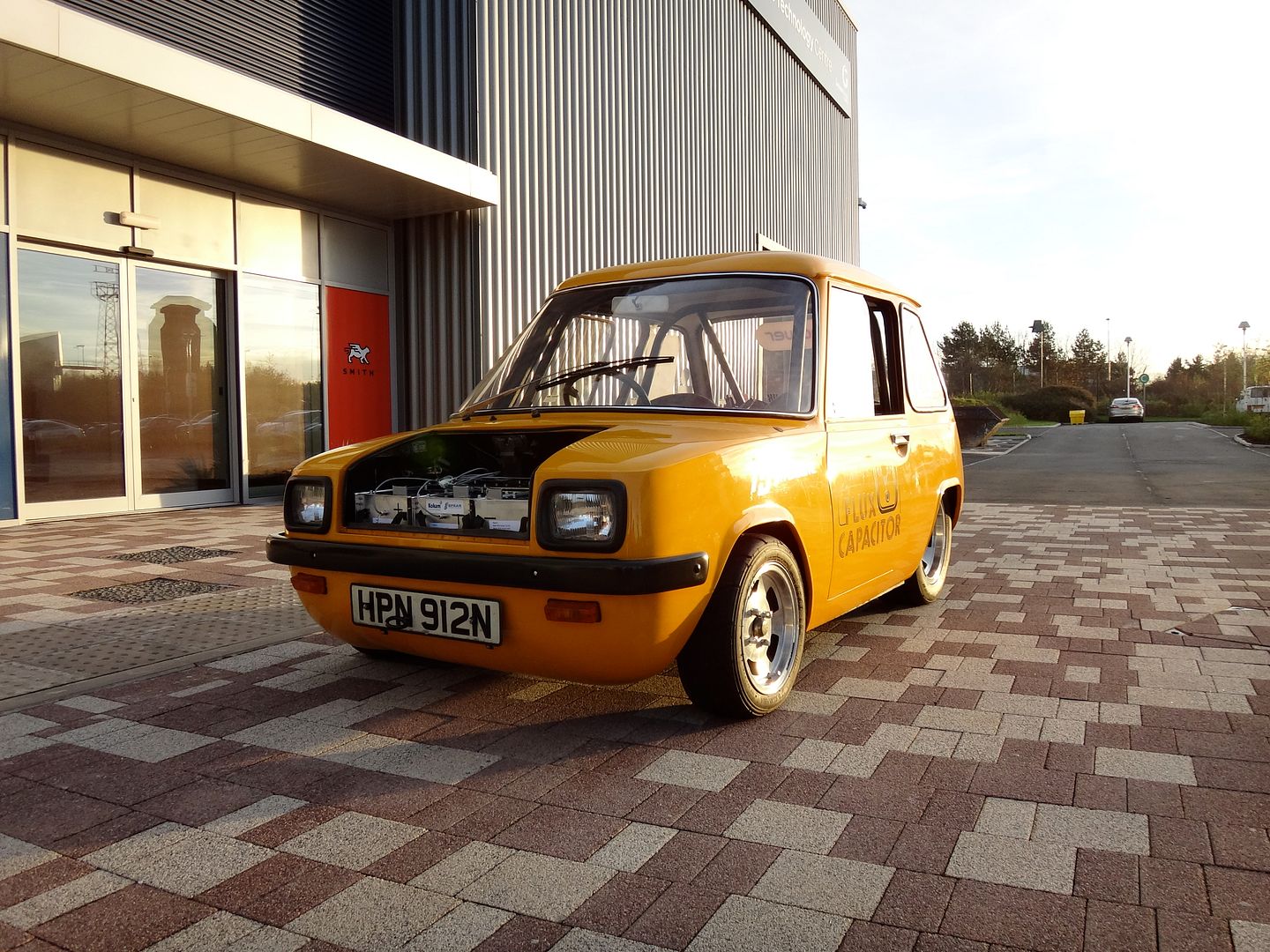 Last blog I tried to show the immense effort taken to build batteries capable of delivering 370 volts, 600kW, 2000+ amps, 1003hp, 1100lbft that weigh less than 150kg. Well, here you go. I still can't compute the stats when I stare at this strange electrical package.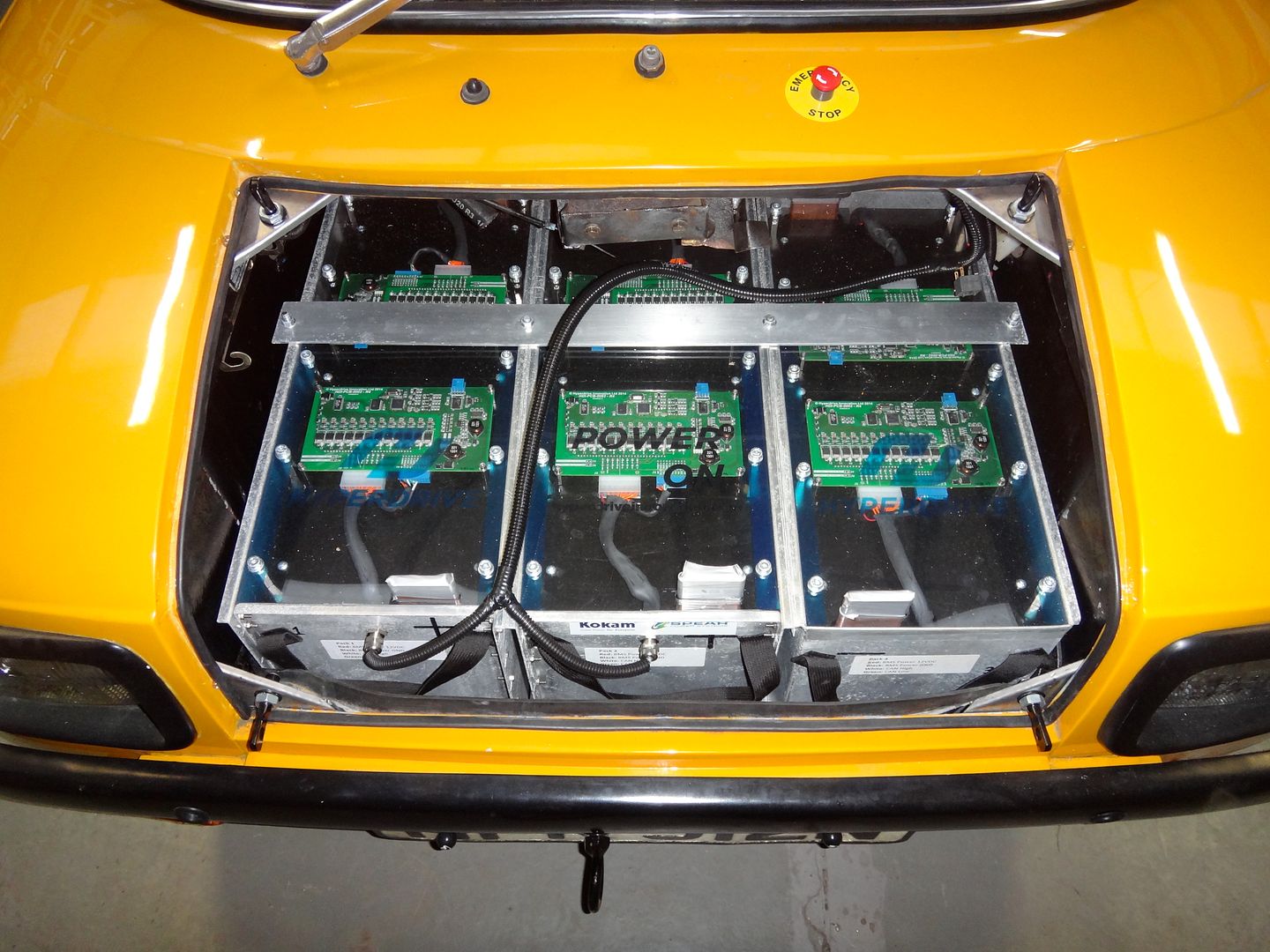 To recap, this is 144 Li-MNC 30 amp 4.2v pouch cells in total, carefully packaged (vertically stacked) into three aluminium enclosures; 2 in parallel and 1 in series. The military grade cells were shipped over from Kokam in Korea, who have put a value of $80,000 on them. Yeah, $80k. And that's without the Hyperdrive custom battery management system.
It started as a design on a computer screen like this…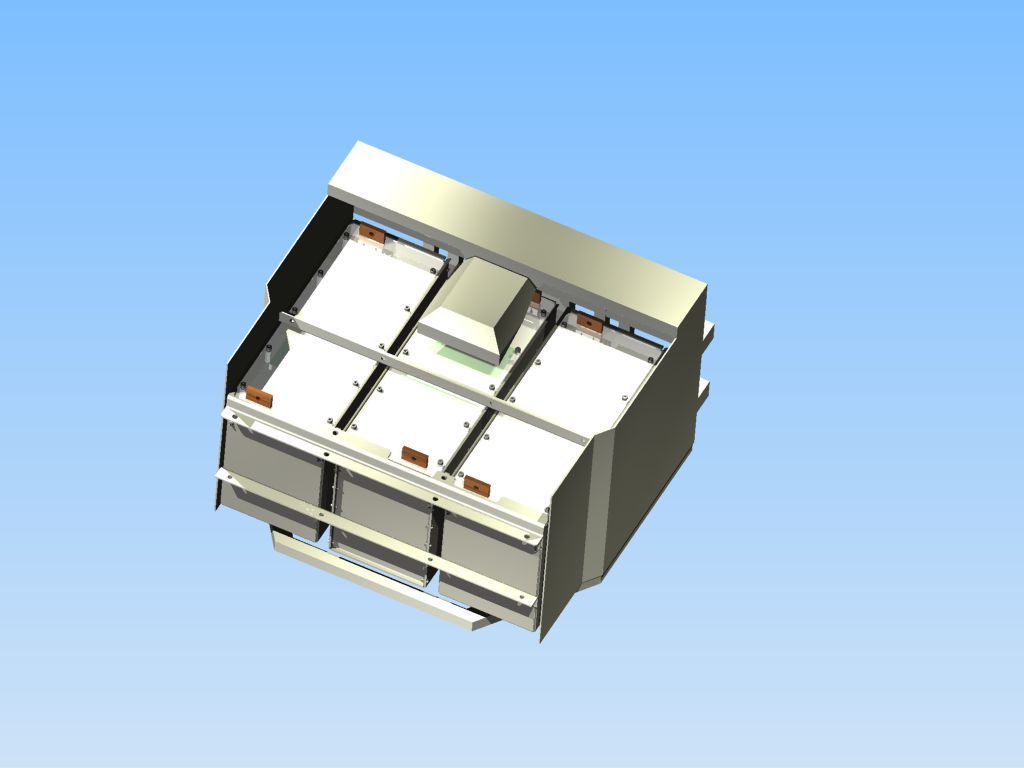 …and has ended up like this. Neat. Potent.
Through the Perspex tops of the battery enclosures you can see the circuit boards of the BMS (Battery Management System), which is designed to effectively mother and discharge all 144 cells equally. It will also alert us to any faulty cells.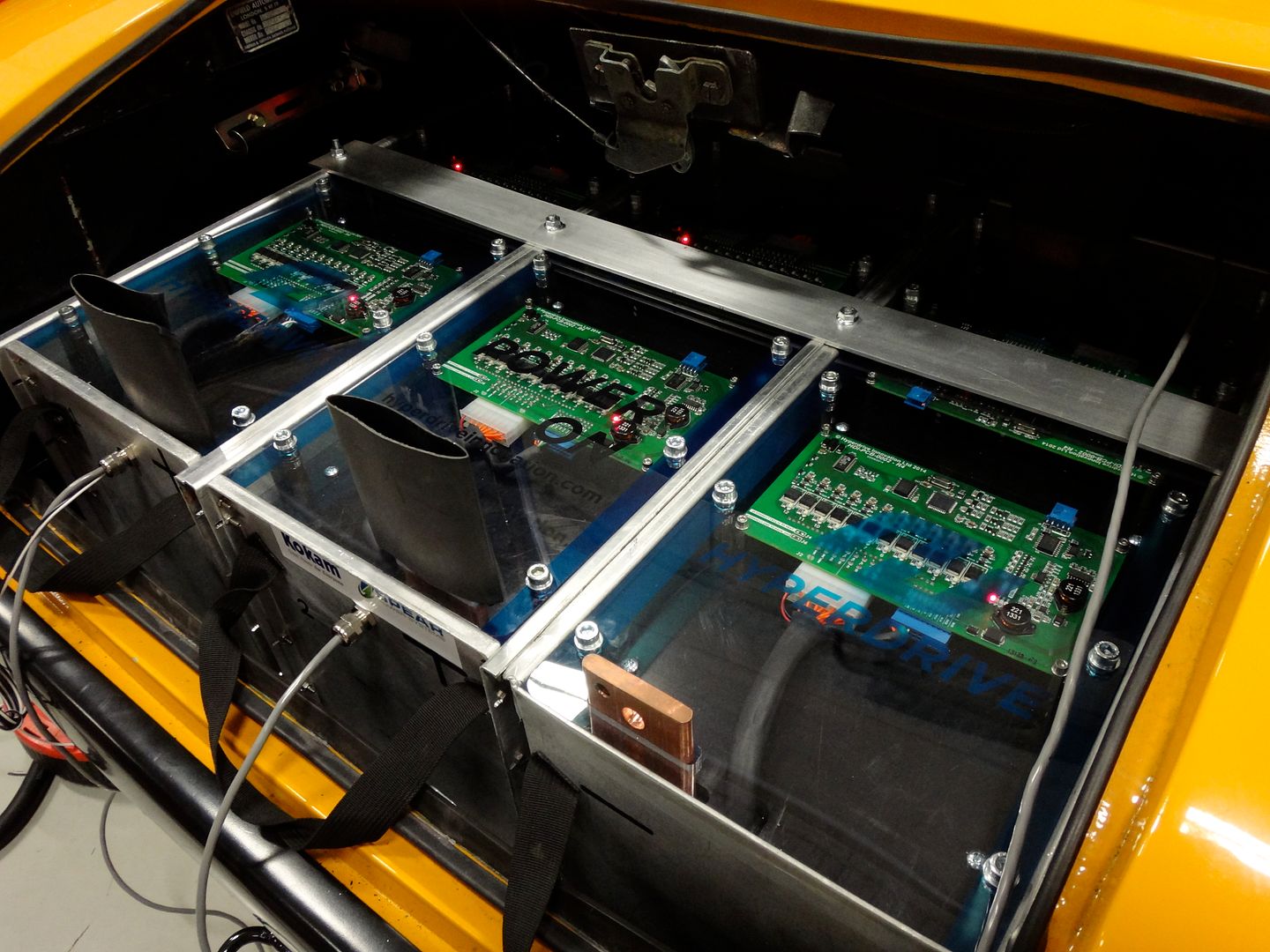 Hyperdrive Innovation's Robin Shaw showed me on his laptop the state of the battery packs and how their BMS is critical for ensuring the li-ion pack never runs too low on charge, which can cause irrepairable damage. And believe me, we don't want that after taking so long to source these sacred ex-military helicopter gunship cells.
There is an on-board fire extinguisher system in the boot (it was the only location large enough, and it worked out well for weight distribution), but really this is a last resort. Once deployed it will destroy the function of the batteries.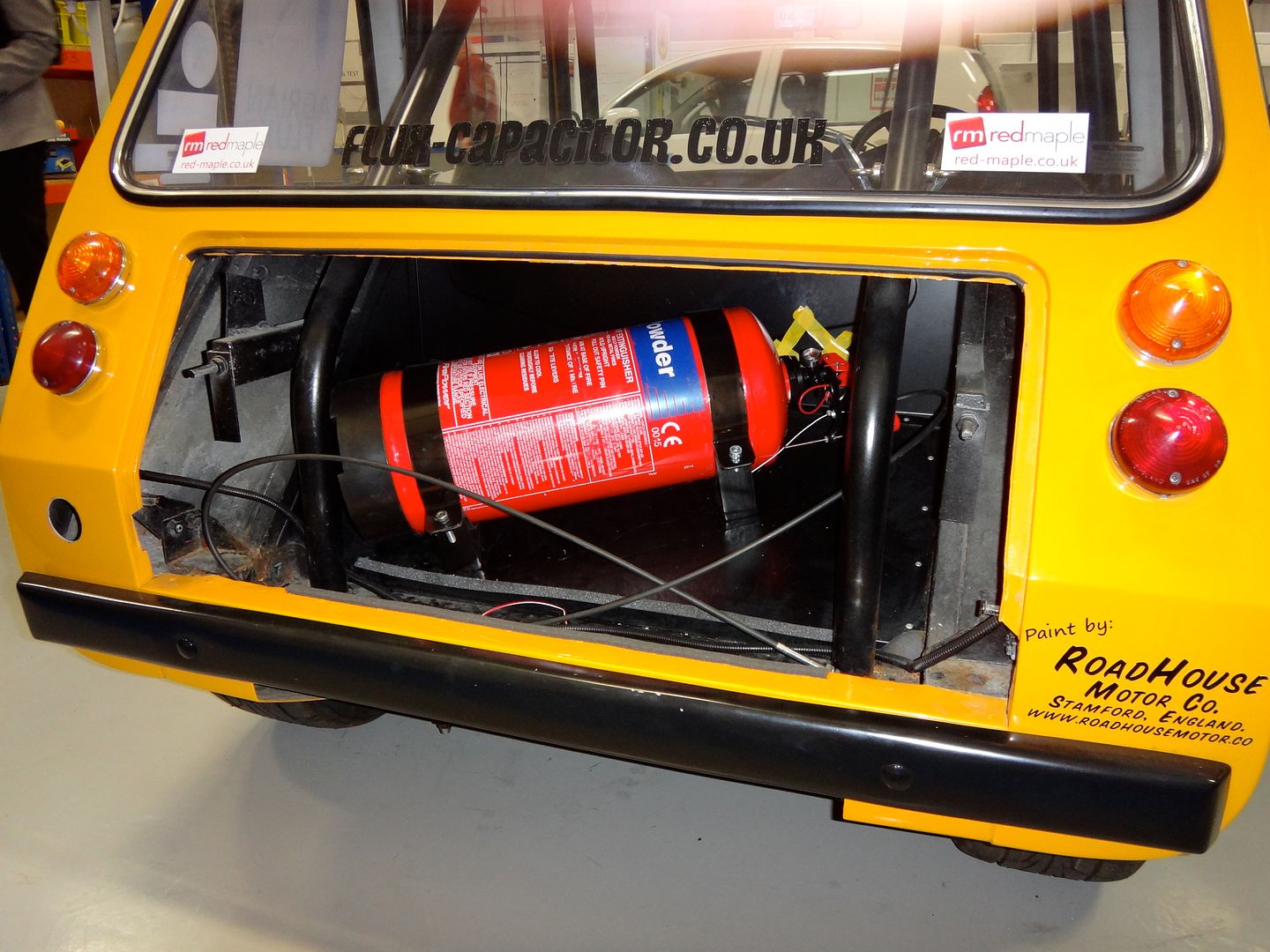 The team at Hyperdrive in Sunderland have made possibly the hardest jigsaw piece fit in the Flux Capacitor's puzzle. With battery pack sorted, it was time to take the car back down to Stamford for a few tweaks before its baseline.
BUILDING THE PERFECT BATTS
BEHOLD, the Flux Capacitor is days away from getting powered up. This is significant milestone in my project, because of the reasons I've mentioned in previous blogs about sourcing the appropriate spec battery cells for a road legal EV dragster.
The first big challenge was to find the cells that would withstand the discharge rates required for drag, but not too big or heavy. The next challenge was packaging them in the car and choosing preferable weight distribution.
The design of the batt boxes and assembly was crucial. They require huge skill and care. Enter Hyperdrive Innovation.
Originally the Enfield had 8hp. It is soon to find out what 125 times that power will feel like. So will I. And I've never driven a standard Enfield before (because mine was purchased flood damaged and broken) so some may wish to insert a phrase here involving pyrotechnics and baptism.
So what does 370 volts, 2000 amps, 1003hp and 1100 lb ft actually look like? Well, a third of it looks like this. Excuse the blur!
The pictures you see here show how the lithium-ion 'pouch' type Kokam cells first arrived at Hyperdrive Innovations. They may look like fancy cup-a-soup sachets, but each individual cell can give out 1200amp at 4.1 volts.
The last fortnight has seen Hyperdrive's engineers work hard at connecting 144 of these cells together to create the Flux Cap's finished pack. These CAD renderings show a finished cell and then a sandwich of them together.
So 144 cells in total, carefully packaged into three bespoke folded aluminium enclosures; 2 in parallel and 1 in series. You have 72 combinations of cells that give a parallel and series.
Here are two of the three enclosures trial fitted in the Enfield's 'engine' bay before any batts have been fitted. The battery boxes are folded aluminium made by a company called Tegrel, who normally specialise in precision cutting alloy for big motorway roadside signs.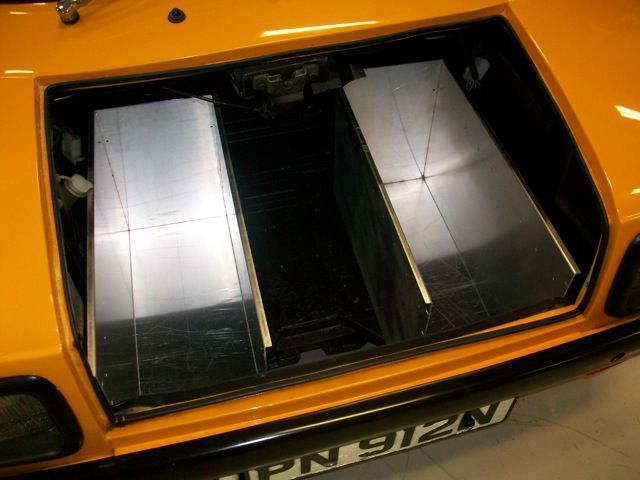 To make the battery packs has taken three engineers over a week. It is intensive, painstaking work that constantly needs focus. Each individual cell has undergone a process to link them together.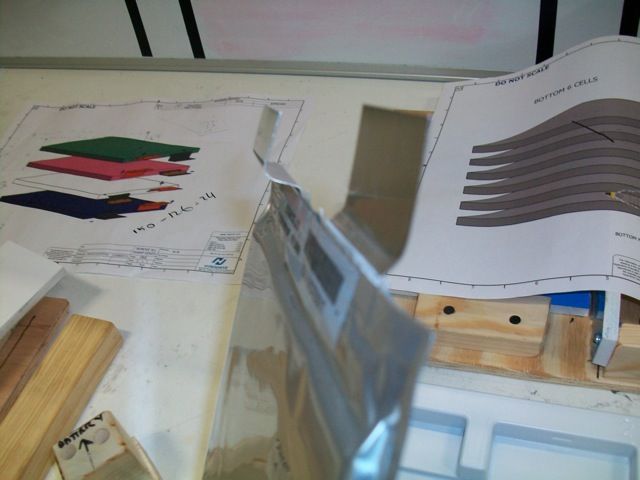 Aluminium tabs are added and carefully drilled (hence foam to cushion the drill bit) and put in a wooden jig to bend the tabs to the desired angles.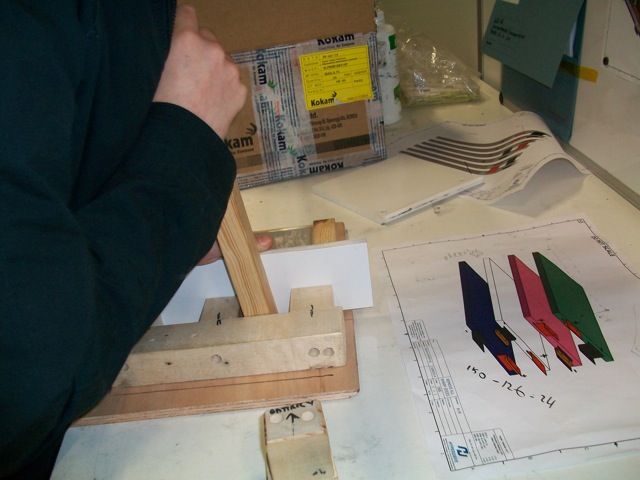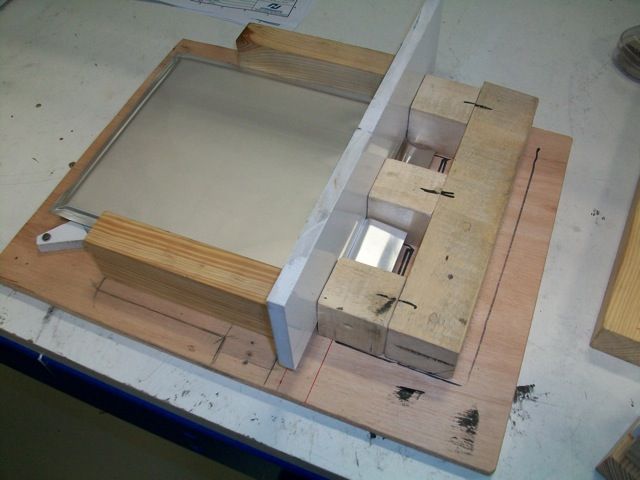 This pic shows two of the cell stacks, with two aluminium panels at bottom. These are the interleaf panels with heat transmissive tape to disperse heat – the biggest enemy of high performance cells.
There is a copper clamping strip on each pack that's been bolted through. At each clamp point there's four tabs connected.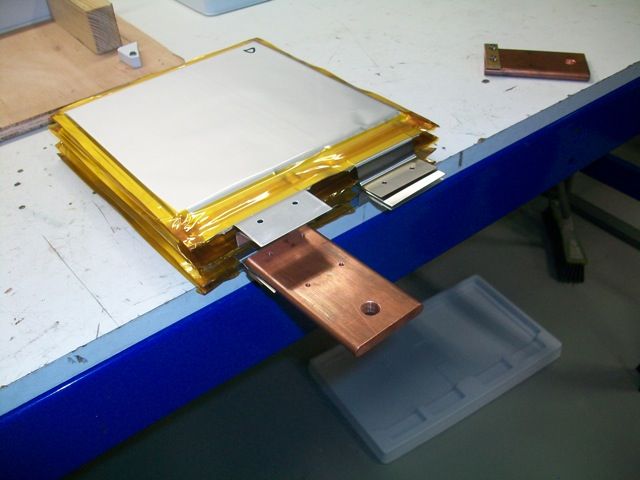 Here the cells are being fitted (stacked) into the enclosure box vertically.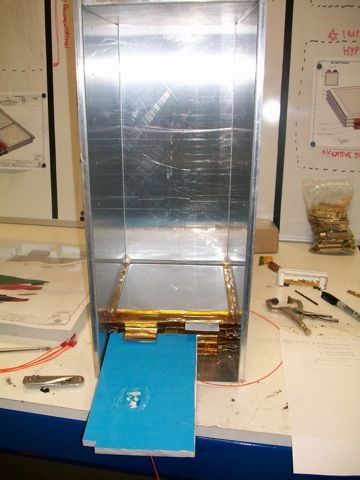 You can see in the pictures the cells have orange leads sprouting out. These all connect to the UK designed and made Hyperdrive battery management systems (BMSs) which monitor each individual cell and let you know if everything is behaving.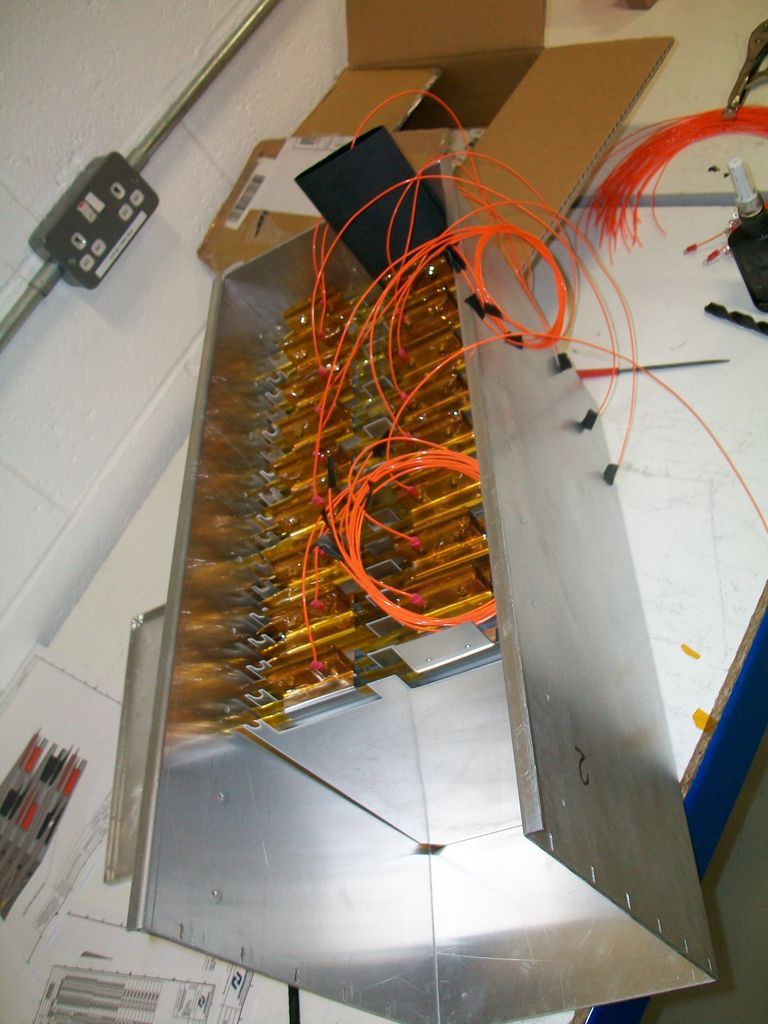 This pic is highly significant, because it shows two completed battery enclosures. Save for the BMS (Battery management system) hardware on the top and a safety cover, this is two thirds of the Flux Capacitor's power train. Or fuel. Or whatever you want to compare it to.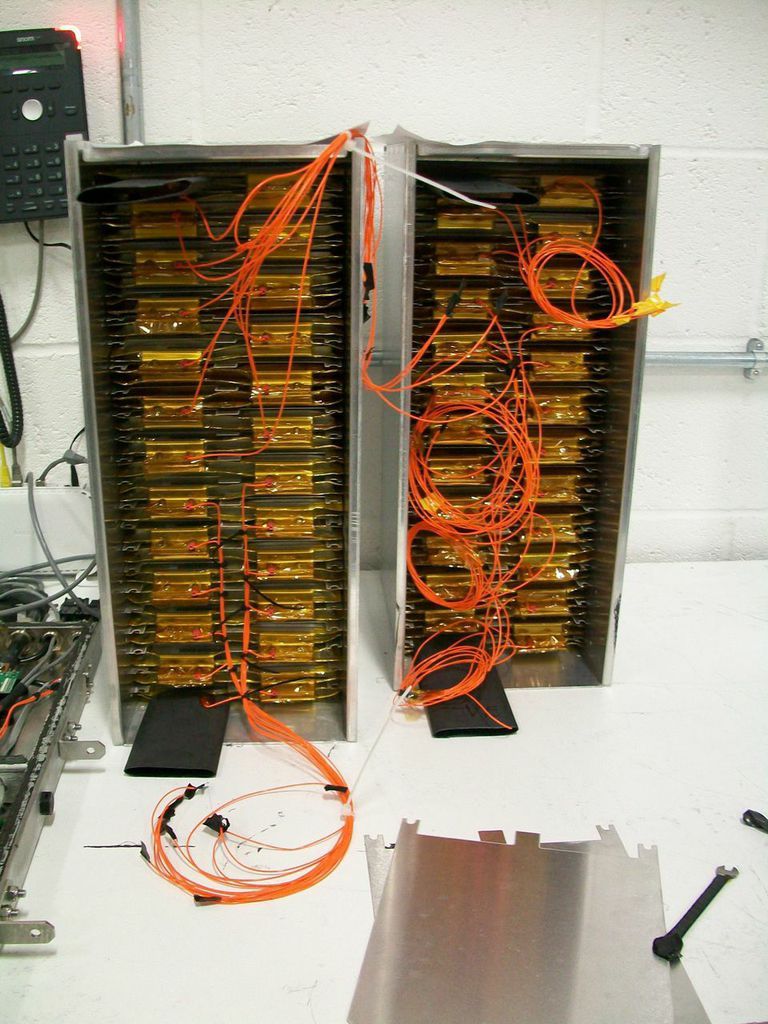 Here's a stack of the cells out of their aluminium house.
By connecting the li-ion cells series it becomes a long string, which allows up to 370 volts (series only increases voltage). By putting them in parallel you can make a more potent pack – up to 2400 amps. Yeah, deadly numbers.
Make no mistake, assembling battery packs of this calibre carries an invisible risk. It's a skill. You need to be careful. Spanners and tools covered in insulation. Concentration and expertise is key, which is why I haven't used my own DIY skills during this chapter of the build. Hyperdrive builds prototype EVs of all types and powers (for OEM and military) so they kinda know what they're dealing with.
In the case of my little Enfield 8000 three enclosures makes it easier to package, install and move, although they are still about 45kg each. The frame you see here for the batt box supports the weight and stands off the batteries away from the steering column.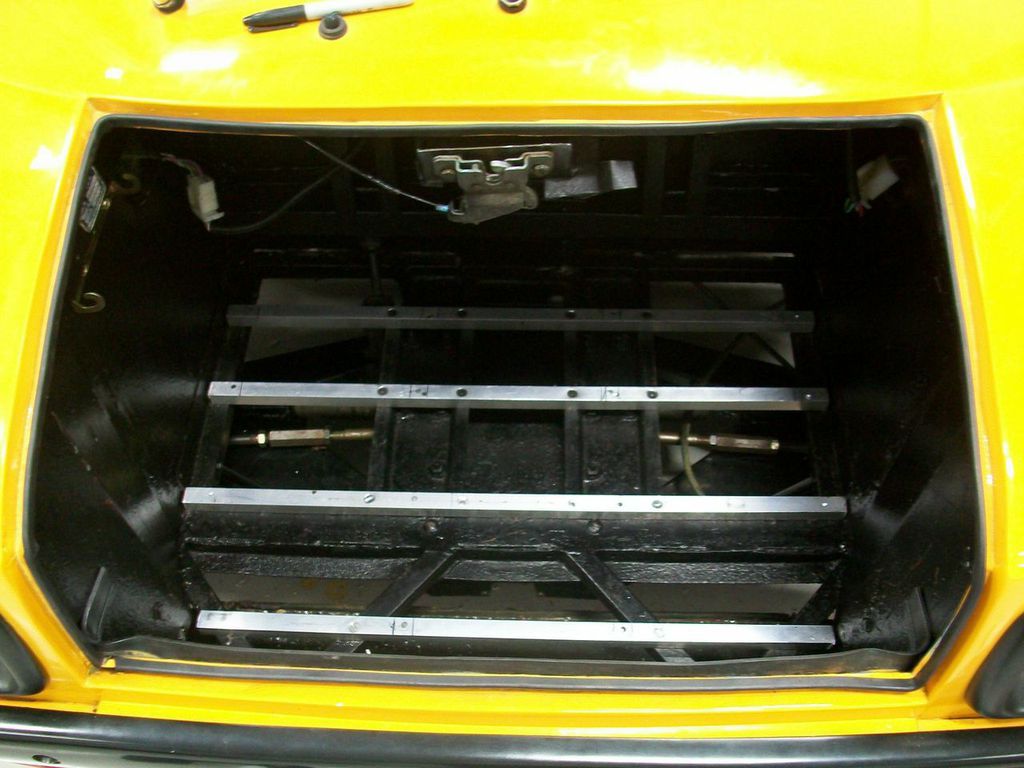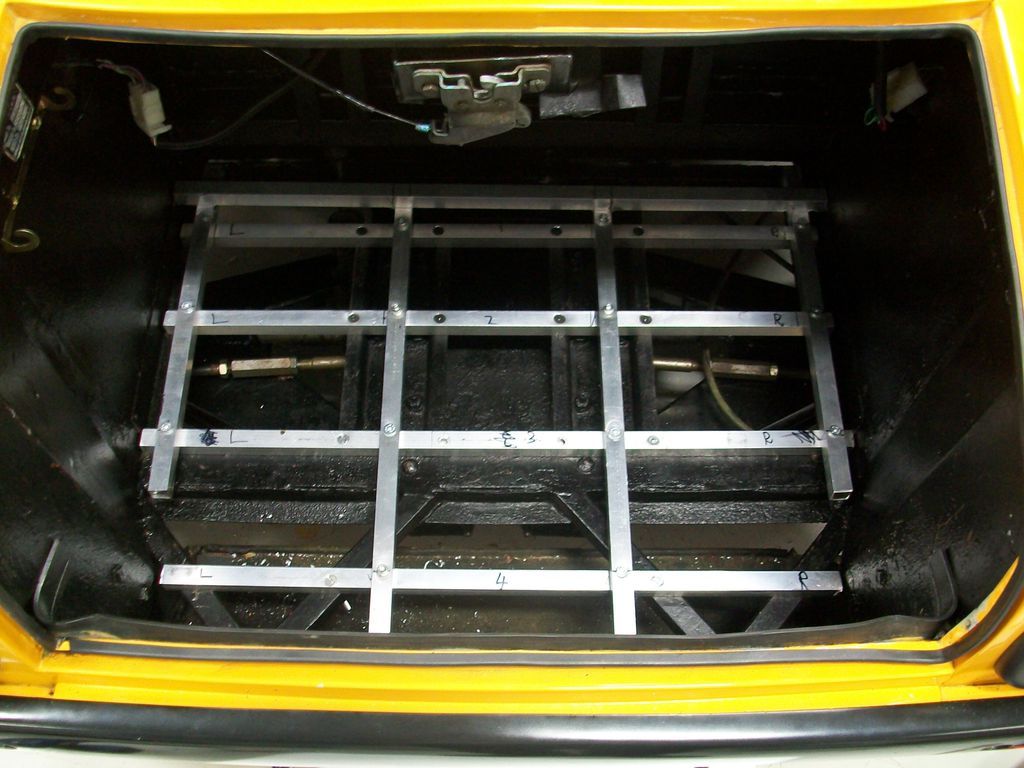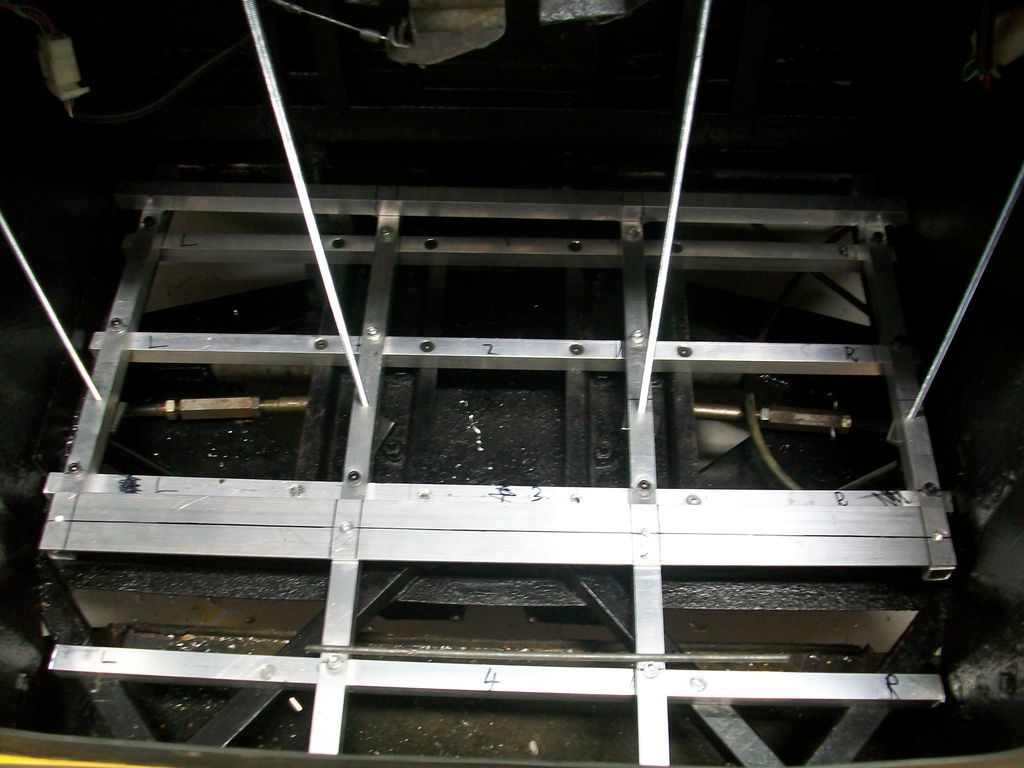 The uprights are the basis for the clamping mechanism which is tied to the car's chassis. This will stop any movement of the battery enclosures during racing or driving. I drove a car once with the starter batt un-tethered. It fell into the alternator belt and broke it. A stupid thing to do.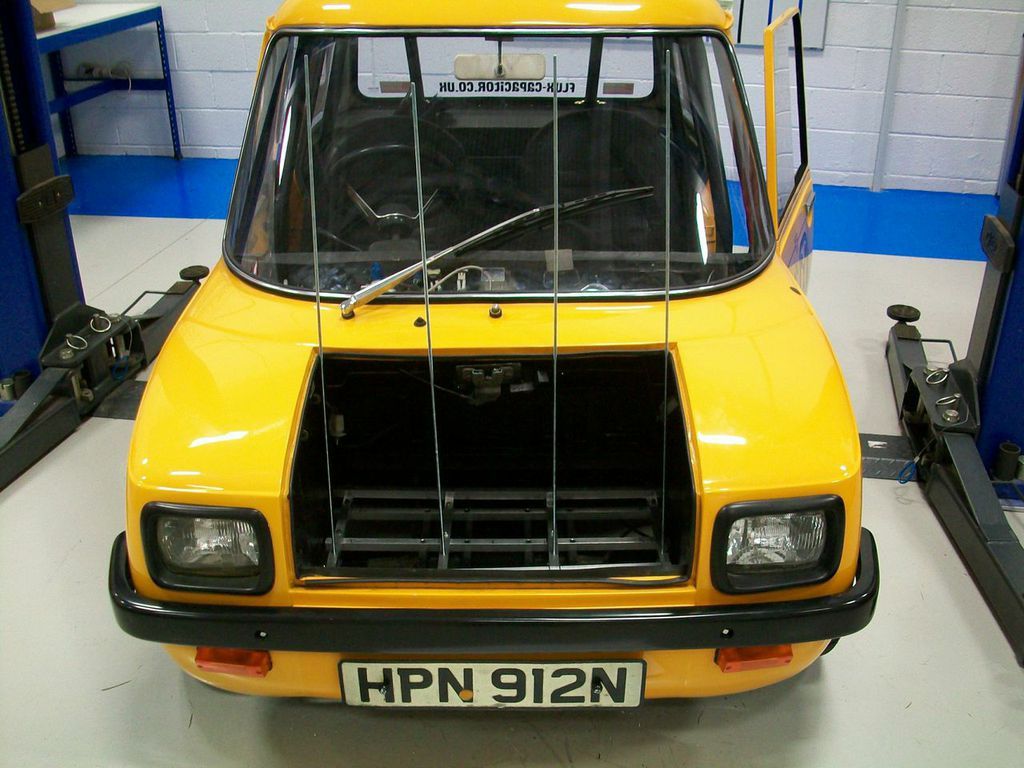 The cells won't really be visible when it's finished, as green BMSs sit on top of each enclosure and then a composite lid covers everything. The BMS' twinkling lights will be visible when the sys is balancing. Just like your Broadband router at home. Here is the finished pack with BMSs on top and no lid.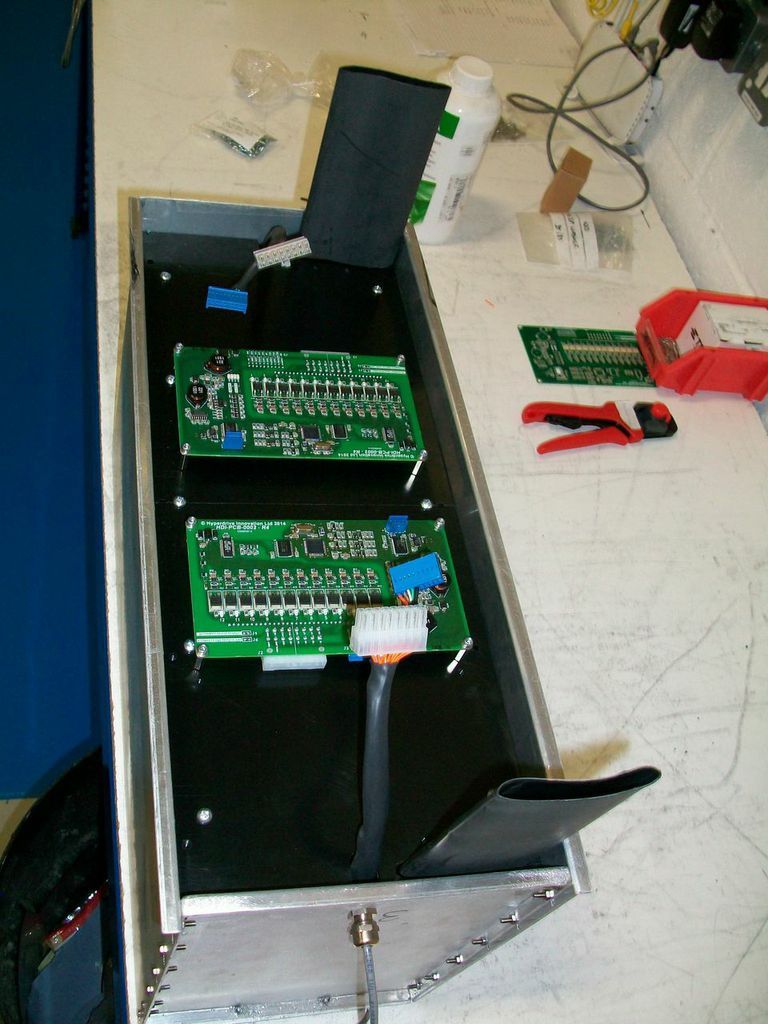 Here's what the composite lids look like. In essence the whole battery set-up will be safe to touch without the risk of death or injury. Which is always handy.
So big progress for this little leccy city car, then. Next week I will collect it from Hyperdrive's HQ and the race begins to do final prep for its debut drive before winter sets its claws in.
Once again, big cheers to Adrian Flux Insurance, npower energy suppliers and Red Maple IT consultants for helping me get this far. Not long before we go for an MoT and then time to taste some true British EV muscle...
STICK & TYRED
The Enfield 8000 Flux Capacitor was originally born with 10-inch Mini wheels and tyres. Since my project has done away with the Reliant back axle, we needed the biggest, widest, stickiest tyres we could get under the standard rear arches. Oh, and they had to be street legal because it's too easy to claim record speeds when you're running slicks.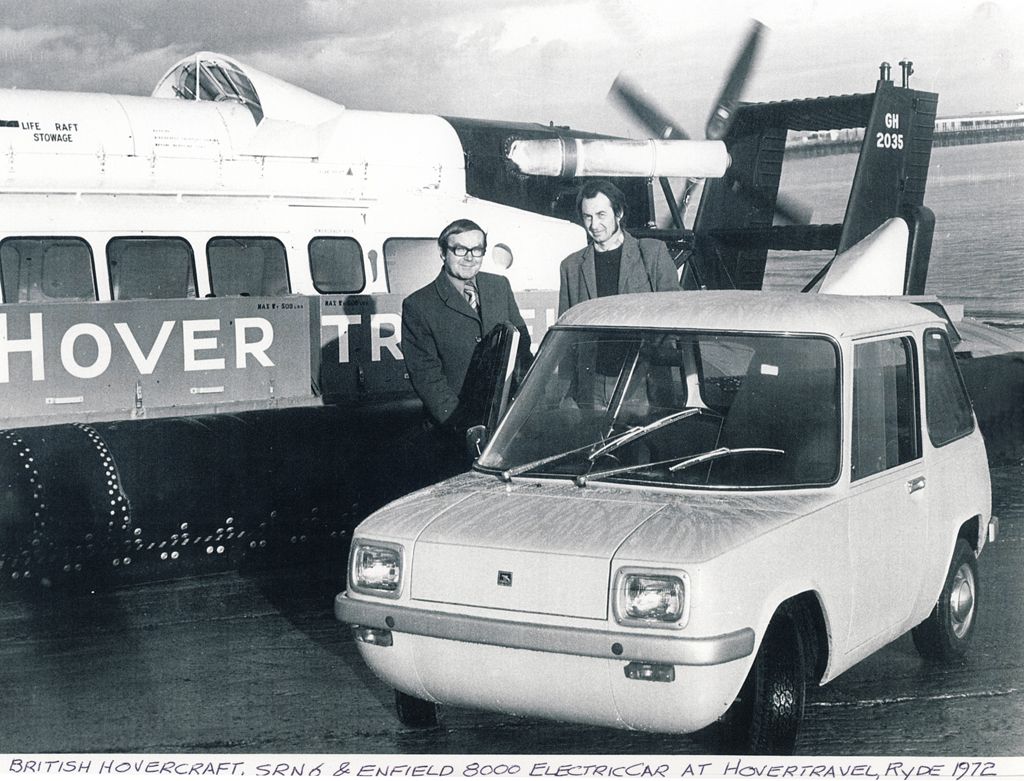 Since the rear end is now a narrowed Ford 9-inch I managed to tuck a 14x7J Wolfrace slot mag wheel back there. 14s look huge on the Enfield, plus it's about as small as decent drag street tyres seem to go. The car wears Nitto Extreme NT555R drag radials in 205/55/14. These are street legal treads for weekend drag racing guys, basically.
Jon at Webster Race Engineering found them and built the rear end around them, so it's a shock for us all to hear today that Nitto no longer make them. The worry is that they are obsolete before I've even done my first burnout or shakedown. Damn. If anyone has any information on similar sized drag radial tyres that will satisfy an MoT person please do get in touch.
At the front the Enfield runs 12-inch wheels – 12x5J classic Wolfrace slot mags. The tyres were sourced from Yokohama, who do a lot of sticky track day sizes for suitable for classic Minis.

These are A048 165/55x12 and have enough tread to be road legal.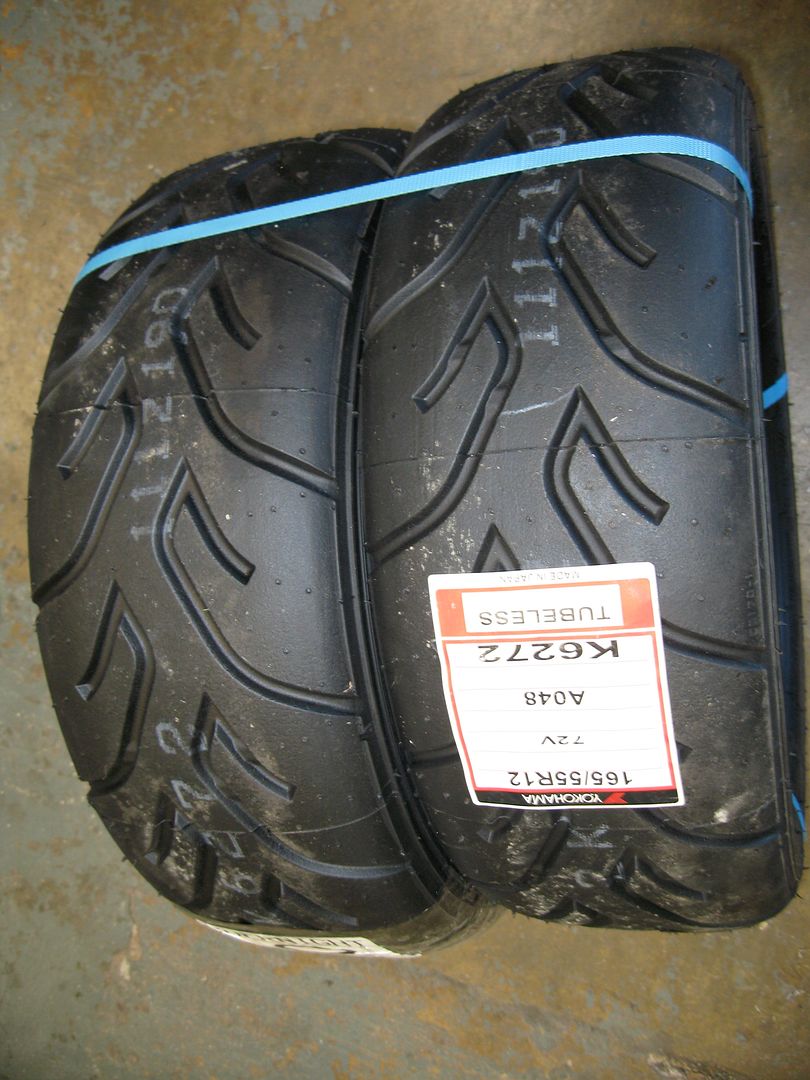 AND HERE'S A TRAILER…
Pretty isn't it? This orange Brian James ex-RAC trailer was found through my friend Eddie Farrow at EDF Motorsports who knew I needed enclosed transporation but on a tight budget (my cash was concentrated on the Enfield's lithium-ion batteries). Based in Bourne, Eddie preps and stores and moves race cars so he's been such a huge help checking over the trailer and keeping it in storage when I was in a pickle. If you need good honest motorsport prep, repair or transportation then tell him I sent you.
Another blatant plug needs to go to Pete Mindham at Black Cat Race Graphics who is doing a magnificent job with the decals on the Flux Capacitor's trailer. We've gone for a fetching (and highly relevant) printed circuit board border with the recognizable mobile phone charging icon. He tried to convince me of a full vinyl wrap but I prefer the orange too much. Tap Pete up via email on sales@blackcatsigns.info for any race decal related matters.
As I write this Hyperdrive Innovations are completing the all-critical lithium-ion battery system for the Flux Cap, so watch this space for a full update with pictures before the week is out.

HURRY UP AND WEIGHT
Keeping weight down to minimum is always high on the agenda when building a pure race car, but I'm wrestling with trying to keep the Flux Capacitor as normal looking (and street legal) as I can. Ok, ignoring the stance, wheels and 4-foot wheelie bars.
Originally the Enfield had a single electric motor with 8hp and eight 12-volt lead acid batteries (weighing over 300kg!) making 48-volts. The car weighed 975kg and did 40mph top whack, with a maximum range of 55 miles.
Compare the 6KW and 150 amp output of it in 1974 when this chassis number 003 Enfield left the Isle of Wight factory to the 600kW it has now. The Flux Capacitor will be able to unleash up to 2000 amps at over 300 volts, which could be in excess of 1100lb-ft of instant torque.
It's come from this in '74…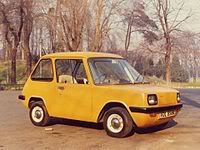 To this in '14...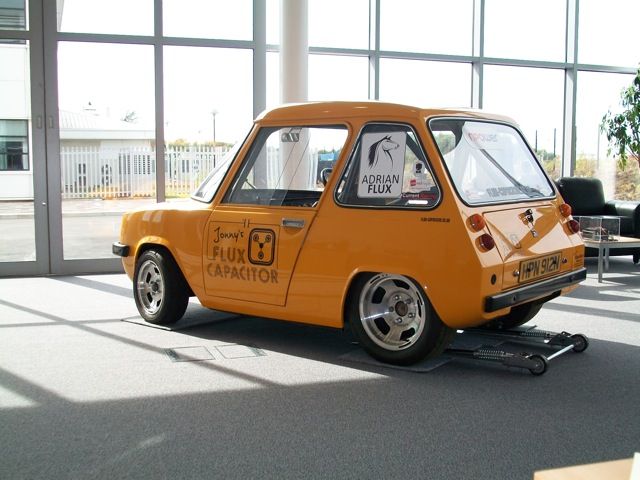 Before adding the lithium-ion batteries Hyperdrive Innovations corner weighed the Enfield. We've shed bulk here and there, but added in other places – most notably safety stuff like the roll cage. 711kg.
There's 319kg at the front axle and 392kg out back. This is before the battery pack, which looks like it will be the best part of 145kg including the enclosures, cabling and Hyperdrive Battery Management Systems.
It's a tad heavier than I was originally aiming for, but the batteries are set to give far better range than I planned – 60 to 80 miles depending on driving style. At full power we could achieve 5 to 6 runs on the quarter mile strip. Plus, we can always shave weight once I've started getting used to the car.
As he's been utterly instrumental in his expertise throughout the build I consulted Olly Young at Current Racing about where we should locate the batteries. I sure as hell didn't want them inside the passenger compartment with me, so it was a case of front, rear or under floor.
This will be a drag car first and road car second, the priority is for it to grip and run as straight as possible on the quarter mile. With this in mind Olly has recommended as the batteries go in the main 'engine compartment' under the bonnet, as this would give 60% front and 40% rear weight. Says Olly 'That is the ideal dragster distribution, as this helps loading up the four-link rear suspension correctly off the start line'.
I'll be showing off the Enfield's finished battery enclosure next week, but here's a build shot of the 3 segregated packs.
In the meantime here's some stats to digest:
The Flux Capacitor has 144 cells connected in 2 parallel and 72 series. These are split into 3 battery packs, all living in the front bay. Here are six of the 144 cells.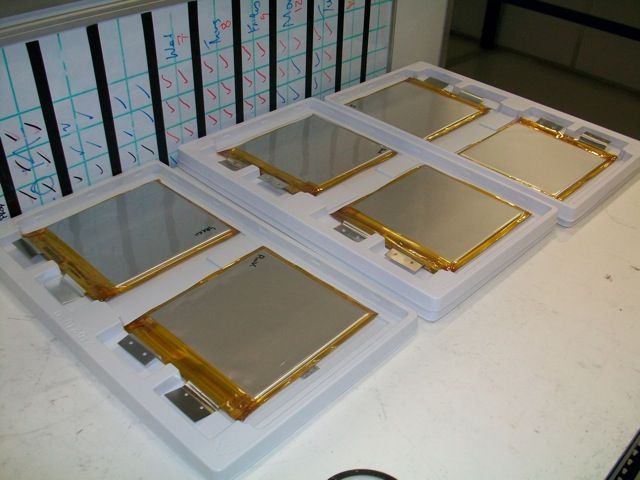 Voltage 266.4 nom. Max 302.4 volts. Current 31A x 2 = 62Ah cells, so pack energy is 16.5kWh.
Nominal discharge rate will be 2,480 amps at 266 volts, which is approximately 883hp. Or max discharge is 2,480 amps at 302 volts is approx 1,003hp of potential power. That's up to 1003hp and a projection of some 1,100 lb ft of torque. Zoiks!
Thanks must go once again to Hyperdrive Innovations for their involvement in the project, not to mention my sponsors Adrian Flux Insurance, npower and Red Maple IT consultants. Cheers for sticking with me.

BATTS OUTTA HELL (Well Korea actually…)
This is a helicopter. I'm not an aviation pervert but apparently it is a Bell AH-1 SuperCobra – an attack 'copter that has played a major role in every U.S. military conflict since Vietnam.
To start the twin turboshaft engines there is a lithium-ion battery pack. Said pack is rather potent because it also delivers power to the on-board miniguns. Unsurprisingly it has to be quite lightweight in order to let the helicopter fly. It also is not commercially available, so you won't find it next to starter batteries in Halfords.
It is made by Kokam in Korea and developed purely for military use. Well, until now. Because it is exactly this pack which, with the help of British company Hyperdrive Innovations, I have ordered for my Flux Capacitor. Let me expand on this a little.
Originally I thought the Flux Capacitor project would take a year to complete, tops. How wrong and foolishly optimistic I was. Yes, there are less moving components to an EV compared to a piston-powered car, but the spec and power of electric parts I needed suddenly threw an expensive spanner in the works.
It has taken the best part of 10 months but we've finally got some appropriate batteries to power the Flux Capacitor, all thanks to Hyperdrive Innovation.
I wasn't prepared to compromise, so when it came to sourcing suitable battery packs that can survive incredibly fast discharge without overheating/catching fire we had to tread carefully.
I'd had a lot of false promises but when Stephen Irish at Hyperdrive Innovation got in touch after seeing the car on display at the Low Carbon Vehicle (LCV) show, he was confident they could help. Hyperdrive Innovation is a low carbon vehicle tech company who carry out engineering projects for customers ranging from electronics design to complete vehicle build.
The company also has a range of products including high energy density battery packs, battery management systems, electric vehicle range extenders, electronic control units and data logging systems. Stephen was confident their military grade BMSs (Battery Management Systems) would be applicable to work with the Flux Capacitor as the car needed to safety monitor the cell voltages during fast discharge cycles (like EV drag racing).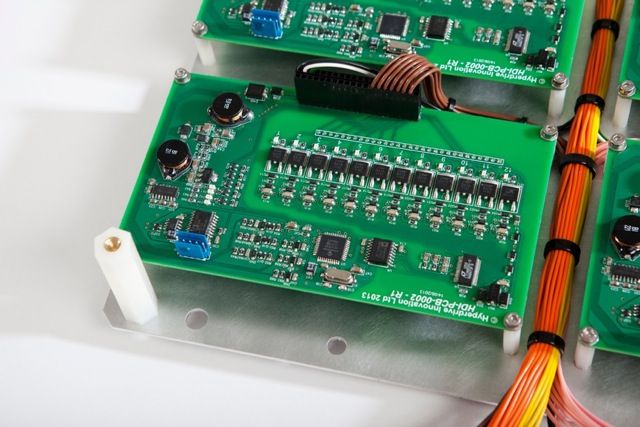 They may look like desktop PC towers but the BMSs are a critical part to hi-po EVs. The Flux Capacitor will be capable of running up to 2000 amps @ 300+ volts for 10 second bursts.
Fast forward a few months, lots of techy emails and a business trip to Korea, the battery cells are now sitting next to the yellow ochre Enfield in Hyperdrive's Sunderland HQ. It's in their office right now, literally.
I'm not sure how the meeting went between them in Korea and Hyperdrive's tech boss Chris Baylis, but needless to say they understand what I'm going to use these specialist cells for. In fact Kokam batteries power the White Zombie Datsun EV that influenced my humble Enfield in the first place.
The 30 Ah 3.7 volt cell 'pouch' packs just look like grey microwaveable sandwich bags, but when packaged together they provide more muscle than piston engines can hope for.
NO GEARBOX. JUST SERIES TO PARALLEL POWER.
The Flux Capacitor doesn't have a gearbox, It has the two 9-inch motors mounted in series via this small but vital custom built input shaft which took ages to find someone to make (thanks to RAB Engineering).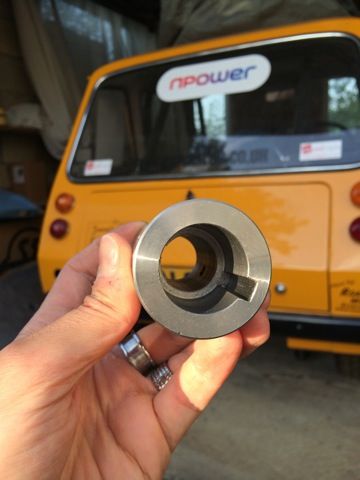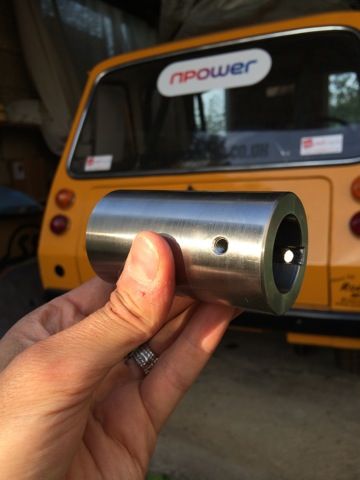 The motors live in a cradle that bolts into the transmission tunnel and from them is a custom built propshaft that sends drive to the back axle. Which is 6-inch long or, in engineering terms, about as long as one of those Coke bottles.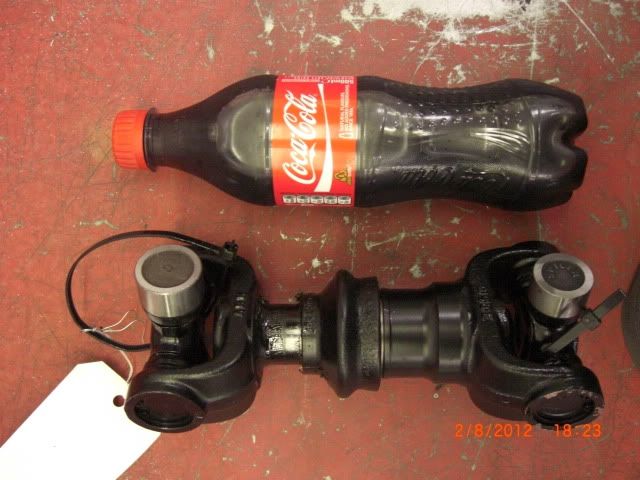 The motors will start in SERIES configuration with the voltage output of the controller (ECU if you like) at 320 volts (160v + 160v) and 1800 amps.
During a hard throttle run on the quarter mile – when certain parameters are met – the car's controller will switch the motors in to PARALLEL mode. At this point the controller changes the voltage output to 160 volts and current 1800 amps. So parallel @ 1800A /2 = 900A @ 160v.
Olly at Current Racing, who built the motors and runs the world's fastest full bodied EV, just emailed to say that the same motors in a car out in the US has just been dyno'd with 1350lbft of torque. He believes with my batteries, my street legal Flux Capacitor could have 1100lbft to tame. And let's not forget the car is 2.84-metres long…
At present the batteries are being mounted inside the car within a safety enclosure, alongside the BMSs. I'll talk about the weight distribution and installation in the next week or so when Hyperdrive has finished their beavering. Chris, the tech boss of Hyperdrive has also mentioned that his early calculations suggest the range of the Flux Capacitor may be much further than the 15-20 miles I initially aimed for.
FormulaE starts its first ePrix this weekend in Beijing. That'll be interesting to see how the public appreciate single seaters that sound like TIE fighters and K.I.T.T. Personally I'm excited. Thanks for reading. More very soon.
Steer clear says Big Brother
My brother Greg and me are close mates. For the first time in years we live close to one another, which means we're trying to find spare evening time to bond in sheds over spanners and cider.

Greg restores pre-war Bentleys for a living and has been largely responsible for my adoration and respect of old vehicles. He's always loved vintage Brit stuff for fun and '90s German stuff for commuting work. He lent me £250 back in 1998 so I could buy a second car to use for commuting - eventually trading my way up to bigger and better things than the battered smoky VW Bay window panel van I started with. Thanks bro.

So what's the latest on the Enfield?

Well, things have been delayed. For almost six months I have been awaiting the production of a specific type of lithium-ion battery pack for the car, which has definitely been the hardest challenge. Without the correct batteries the Flux Capacitor simply won't give the acceleration performance I need. Up until now the projected cost of these has been utterly crippling, and many tests of sample batteries have proved them to be inappropriate. This is where I wish I had Lord Drayson's wallet.
The type of li-ion cells I require are not designed for normal commuting. Because the Flux Capacitor's main focus is to be a drag car, the challenge we face is to allow a massive discharge of power in short space of time (under 15 seconds). I am less interested in battery range, but more short-burst sheer performance.
The Aim? Enough high 'C' rated batteries to herald 378-volts and up to 1800amps. The modern battery packs will weigh something like 75kg compared to the original car's 300kg lead acid lumps.
I have been holding out to negotiate a deal with a specialist battery manufacturer, which hasn't been easy as most of them don't entirely understand my eccentric one-man EV quest. If anyone can help please don't hesitate to get in contact.
ANYWAY, ABOUT MY BROTHER...
Whilst waiting for the word on batteries Greg pointed his can of cider at the yellow ochre wedge and said 'It's a 2-seat city car designed in the early '70s to do 40mph and 0-30 in 12.5 seconds. It was never supposed to go 60mph, let alone 100+mph. It's not even 10-foot long for f***'s sake Jonny. At least make sure it's tight and steers right'.
His wise words struck a poignant chord. On the drag strip it might get a little frisky, and so I don't want any play in any suspension or steering parts.
And with that we put it on axle stands and pulled the whole front end off. None of the [mostly Hillman Imp] suspension assembly was particularly worn, but Greg's pearls of wisdom were exactly that.
Off came the Imp A-arm wishbones, which the Enfield factory had reinforced with extra boxing to cope with the 300kg of lead acid batteries.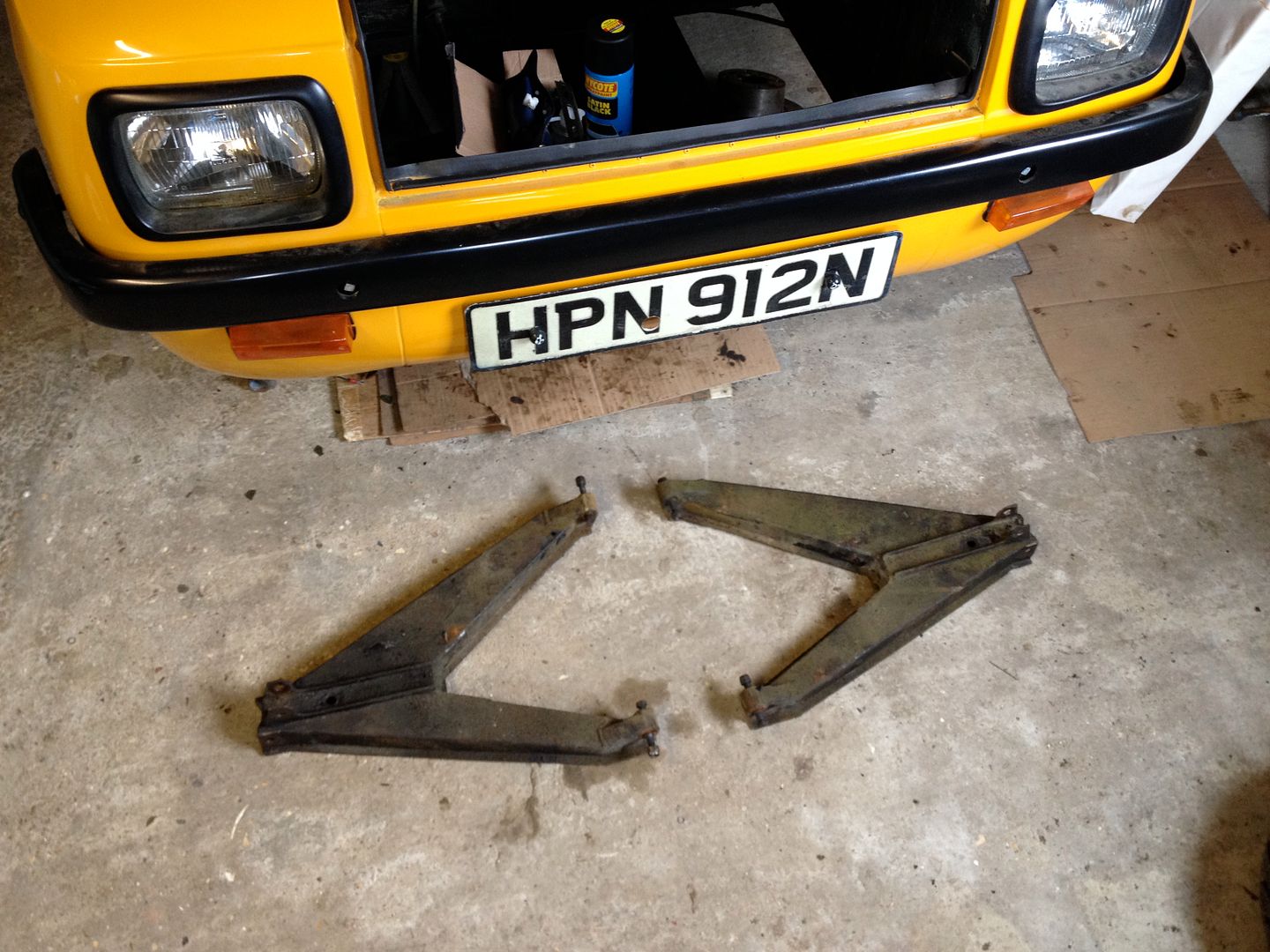 Greg in rare smiling moment. He secretly loves working on cars with seized bolts. He swore less because I'd invested in some compressed air tools…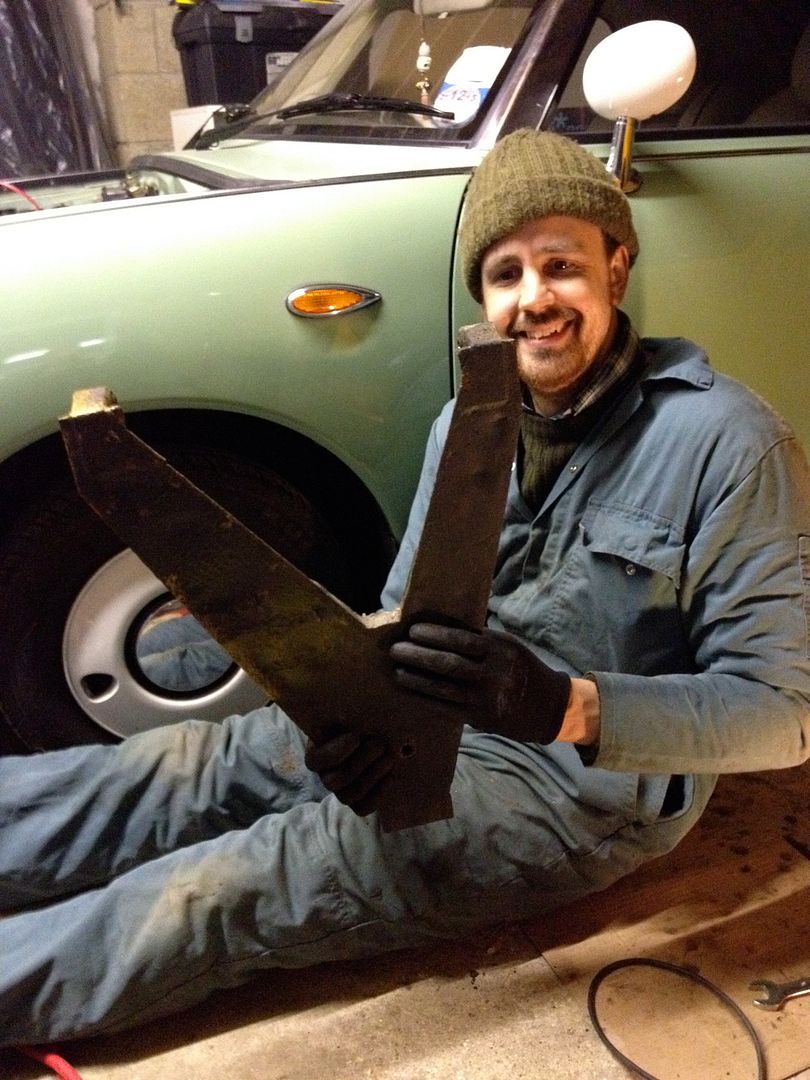 The steering rack is also Imp but seems fine. I replaced the track rods and ends with new items (mk2 Fiesta conversion – see an earlier blog for this).
And the oh-so-sexy BG Developments custom machined AP calipers, discs and carrier brackets had to come off. Again. If making old electric cars go fast was easy then everyone would be doing it, right?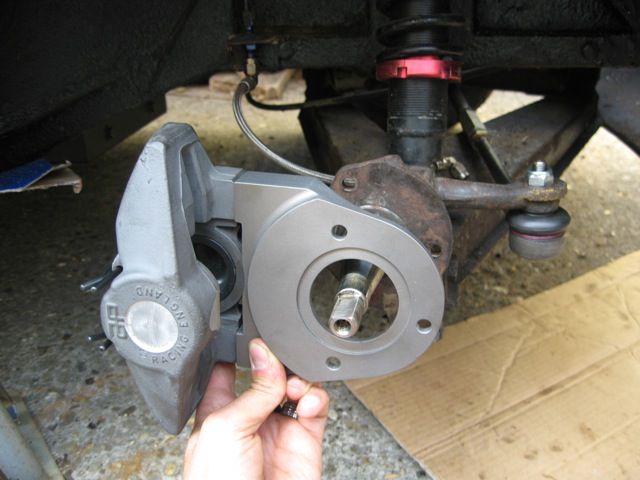 Stub axle all off. The AVO coilovers are all new so they are fine.
The wishbones were sent away for blasting and powder coating.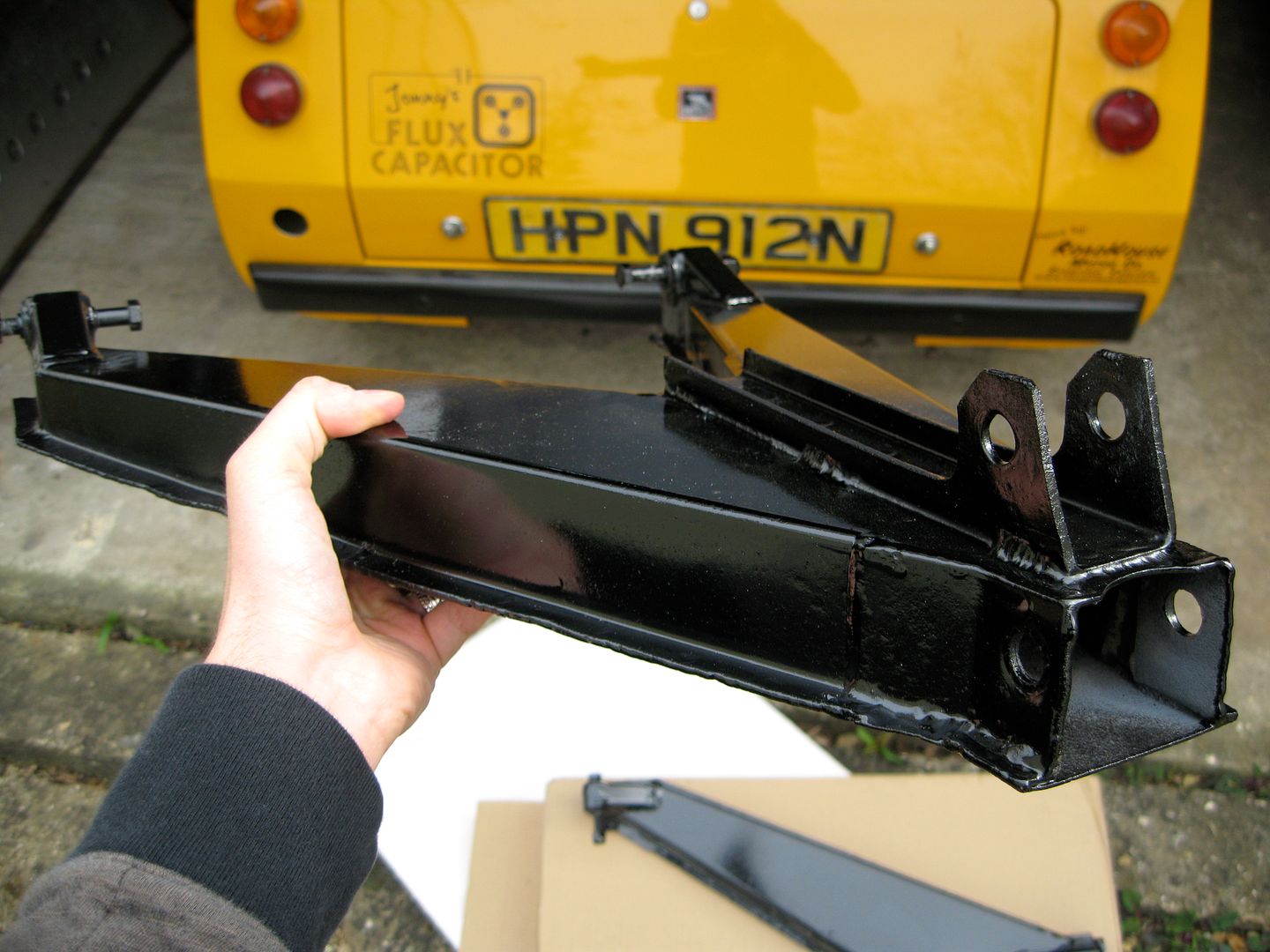 The kingpins are the key component for a play-free front end. They are Mk2 Hillman Imp items on the Enfield and I decided to farm them out to be refurbished. Weirdly, the two most respected Hillman Imp specialists in Britain are based five miles from my house and five miles from my parents' house.
A huge thanks then to Ian and Trudy Toon at Competition Classics (01780 756450) in Stamford for bursting with Imp enthusiasm, and for flawlessly reconning my kingpins. Don't they look prurrdy?
I bought new bearings from Ian Toon and ordered a set of urethane bushings from SuperFlex. In the next fortnight this lot will be bolted back up and I'll attempt to do the basic tracking.
Next? It's time to trailer the Enfield up north to Newcastle where the BMS (Battery Management System) and, all boding well, battery packs will be fitted up in this space by British EV experts Hyperdrive Innovations.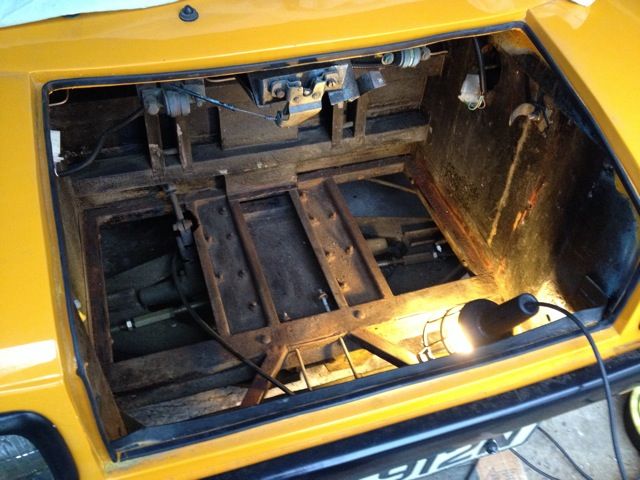 Thanks again for reading the blog. More to come very soon. All boding well we plan to have the little lello peril out on track for some shakedowns this July…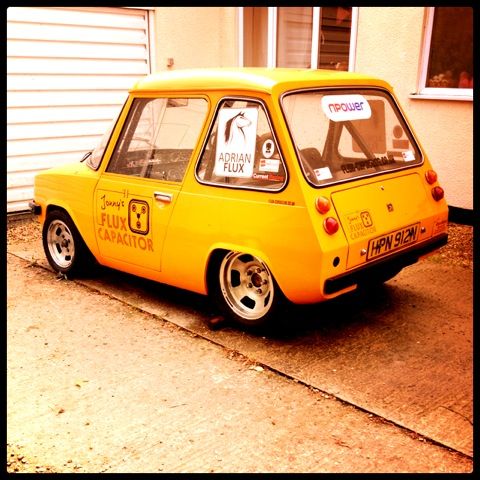 It could have been a British Leyland…
Although the Enfield 8000 ECC wasn't what you'd call a sales success, at least it did make production. A visit to the Gaydon motor museum a few months ago was my father's day gift from the kids. Whilst there we spotted this little stillborn EV beauty from British Leyland.
On the quiet, I happen to think this metal flaked gelcoat glassfibre 'Electricar' looks better than the Enfield - certainly from the rear. This prototype was unveiled at the 1972 Geneva Motorshow, styled by Michelotti of Italy and is based upon Mini underpinnings.
Ooh, just look at those gas hob style 10-inch alloys. There are aspects of Vauxhall Firenza and Triumph 2000 (also penned by Michelotti) to the front and old Mazda 323 to the back.
Powered by 24 lead-acid batts driving two 3.9 horsepower motors, the Electricar had a maximum speed of 33mph and 40 mile range (depending on the hills you tackle). Like the Enfield it carried its own on-board charger. Crompton supplied the electric traction and battery systems. I like it. Sadly only one exists and I doubt Gaydon will be putting a fat rack of li-ions in XWO 300J anytime soon…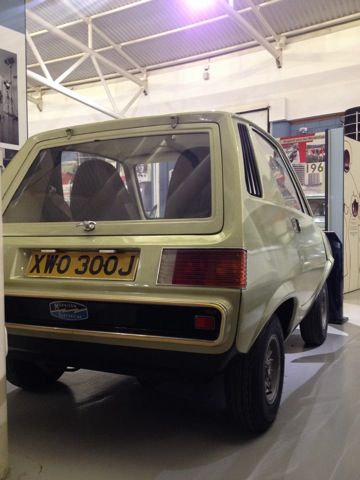 EV history on TV
Since 2012 my Flux Capacitor project has been plugging away at trying to radically mutate an EV recipe started back in the late sixties by the offshoot of Enfield – the British company previously famous for making bicycles, motorcycles, mowers and firearms. Of course. The last few weeks has seen the Enfield 8000 ECC (Electric City Car) finally being rediscovered by the media, and surprisingly not for pure ridicule.
First it has been the subject of a detailed (and pretty complimentary) four-part radio documentary for BBC Radio 4, in which me and my Flux Cap play a small vocal part. You can catch the episodes via the BBC iplayer here
Next it was the BBC One Show on April Fool's Day. There was a large celebratory item on the background of the Enfield, which showed a lot of archive material. Check out the full episode on the iplayer now, and fast forward to 18 minutes in if you just want to see the EV stuff. http://www.bbc.co.uk/iplayer/episode/b03zcvgq/The_One_Show_01_04_2014/
And as if that wasn't enough then the Beeb has also dusted off some old footage showing the prototype Enfield starring in Blue Peter, and driven around the studio by John Noakes amongst other things.

Click on this text and towards the end you can watch my actual Enfield – HPN 912N - sitting in a very '80s Tomorrow's World studio alongside a very '80s Judith Hann.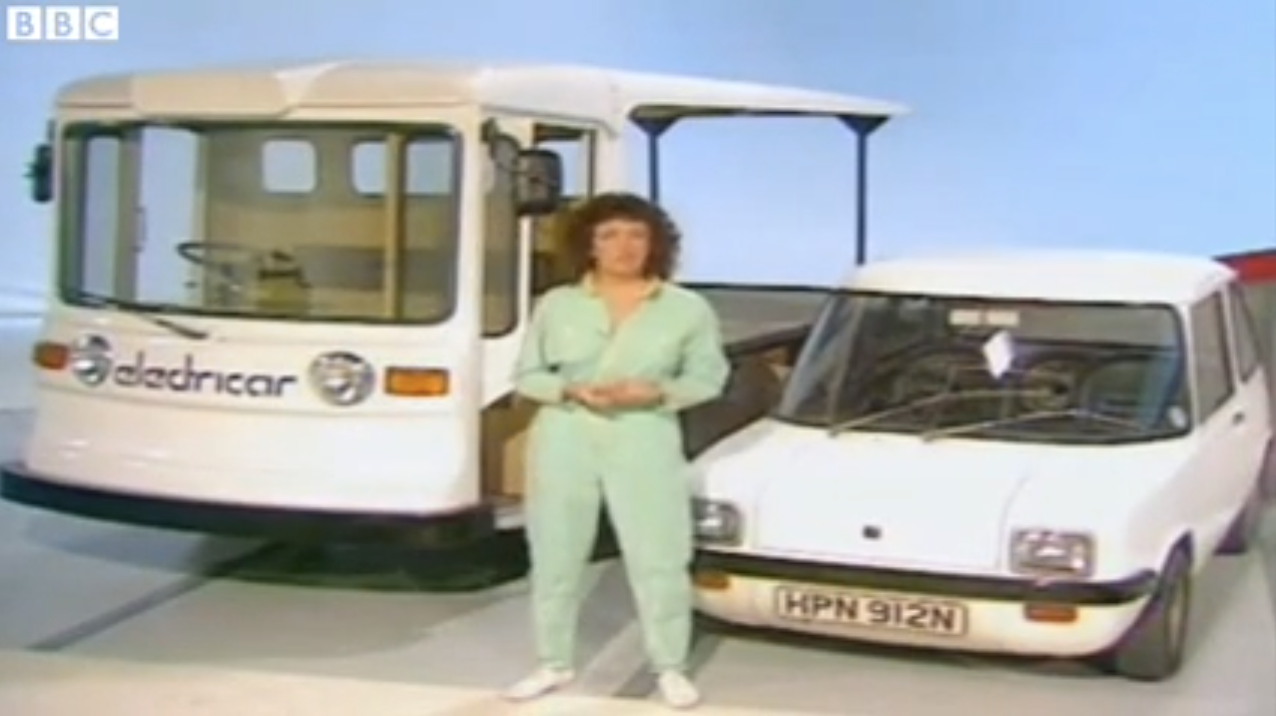 https://www.youtube.com/watch?v=ovR37RjEnSg

There will be more Enfield in the media soon, just ask Autocar magazine. Meanwhile I am just fettling a few more things in the front suspension and battery department. More on those in a few days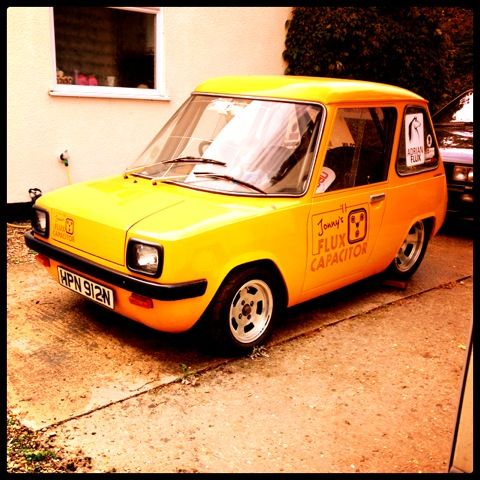 'SCREEN [WEIGHT] SAVER
In case anyone is considering buying an Enfield 8000ECC, take note: If the windscreen is broken the car is almost certainly worthless. Why? Because although the car cleverly used many other car's parts from the era (Hillman door handles, Reliant rear axle to name a few), the designers decided to furnish it with a bespoke ultra-aerodynamic windscreen. A heated one at that.

My Enfield's screen was completely crack-free. Was. During the strip down, restoration and repaint Tim at Roadhouse Retro spent hours ensuring it was removed and refitted unscathed. Then I come along and accidentally tweak the corner trying to rush fit the dash cover around the roll cage one morning before it went to an exhibition for npower.
Crack. Bye-bye lovely glass original windscreen. Bye-bye hopes of passing the MoT test. Tragedy. Tears. Anger. Panic.
So, I was in a bit of a pickle. No secondhand windscreens exist, because not enough cars were built in the first place. It's at this point I sincerely thought the project would have to be shelved. My own fault for using such a rare vehicle I s'pose.
But the good thing about Britain is that there's always a talented person with a fantastic cottage industry somewhere. Recommended by my mate Andy Frost (he with the 3000bhp street legal Vauxhall Victor) was a company in Bolton called Plastics4Performance.
These guys specialise in making Lexan polycarbonate windows for all kinds of cars. Turns out they relish the challenge of moulding rare stuff too. Not to put a finer point on it, but Plastics4Performance saved the Flux Capacitor's life.
Too frightened to trust myself to remove the cracked windscreen intact (which is kinda important to make a master mould), I trailered the whole car to the Plastics4Performance base in Belmont, near Bolton.
Boss man Paul Davenport put the kettle on and gave me a tour of this spectacular hive of innovation. We shoved a Subaru BRZ race car out the way (which was also in to have new template windows moulded) and pushed the Enfield into the P4P HQ.
"We did a Bizzarrini once" Paul says. "Didn't think we'd do another and I've had orders for 2 since. We make screens and windows for WRC, British Touring Car, WTCC, GT Championship cars, classic rally, historic racing, you name it. We also do work for manufacturers like Aston Martin and Bentley. It's all mail order. No one ever really visits us!"
Many of you will be asking why bother with Lexan? Simple really. It is lighter, safer and stronger (i.e more flexible) than glass. Contrary to belief it is MoT friendly too. Lexan's molecular density is half that of glass. About a third of the weight. So in the case of my Enfield's huge goldfish bowl screen, that's a lot of bulk lopped off the kerbweight – handy for a race car.
If you're still not convinced watch this video
"Lexan is immensely strong" says Paul. "We've run over screens with our fork lift and they were absolutely fine!" Blimey.
Here is how Plastics4Performance custom made a new windscreen for my Enfield. And the best bit is that anyone else out there can now have a new windscreen for their Enfield. Not that there's many of you…
1) Firstly, the windscreen has to be removed from the car. Luckily the P4P guys removed my screen without turning it into cubes. I was too scared.
2) First thing is to make a flat paper pattern of it for 3D CAD data. In my case they did the old school way – by making a paper template pattern - the traditional method before computers were invented.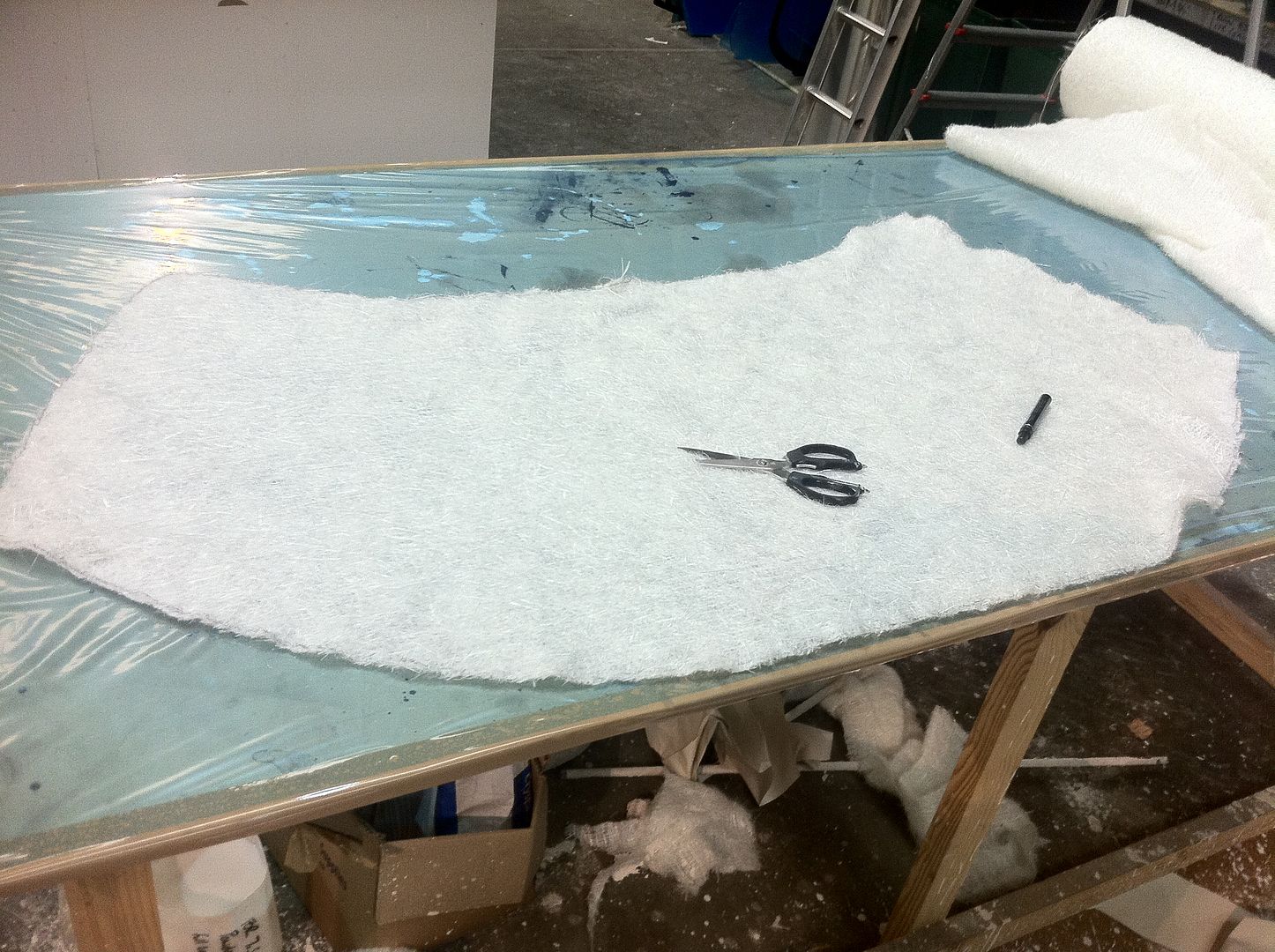 3) From the paper pattern P4P put it onto a digitising table, which digitises the outside the silouhette into the CAD system. P4P makes sure it is nice smooth shape (removing any jagged edges). From the CAD data they turn it into 'machining code' for the CNC machines, going from a drawing to a programme for the cutter.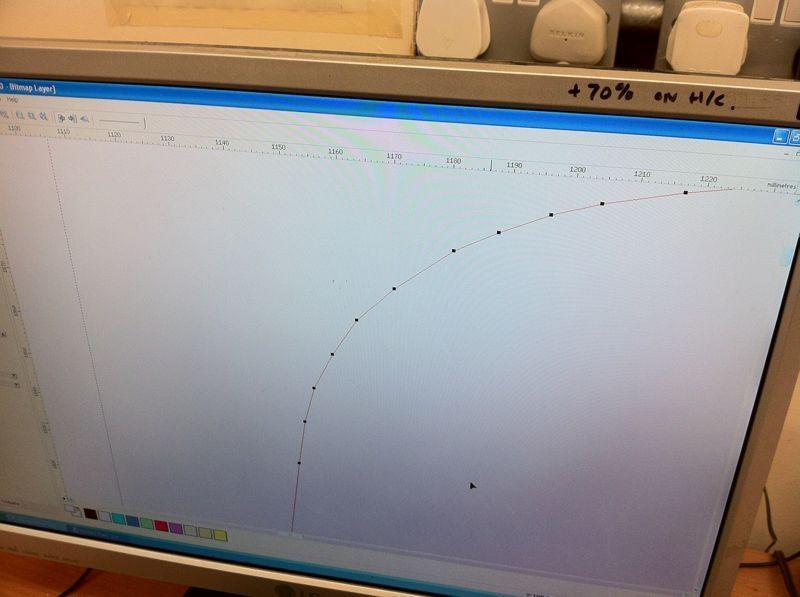 4) Next process is to take the sheet of polycarbonate – which in their industry is optical grade of Lexan – and put onto the CNC machine. Then the flat windscreeny sheet is cut required.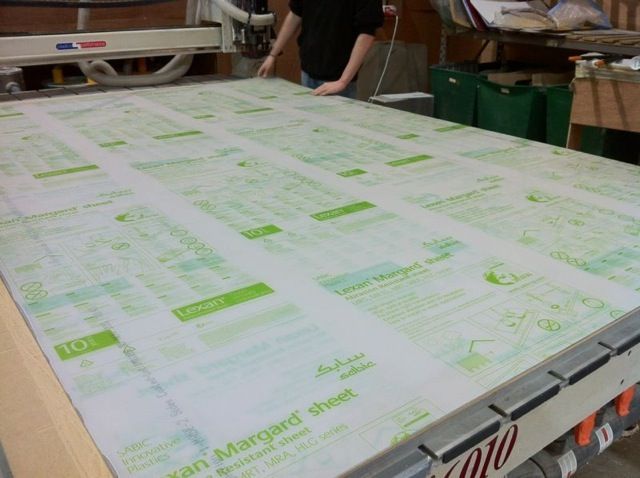 5) Time to make the tooling. Says Paul "We make a high temperature forming tool from ceramic paste with a woven glass cloth inside. Think of it as a workable plaster that sets in 2-3 days. Then it can be broken away from the original glass screen."
I returned to help with this part. Careful Jonny…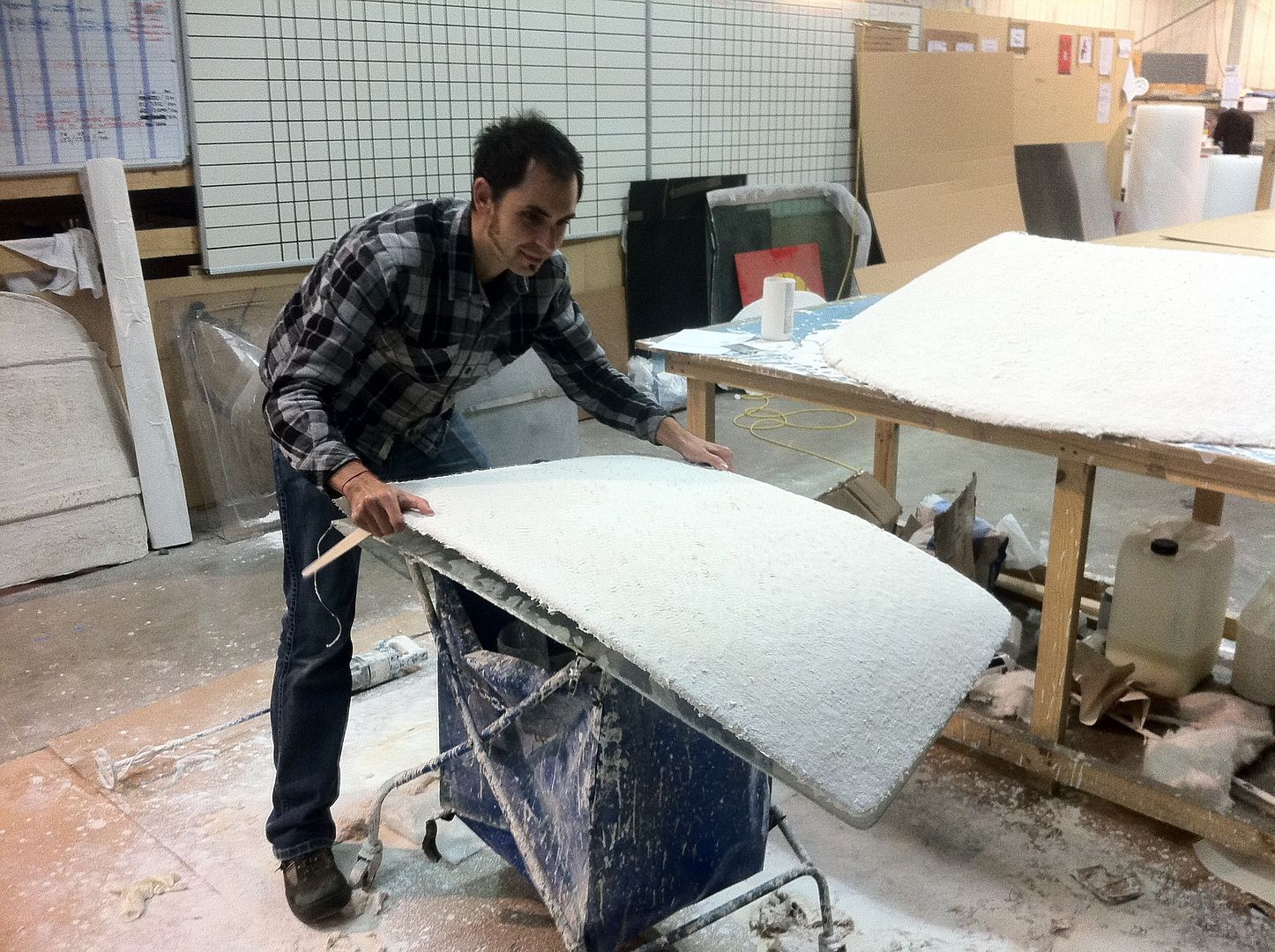 Don't drop the master mould.
The other side of this plaster mould is all smooth. Obviously.
6) Once dry P4P rechecks all dimensions and give the mating surfaces a check for smoothness and dust/debris pollution. Then it's ready for forming. This pic shows my Enfield windscreen sharing a work bench with a Koenigsegg screen. Am I delusional, or do they share a similar shape?
7) So now the whole process goes into the thermo forming department. A bloke called Andy usually. The mould and the polycarbonate sheet go into a heat cycle in the oven, where the sheet of Lexan gets hot, loses tension, becomes elastic and sags neatly into the mould. This part is hard to photograph without getting badly burnt.
"The oven baking process can take between 7 to 10 hours. The slower you heat it and the longer you leave it in defines the optical quality and strength. What you DON'T want to do is shock it by rushing it and speeding up the temperature change." Says Paul.
From what I could see, it's basically like slow cooking a joint of meat, or some specialist Bake Off bake.
Once heated it then goes through a cooling cycle. Polycarbonate tends to have a 'memory' and wants to return to a flat sheet (original state) so by doing slow cooling this avoids. Usually left overnight to cool. Again, difficult to photograph inside a hot oven.
Paul: "You've only got a window of 1 or 2 degrees between getting it right and it becoming liquid and turning to scrap – literally only good to be granulated and turned into CDs! That's why this is a specialist business."
8) In the case of my Enfield's screen, once out of the oven it is checked for its optical qualities. Then it's ready for a hard surface coating…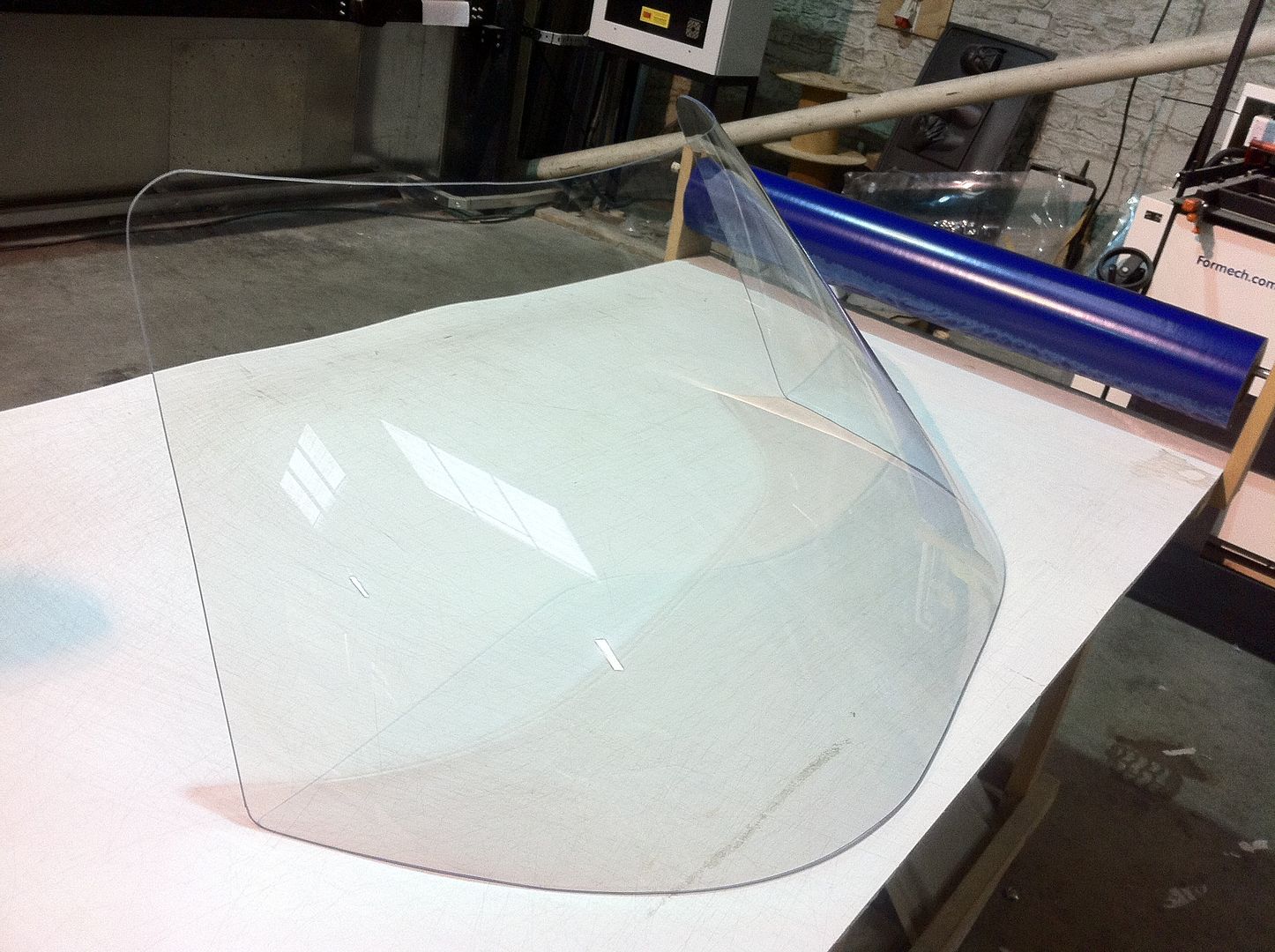 …to protect it from scratches. Windscreen wiper abrasion, chemical attack, stone chips. A liquid silicone coating which is thermally coated in the oven on a long low temp cycle. All this is done in a class 1 laboratory clean room.
P4P also now has the ability to make heated Lexan screens, which is basically sandwiching two screens together with a heater matrix between. Clever. My Enfield originally had a heated windscreen, but for racing it wasn't high on my agenda.
Once back from the hard coating P4P hand finishes the edges to remove any burrs. Then it's ready to post out.
Just before Christmas I received this parcel. It didn't say FRAGILE on it. I couldn't believe it was the windscreen…
…but it was. I was so excited I unwrapped it on the kitchen floor and left it there to admire, much to my wife's glee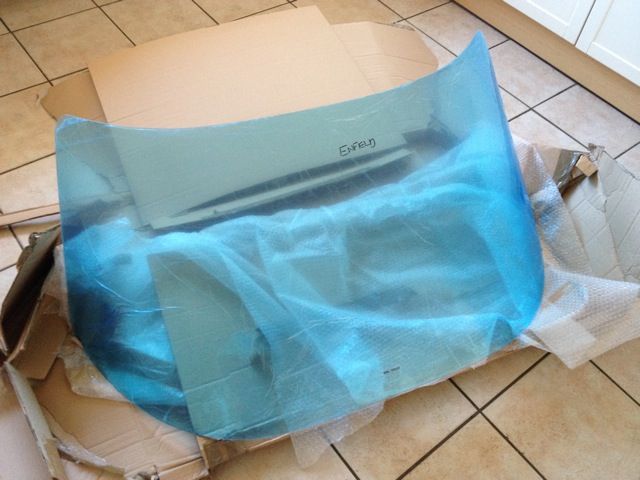 So you now know how brilliant and perfect Lexan windows are for performance and race cars. You probably think they cost a absolute fortune. Actually, not. I was pleasantly surprised to discover that screens start from about £325 for a simple (or flat) off the shelf item, like an old Beetle, classic Mini or Escort.
About £500 for really curvy panoramic screens, like Ferraris and some Japanese cars. And my Enfield.
That Koenigsegg screen is about £1200.
And here's the best bit. Plastics4Performance doesn't usually charge for tooling up, because that would prohibitively expensive. Instead they use new moulds as an opportunity to build up an archive of car window templates. You should see their workshop with racks of screens – it's like a glass library.
In some cases Lexan can be cheaper than original glass windscreens. Paul said: "We've done screens for the 458 Italia – I used a friend's crashed race car for the mould, because a new glass screen from Ferrari costs £9k!"
If you want to have a screen custom moulded, the typical turn around is 8-10 weeks. These guys are busy. Because they're bloody good.
My new screen is fitted, I've just got to insert the original chrome strip (which is right knuckle skinner in cold weather). I will weigh it and let you know how much flab has been sliced off the Flux Capacitor's kerbweight.
Best Year EVer?
Happy '14 to everyone who has shown interest or been instrumental in the build of my Flux Capacitor electric drag car.
2014 is the year we will start racing it and seeing whether it will live up to expectations.
I would like to take my hat off to thank sponsors Adrian Flux Insurance, npower energy supplier and Red Maple IT consultants.
Can a 1970s zero emissions city car with an original top speed of 40mph crack a quarter mile dash of 12 seconds or less? I reckon so, yeah.

MAKING CABLES! (wiring for street legality)
Wiring is pretty crucial for an EV, as you can imagine. The Flux Cap had had its high voltage cabling plumbed in by Olly Young at Current Racing earlier in the year, so now it was time for the remainder of the loom to get refreshed.
By remainder I mean the low voltage 12-volt stuff required for MoT. Headlights, indicators, horn, that kind of thing.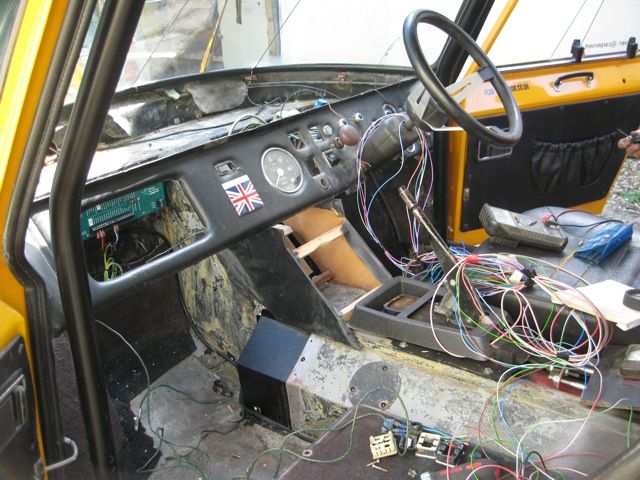 After he did such a decent job on my (less eco warrior) old Dodge Charger John Mills at Allcar Electrics (07710 163131) in Wisbech came to right all wiring wrongs.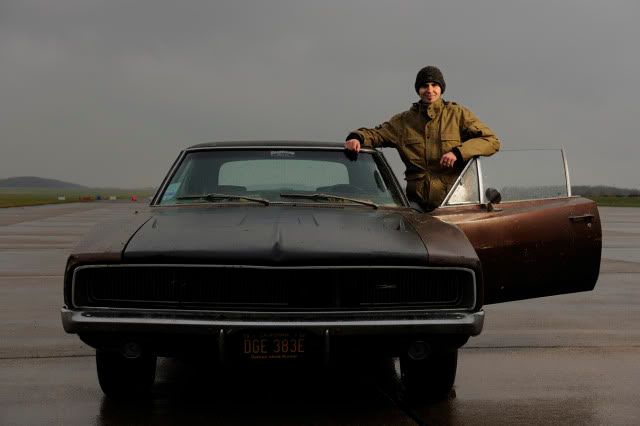 After a 15 minute poke about, it was decided by John that a bespoke new loom would be quickest and most reliable solution. During the course of a day he first removed the entire factory loom. You can just about see it there on the floor…
… Then he copied the OEM look and route of the original wiring harness, but did away any unnecessary extras (by that I mean stuff beyond the MoT basics). It doesn't look too exciting, but it is. For me at least.

At the same time John converted the Enfield to run LED bulbs and, by using thinner gauge modern wire, whittled down the weight of the wiring harness by some 6-kilos. He put it on scales to prove it!
He wires a lot of classic rally cars so he's a bit anal about weight. Put it like this, he convinced me to downscale from dual tone horns to a single horn. And yeah, the old radio has gone. Less weight, innit.
But probably the cleverest touch that John did was to re-use a few of the redundant dashboard switches for alternative purposes. For example, the heated rear window switch is now the Moroso Anti-roll line-lock solenoid…. which locks the front brakes for tyre warming rwd burnouts. I didn't need a heated rear window any more.

It may look standard still, but don't believe all those buttons.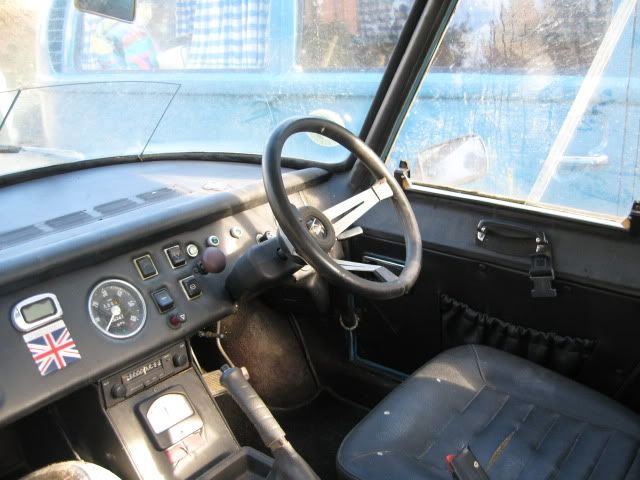 The Enfield's rear lights were Hillman Imp items, so I managed to source a better secondhand set via the extremely friendly Retro Rides forum. I managed to make four good 'uns out of eight slightly rubbish ones. On the outside they are 100% original, but inside lurks the LED technology.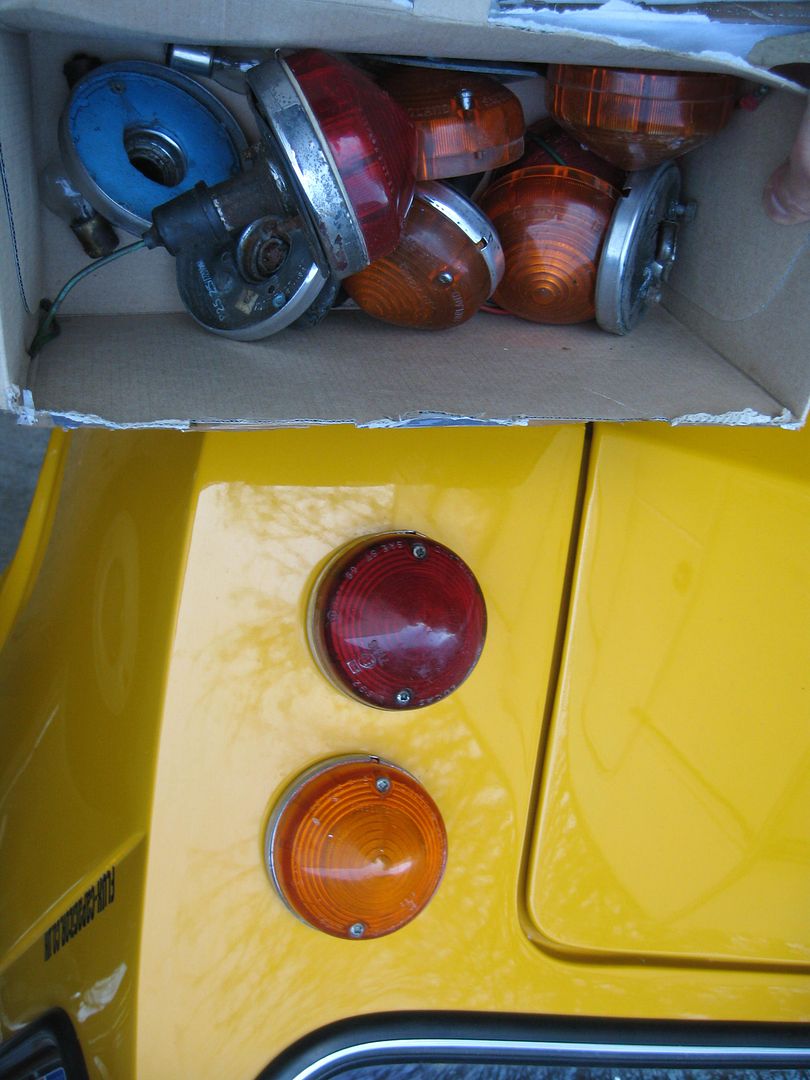 Because the car's main power will be in excess of 300-volts, the 12-volt stuff will run on a separate circuit – just like the Enfield originally did. I've found a neat little Yuasa NP17-12 motorcycle gel battery which is slim (181x76x167mm) and light enough (6kg) to mount smug inside the glovebox recess. I've put it next to my old Audi GT battery to show the size difference.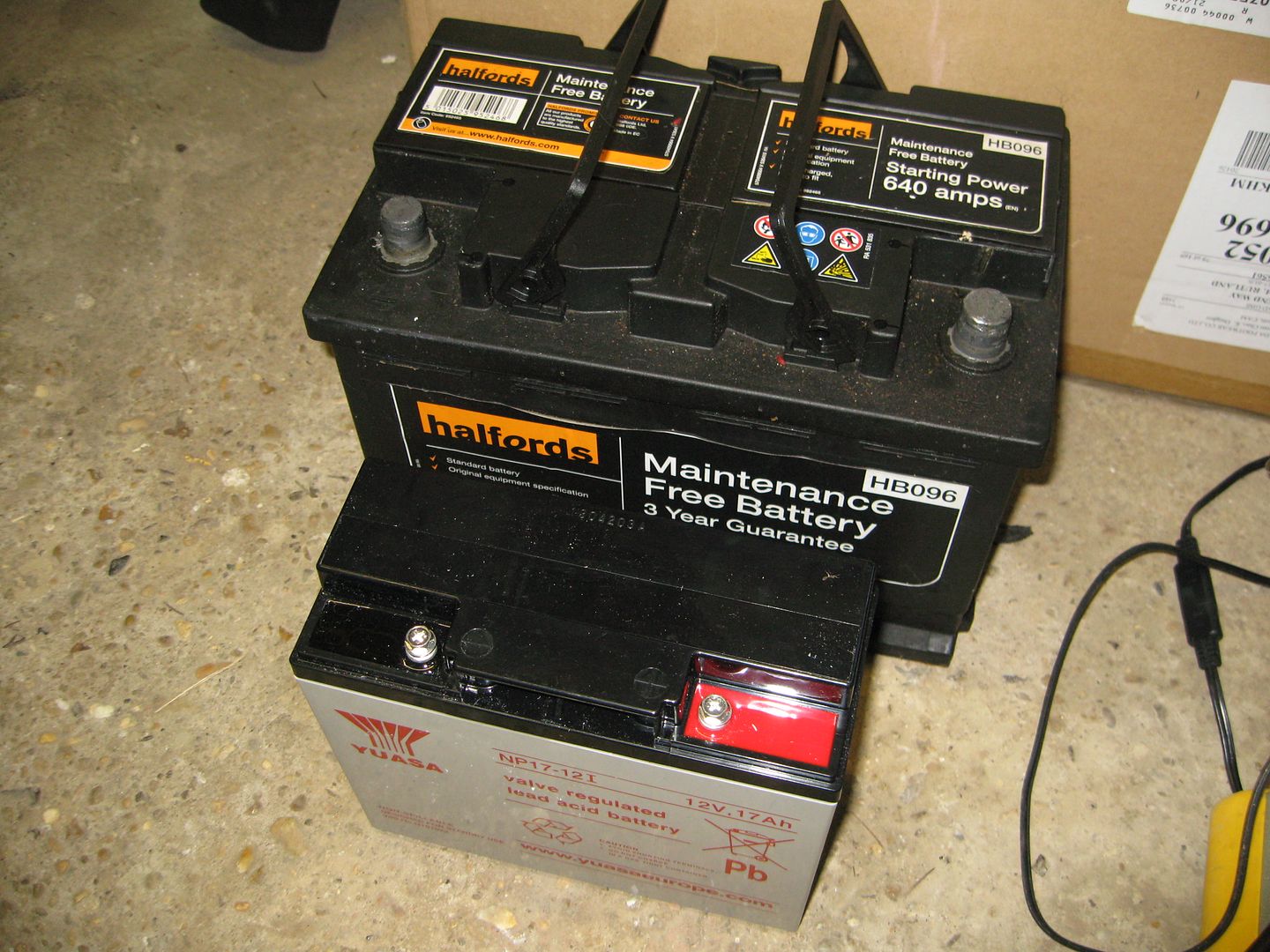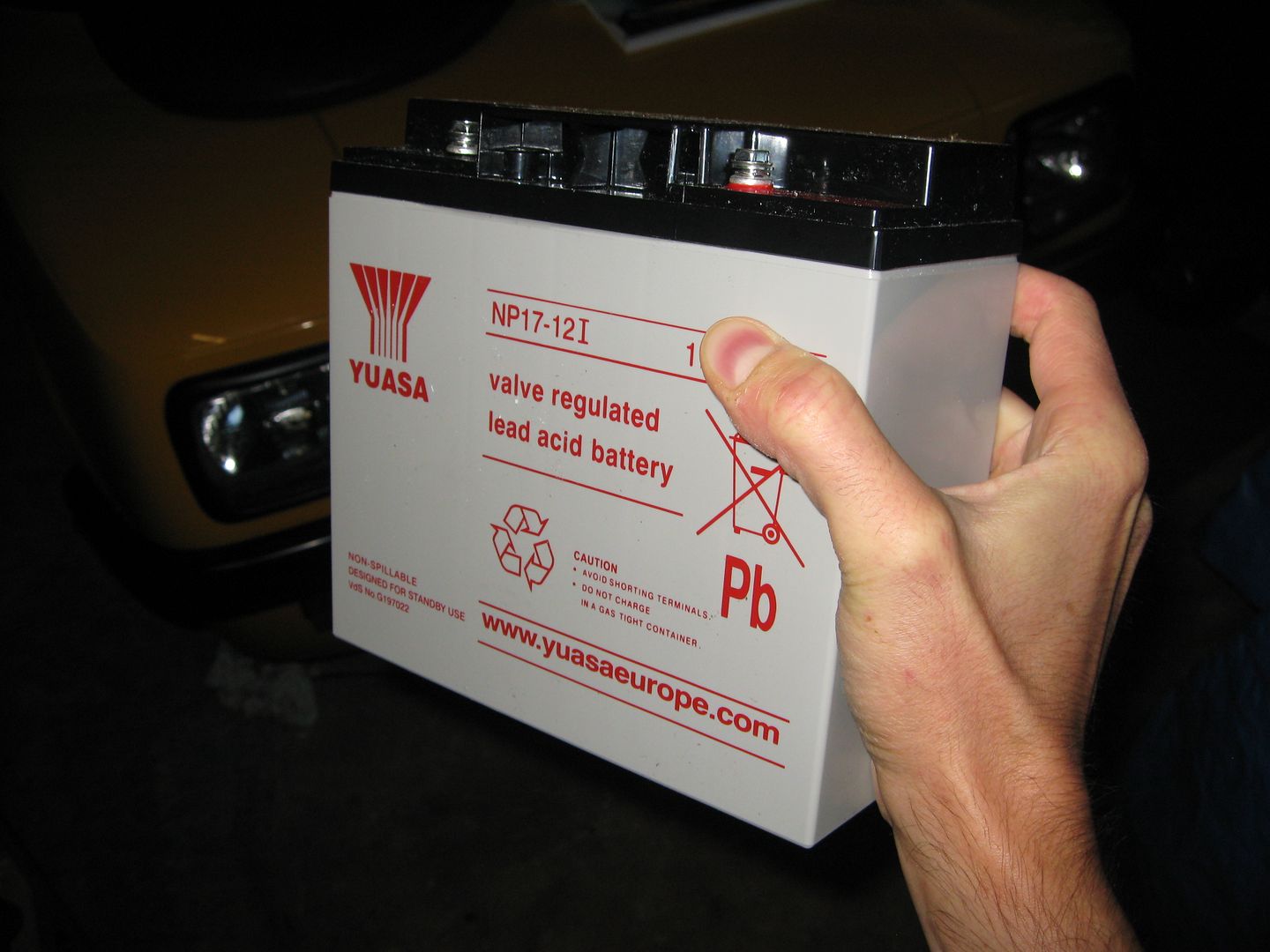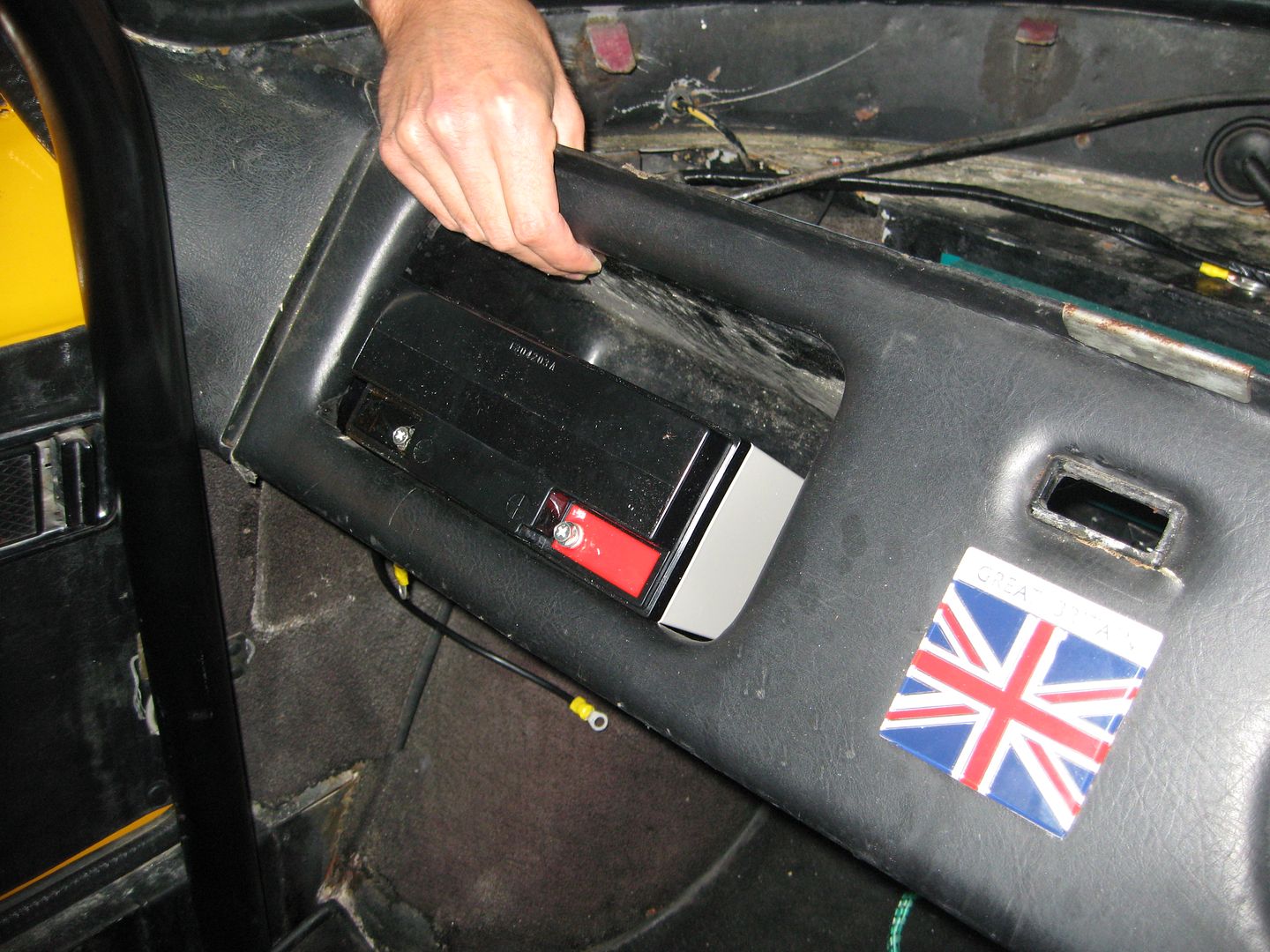 This obviously won't get charged by the Enfield's main system so it can be charged by a portable solar panel or mains conditioner when the car's not being use. Being largely a race car, it isn't important to me to use the lights and wipers for hours on end.
In about a week from now my special lightweight polycarbonate windscreen will have emerged from the moulds at Plastics 4 Performance. More on that v soon folks. Thank you for reading. I was hoping to have the car running this year but several dilemmas and delays with sourcing the correct battery packs has proved far harder than I originally planned. Hey ho. Looking forward to running it in anger in 2014!
BUMPER ISSUE
I bought my Enfield 8000 back at the start of 2012 as a non-running project. It was perfect for what I wanted, because the dead electrics were going to be removed to make way for cutting-edge digitally controlled motors and batteries.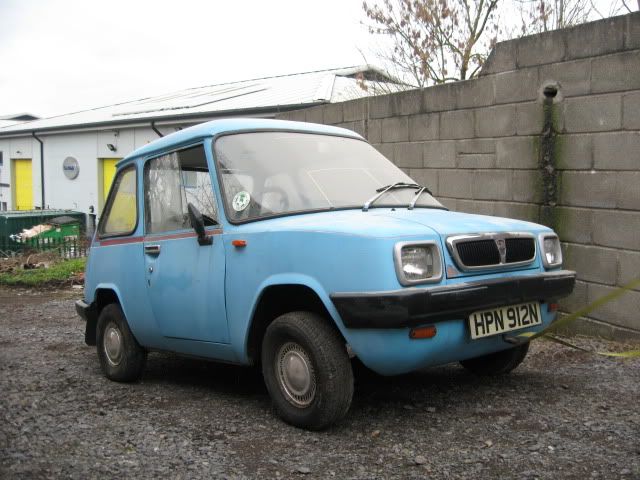 However, as modern as the guts of my street legal Flux Capacitor are, I always wanted to retain originality to the bodywork and interior. In custom car terms I suppose it would be classed as a 'Resto Mod'; restored unmodified bodyshell (no wider arches, no additional louvres or modern upholstery) but with uprated brakes, suspension and the addition of such safe things as a full roll cage.
One aspect of my Enfield which were utterly repulsive was the incorrect (Ford Fiesta) plastic bumpers as fitted by a previous-previous owner, presumably in an effort to modernise the little Enfield. They didn't. They looked shite.
The plastic bumpers immediately kissed the bottom of the bin whilst I began searching for a pair of steel originals. And I searched. And I searched. Turns out that they are slightly rarer than extinct, possibly helped by the fact that of the 120 Enfields made worldwide in the '70s, probably less than 40 have survived. Parts are a bit difficult to sniff out.
The solution was to have replicas made. But before I could do that an original pair had to be found. After getting in touch with the BVS (Battery Vehicle Society) - and also a piece on the Flux Cap I wrote for the Sunday Times - I discovered of the handful of road worthy Enfields in Britain, one of the most active resided in Peterborough, less than 15 miles from my house.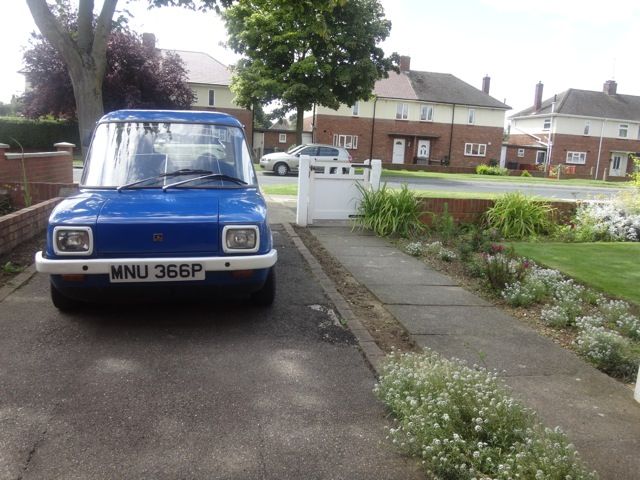 This blue example is regularly used for urban tooling about by owner John Parkinson, a retired electrical forklift engineer. John was only too happy to invite me over for a coffee, natter and chance to have my first ride in a factory stock Enfield 8000. It was pretty cool, I have to say. I took a couple of shaky home videos which you can view here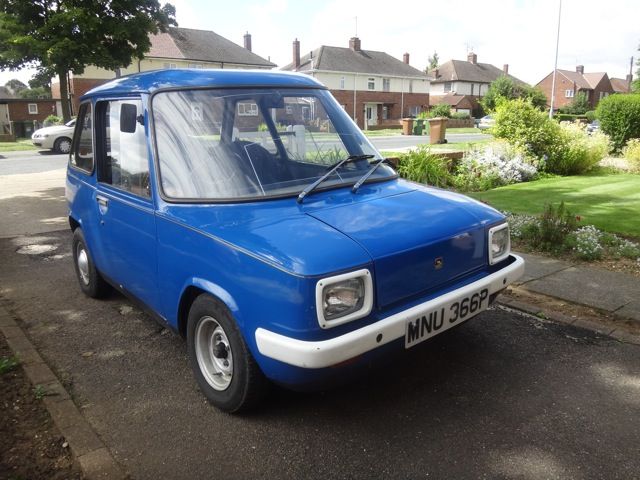 John has owned the car since 1980 and enjoys confusing people at local classic car shows. He trusted me enough to unbolt his steel bumpers and lend them to me for a month. That's when I realised I ought to have glassfibre moulds made. Glassfibre wouldn't look any different to steel once painted, plus they'd be lighter than the originals – ideal for a race car.
Rob at East Coast Buggies is a bit handy with his glassfibre skills. As such I approached him for the job of making a master moulds. He set aside his normal beach buggy body jobs and made these for me: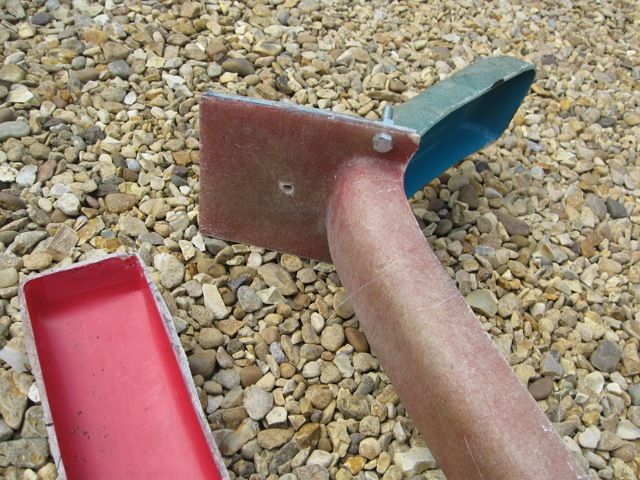 Thankfully the Enfield bumpers aren't very complex, so Rob managed to bond brackets onto the back of each bumper
Then Tim at Roadhouse Retro fillered any imperfections…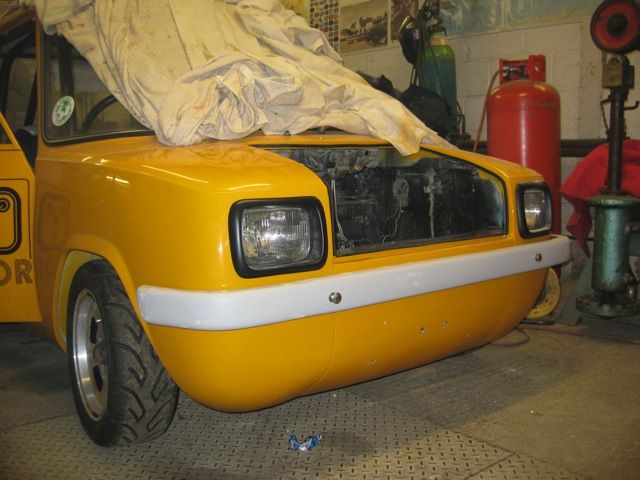 … before gunning on satin black paint.
It turns out Enfield 8000s were sold with either black, white or silver painted headlight rims and bumpers. Mine originally was a white car with silver, but I opted for black to contrast against the Yellow Ochre paintwork. Here's some retro Instagram-spec piccies of it now, together with a shot of one of the earliest Enfields leaving the ship yard assembly plant in Greece.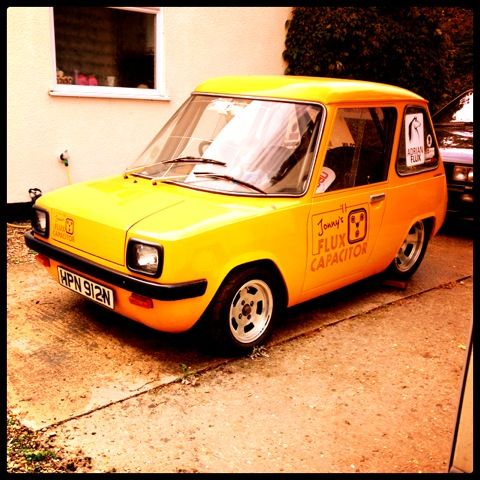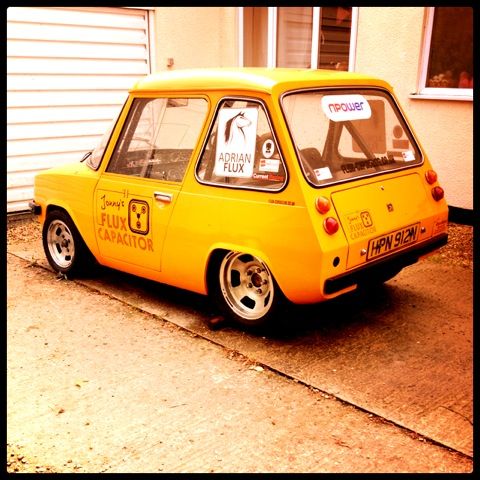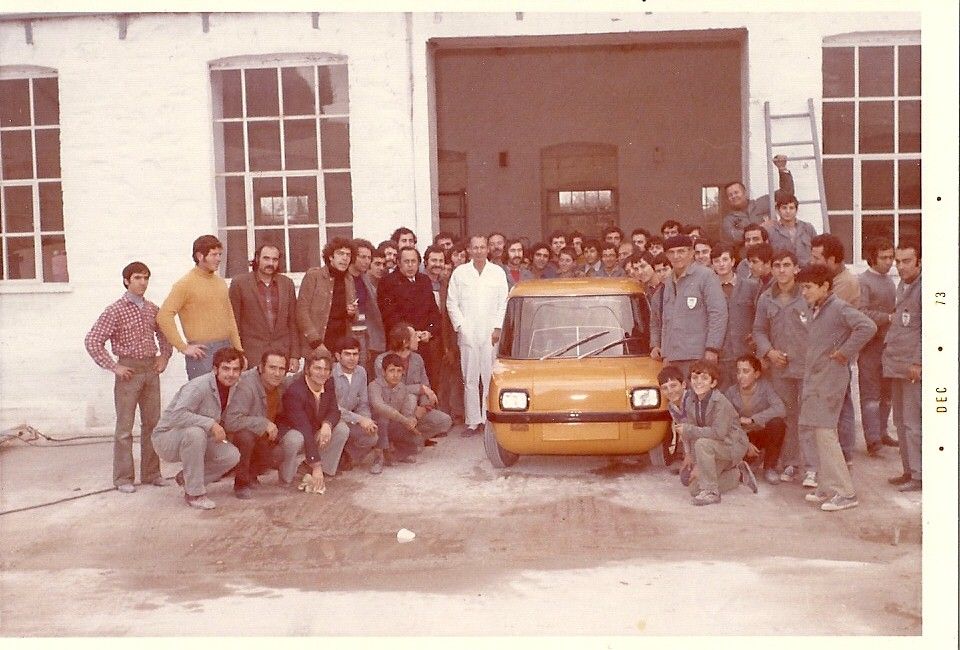 I've uploaded this black and white pic before, but in case you missed it here is what my Enfield looked like when new in '74 (when it was a test vehicle for the SEEboard (South East Electricity) in the Brighton area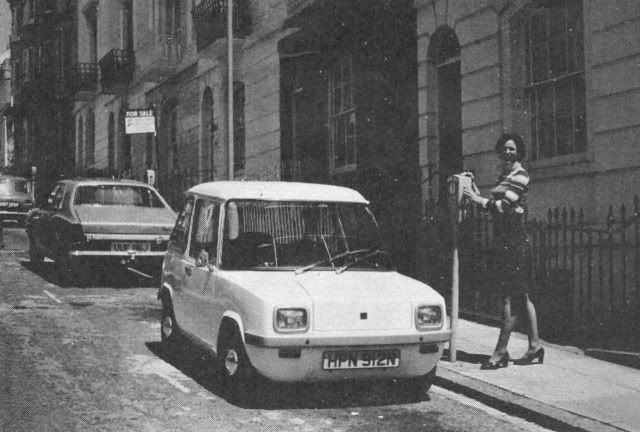 Next blog will detail the recent rewire of all the 12-volt street legal bits, together with details on the tyres and a shiny new polycarbonate windscreen.
Thanks again to everyone who has followed the project with enthusiasm, and of course to my sponsors Adrian Flux Insurance, npower energy and Red Maple IT consultants.
STOP FOR A BRAKE.
Because it was designed to live in the urban jungle and never travel beyond 40mph, the Enfield 8000's 7-inch (non servo assisted) drum brakes seemed perfectly satisfactory in 1974…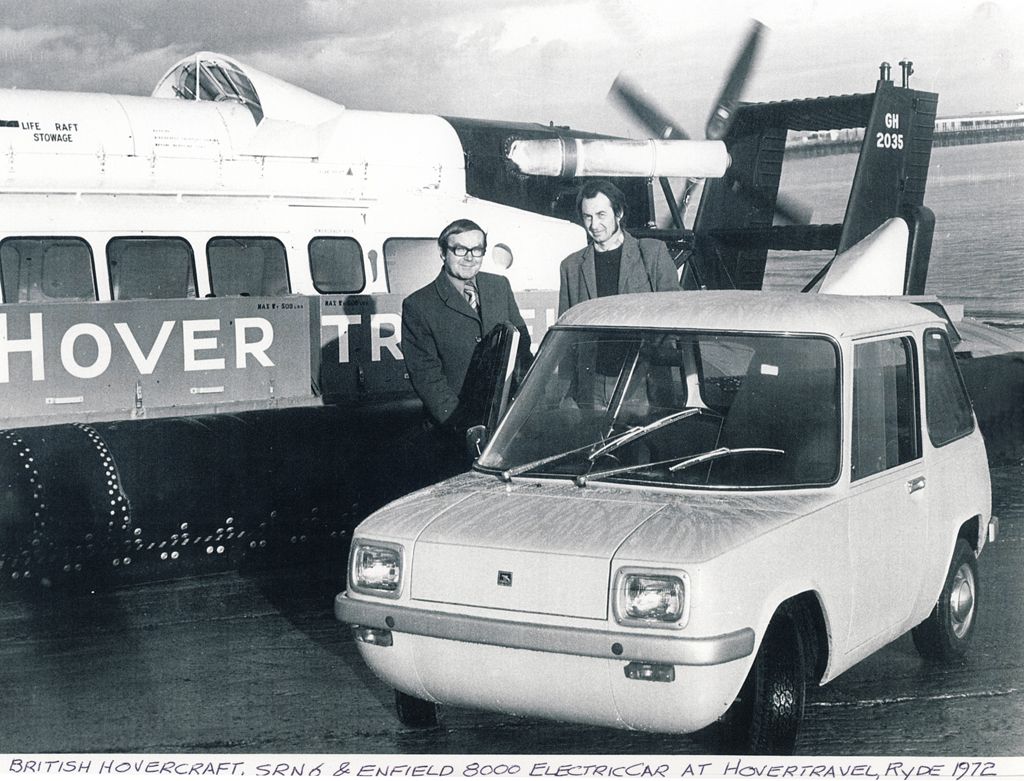 …but they were never going to be too useful on my Flux Capacitor project. For although it will weigh significantly less than the lead-acid batt laden 975kg original, mine will probably be crossing the quarter mile drag strip finish line north of 100mph. And then you have to stop the thing before you run out of road.
The Enfield's 7-inch rear drum brakes had already been binned when Webster Race Engineering remodelled the rear chassis to fit the new custom built Ford 9-inch race axle. This came complete with beefy drums capable of stopping something made in Detroit weighing closer to two tons. Pretty substantial, then.
The front end was a bit more complicated. We saw no reason to seriously alter the Hillman Imp front wishbone suspension, as it is strong and easy to set-up since fitting the AVO adjustable dampers/springs.
The problem lay with the fact that Hillman Imps were never fitted with disc brakes, and we needed disc brake stopping power up front. I don't know when the last time you looked, but there aren't many rear wheel drive cars in the world that have 10-inch wheels.
After dismantling the hub assembly and doing weeks of head scratching (pretending to know what to do), I was put in touch with performance brake gurus AP Racing, who loved the Flux Capacitor and were happy to get involved upgrading its anchors.
AP is a name that can be found on many race cars throughout the world, and what those guys don't know about stopping isn't worth worrying about. AP expert engineer Kevin McDonnell then discussed my project at length with one of their distributors BG Developments.
I have to take my hat off to BG Developments (01527 873716) boss David Fuller, who really went out of his way to help. Based in Bromsgrove, these guys specialise in custom machining or restoring older car brake systems. Back in time they were charged with building the brakes on Ford's original GT40s, and not long ago were recommissioning the anchors on Tyrrell's ground-breaking six wheeler P34 Formula One car. 
BRAKE BUILDING
David asked me to post him a wheel, the hub and stub axle assembly – then give him two weeks. Sure enough, a fortnight later BG Developments had created something truly amazing. David personally drove the parts to my house and we sat down over a cuppa to admire a disc brake conversion that was so pretty it was almost a crime that most of it will forever be hidden behind a wheel.
So how did BG Developments make a disc conversion from scratch for an oddball car with small wheels (albeit upgraded from 10-inch to 12-inch front rims)? Simple really. They machined up bespoke 267mm x 10mm cast iron disc rotors, as milling down an existing disc wasn't an option - as nothing came close in size.

Then using CAD BG drew out a bracket for where a caliper could mount onto the disc, which was then CNC machined out of aircraft grade 2014 T6 aluminium and anodised to match the caliper.
In my case BG used an AP Racing caliper usually found on the front of a Caterham – monoblock aluminium with lightweight piston. This was then carefully machined down in places to clear inside the 12-inch Wolfrace Slot Mag wheel.
And then to my favourite components - the featherlight CNC machined caliper mounts. These took three CNC operations to complete, each one 6 minutes. Where the bracket bolts to the caliper is where things are manually machined for clearance and shape. It's beautifully detailed, and somewhat upsetting that these bits are hidden from view when they're bolted on.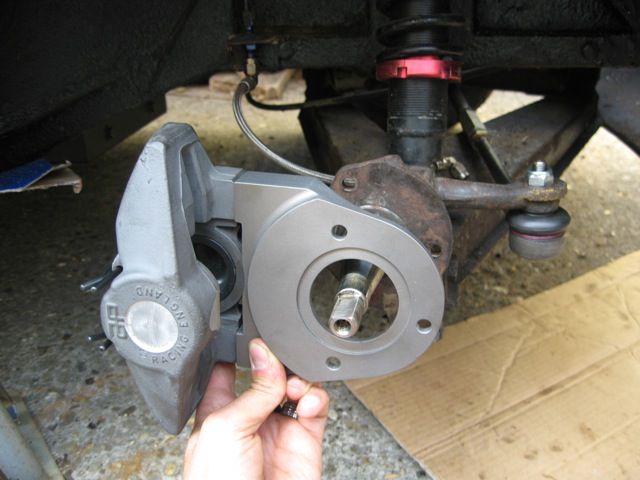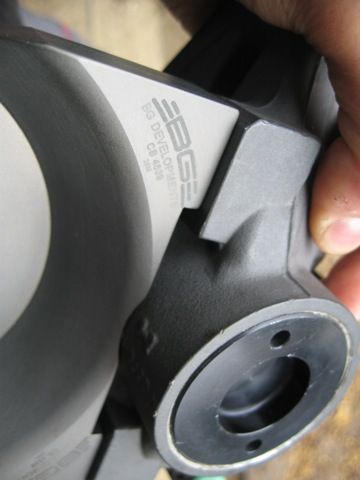 I am proud to report that all of the brakes were designed and built in Great Britain. Hurrah.

DISC FITTING 
As I was mid-house move during this part of the project Tim Glover at Roadhouseretro (who did the Enfield's body, paint and reassembly) let me fit the disc conversion at his premises. It was the perfect chance to photograph the little 2.84-metre yellow peril next to Cadillac land yachts.
Against a backdrop of rockabilly music and Tim's perverted dogs, I set to work fitting the disc kit fresh from BG Developments. The side which I had had to remove the stub axle (to send to BG) needed new bolts, but these were quickly sourced through local fastener firm Welland Supplies.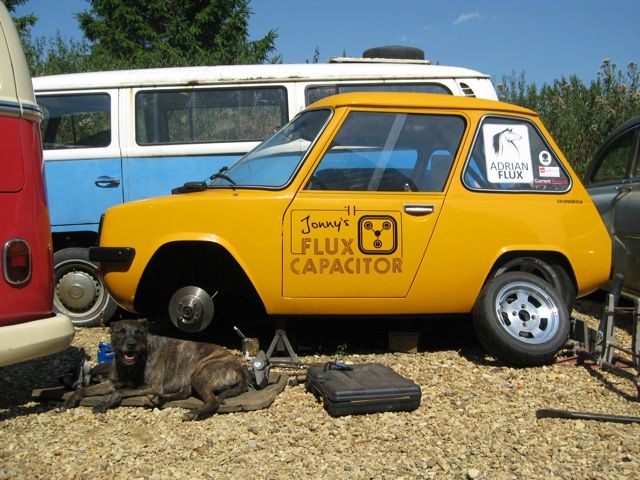 I don't fancy having worn steering components when racing at 100+mph, so decided whilst the track rod ends were disconnected I'd investigate a possible upgrade. I'd read on a few forums that the original spindly Hillman Imp rod ends could be upgraded to fully adjustable beefier Ford Fiesta items, so ordered a pair from Imp guru Malcom Anderson (who happens to live 5 miles from where my parents live). You can see the difference in size here.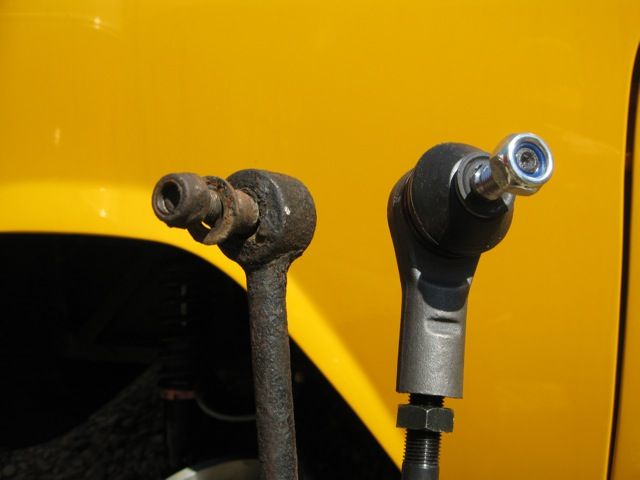 Once the stub axle was back on, the custom machined backing plate could be bolted to the three existing holes in the stub axle. It looks like an original factory upgrade.

Then the hub could go back on (with regreased bearings), including the original Enfield speedo drive.

The disc goes over the wheel studs and locates onto the hub with two countersunk screws.

The caliper simply connects to the mounting bracket with two allen bolts, with the Ferodo racing pads located in place with a pair of simple spring slips.

The whole job was done within an hour, helped by the fact all disc conversion parts bolted up like they were factory fitment.

BG Developments managed to squeeze the biggest caliper they could inside the 12-inch wheel, and they weren't lying. I've had to remove the stick-on balancing weights from inside the wheel rim as they were fouling the caliper!
Next week I'll explain how we had some glassfibre bumpers moulded for the Flux Capacitor, the sticky front tyres I'm using and the mammoth rewiring job for lightness and LED lights.

Thanks for reading and thanks again to the Flux Capacitor's sponsors Adrian Flux Insurance, npower and Red Maple IT consultants. Without them I wouldn't have got this far…
I LOVE EV HISTORY
Half the reason I started this Flux Cap project is because I was fascinated to delve into the history of this quirky pint-sized British EV. The more I read about the development and design of the Enfield, the less I laugh and the more I realise it was a pretty decent attempt at an urban plug-in zero emissions two-seater.
When I wrote a piece in the Sunday Times about my ambitions to turn a flood-damaged old electric ruin into Britain's fastest street legal EV, the response was huge. People really did come out of the woodwork, not least the guy responsible for project designing the Enfield 8000 when new.
John 'Ackers' Ackroyd first sent an email and then we chatted via landline. He is not only one of the jolliest blokes I have ever met, but one with a career so varied you couldn't make it up. Turns out he'd just finished writing his autobiography, and it really is a fascinating read. More fascinating than Tiff Needell's.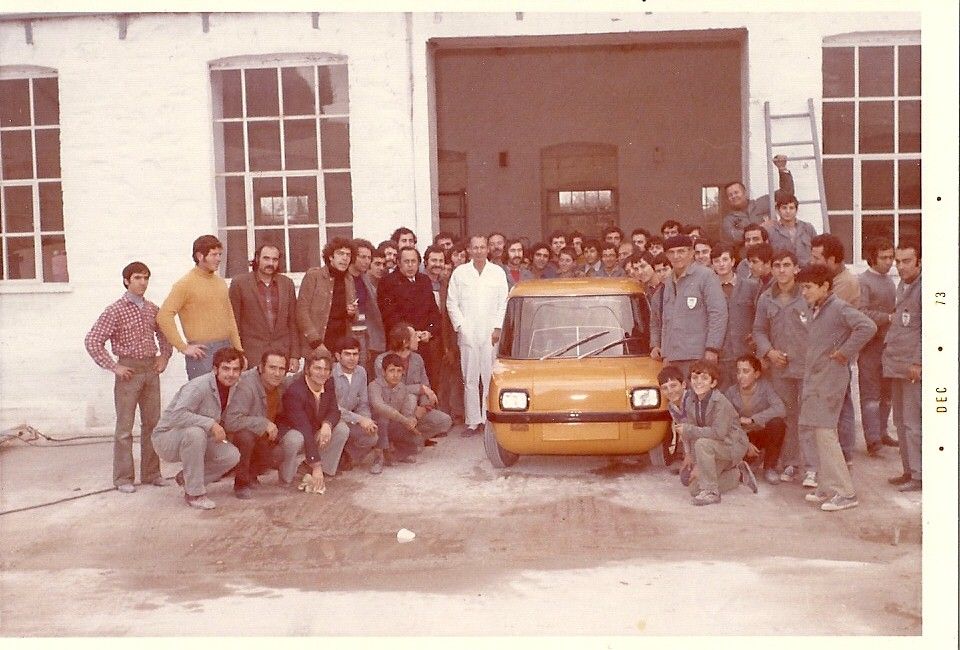 Born and bred on the Isle of Wight, he is the main reason the Enfield 8000 started production there. He designed the tubular space frame chassis and was there in 1971 to witness MIRA (Motor Industry Research Association, in Nuneaton) testing three of the little EV prototypes on their track, in their wind tunnel and in the crash lab.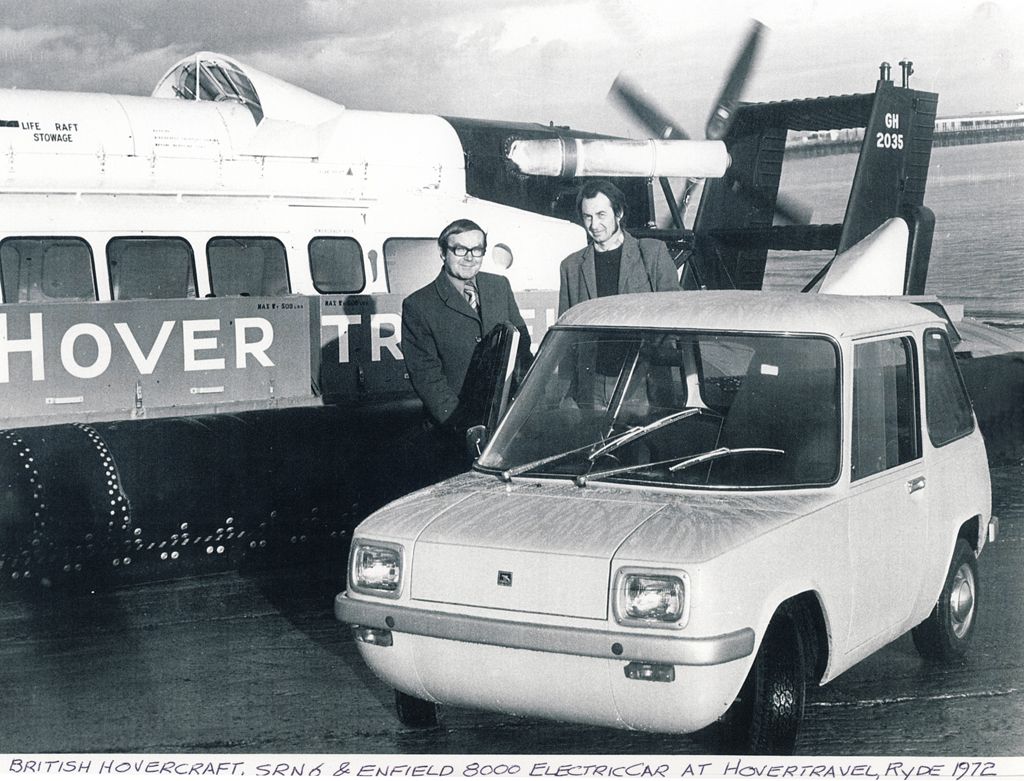 Besides taking a genuine interest in the Flux Cap project (I think he was glad someone remembered the car from the paths of time), John casually mentioned that before the Enfield project he'd designed hovercrafts (hence the above photo, John's on the right).
Post Enfield, he did a few little bits and bobs – like help design the fastest car on earth. Yep, the man that did the chassis of the Enfield was also instrumental in Thrust 2, the jet powered 'car' that Richard Noble drove 650mph to victory 30 years ago. He even got a ride in it.
And as if that isn't a decent enough nugget of trivia for retro EV nerds, here is an awesome photo showing Thrust 2's ceremonial Lord Mayor's procession through London in November '83, a month after clinching the land speed record. My finger is pointing towards the head escort vehicle used through the capital – non other than a humble Enfield 8000.
Apparently it was pure coincidence, but I love the fact that there is a photo in existence showing these two unlikely machines rubbing shoulders. And better still, a distinct link from the jet propelled Thrust 2 to the 48-volt 8hp Enfield EV thanks to John Ackroyd.
History serves to inspire and motivate the next generation, and in my little way I'm hoping the Flux Capacitor will be as fast as we need it to be to pay tribute to the handiwork of 'Ackers'. He's already invited me to take it over to the Isle of Wight when it's done. We'll see. Let's finish it first. More on that very soon. I've got lots of pics to show you…
John's book 'Jet Blast and the hand of fate' can be bought here: http://www.amazon.co.uk/Blast-Hand-Fate-John-Ackroyd/dp/0954435788
Powered by nPower
2013 has got off to a magnificent start as we welcome npower on board as a co-sponsor of the Flux Capacitor project. Alongside Adrian Flux Insurance and Red Maple IT consultants, the energy supplier will be helping me with a custom charging system (both at home and at the race track. As obvious as it sounds, the way to 'refuel' the Enfield will be to plug it into the mains, hence powered by npower!
Flux Cap as of Dec '12
Flux Cap as of Feb '12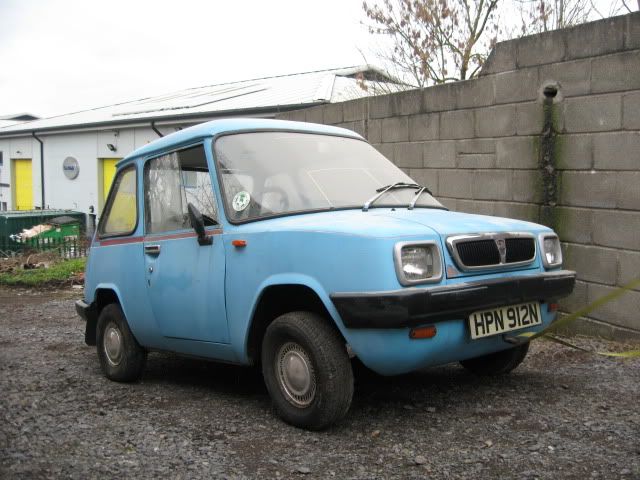 Flux Cap as of 1975 (when new)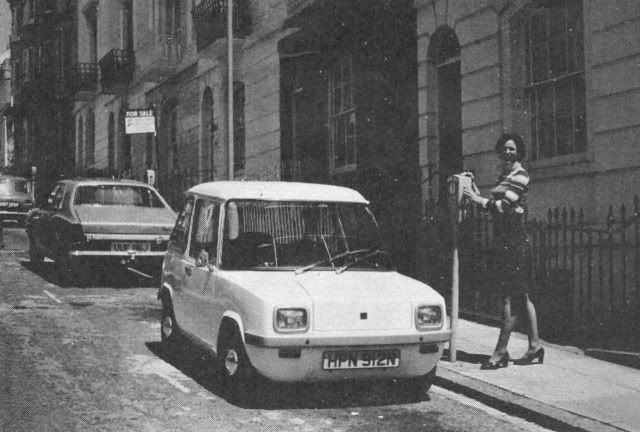 It is hard to believe that what was once a river-damaged electric relic is now almost on the home straight of completion. The Flux Capacitor project is nearly a year old, and in this blog I've tried to document its transformation into an EV hot rod.
The Enfield, in 2007. Water level had dropped at least a foot when this pic was taken, apparently. Water + electrics = not a happy relationship.
Since December the Flux Capacitor has been up on the ramps at Current Racing HQ in Hungerford, sheltering from snow and Jack Frost, as its wiring duties begin.
Olly Young at Current Racing pulled out the motors in their cradle to start measuring up to have a coupling made. This is basically a short prop shaft that connects the output shafts of one motor with the other (they face one another in the transmission tunnel).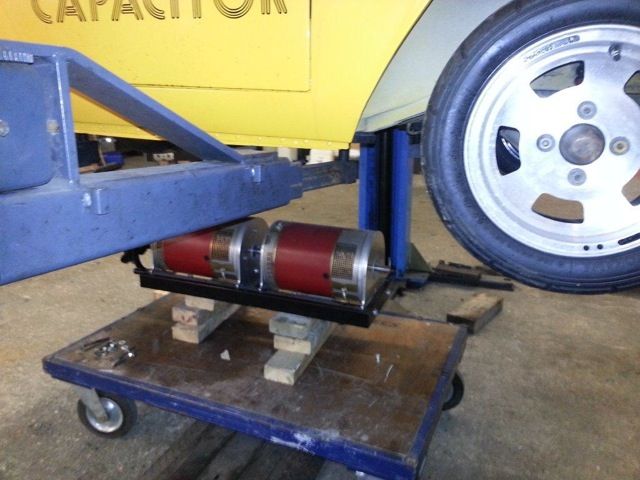 As you read this an engineering company up in Halifax are machining up a coupling to link these babies together.
The Flux Capacitor won't have a gearbox, so the output from the motors goes straight into that laughably short propeller shaft and into the diff. The loop of black steel around the prop shaft is a feature a lot of drag cars have, which catches the shaft if the universal joint fails. Not sure the Enfield needs one when the prop is 6" long, but still!
The Flux Capacitor's new Zilla controller unit (like a normal car's ECU) and main commutator is going to live in a custom built box underneath the passenger seat. It might just look like a green Tupperware tub, but that's nearly £4000 worth. Zoiks.
This pic shows the Enfield's dash with the vinyl top removed. The Zilla 'hairball' control box will be mounted here alongside the original wiring.
In other news, we're still deciding which batteries will suit the Flux Cap the best. We are in talks with Yuasa and Chinese company General Electronic Battery Company Ltd. The sooner we know which batts, the sooner we can crack on with final wiring and then getting the BMS (Battery Management System) software on the road to completion. As soon as there's a development I'll update the blog.
SILENT CAR, HOLY CAR, ALL IS QUIET…BLAH BLAH CAROLS BLAH…
Happy December everyone. The blog has seen a quiet spell during most of October and November, but this hasn't been a reflection on the Flux Cap's progress. Oh no. On the contrary the little yellow peril has changed a load since arriving back at Tim Glover's Road House Motor Co. Here's the update…
The goal was to get the rolling Enfield almost (externally, at least) complete and on display for Adrian Flux insurance at the NEC Classic Car show in November. We did it, but it was down to the (electrical) wire. I pushed it into the display hall at 9.57pm on Thursday night, just as the Tannoy announcement crackled: 'The display halls are now closing, so could everyone please leave their cars and make their way to the nearest exit'. I had B.O that day.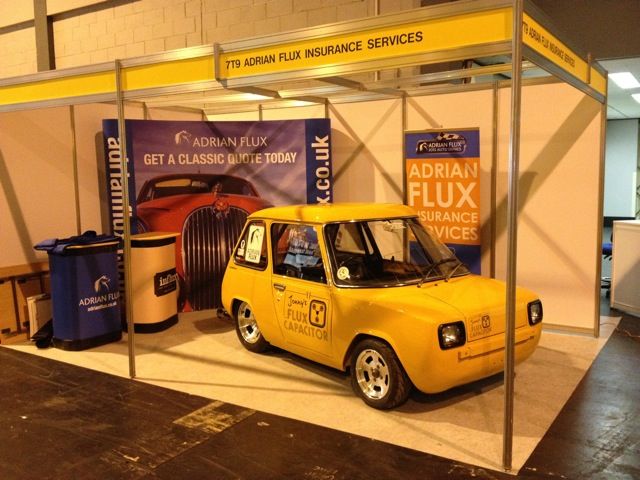 Three big days and long nighters with Road House's Tim got the car to that stage. Pizza and beer was instrumental in the process.
Tim finished machine polishing the bodyshell and hung the bonnet/boot on.
He then set to work aligning the doors, which wasn't as simple as expected, because this was never a precision-built stamped-out bodyshell. It was a completely hand-beaten low-volume bodyshell, which meant panel gaps were rarely as consistent. Nevertheless, Tim is a total perfectionist and won't let the Enfield leave his workshop until he's done his absolute best. Cheers Tim, the result looks cracking. And sorry for the late nights.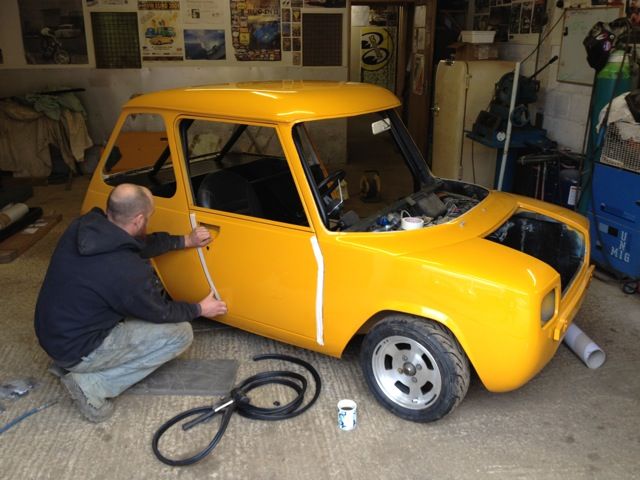 Whilst Tim assembled the (Hillman exterior, Morris interior) door locks and drenched the inside cavity with waxoyl before fitting the interior trim panels (notice the previous owner(s) had fitted door impact bars! I went off to a place called Woolies. This is an Aladdin's cave for all the stuff you need when restoring a classic car but don't know what it's called or where it can be found. My shopping list at Woolies was for new door rubbers, window seals and felt weather stripping.
BYE GLASS, HI LEXAN
Back at the workshop we unwrapped and fitted up the Lexan sliding driver/passenger windows made by Plastics 4 Performance in Bolton. Less than two weeks ago I'd laid the original glass down onto paper and drawn out templates. These were posted off and then the Plastics 4 Performance guys could set to work digitizing my pencilled templates.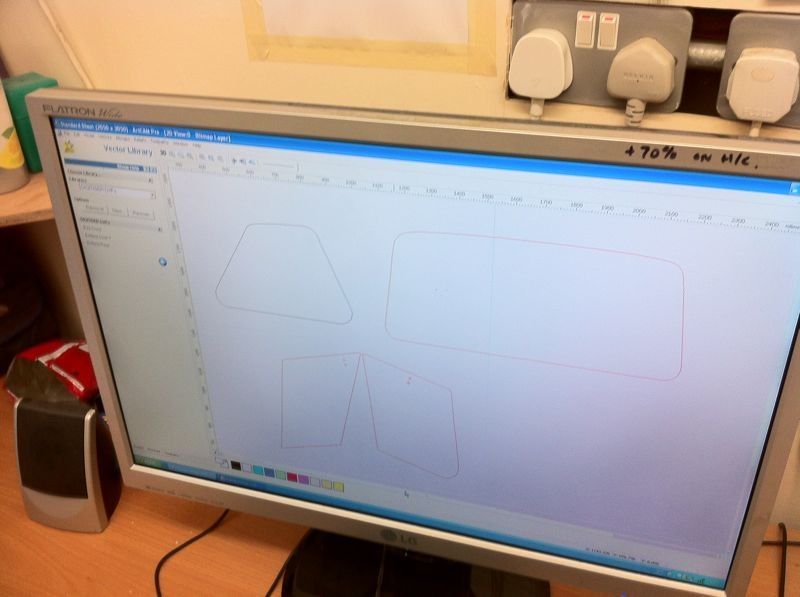 Normally they would 3D digitize curved glass and form them in an oven, but bar the windscreen the Enfield has all flat glass. I'll be having a Lexan windscreen made sometime next year. More on that in a tick.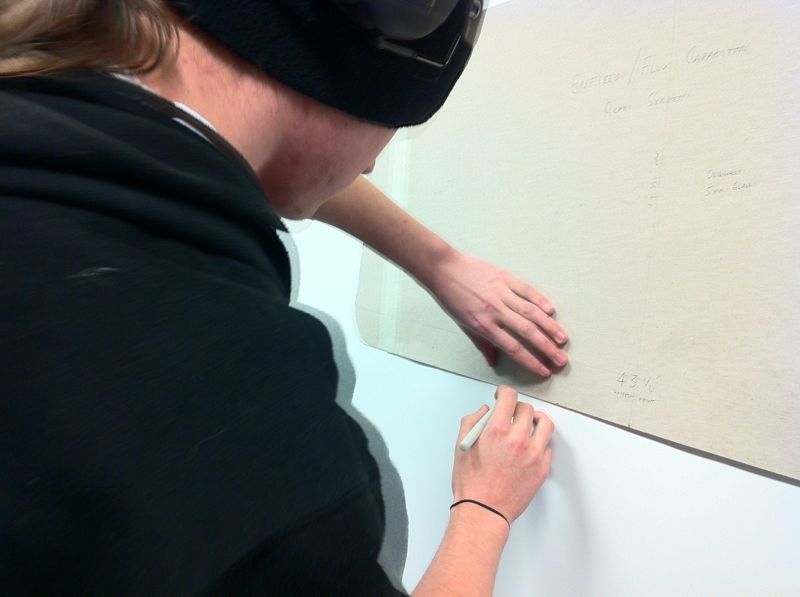 Visually they look identical to glass, but the weight difference is remarkable. The fact they are virtually unbreakable is also kinda useful on a race car. I opted for a pre-coated Lexan sheet, which is scratch resistant and anti-fog. Apparently this is the same spec stuff as used on British Touring cars. The new ones arrived swaddled in acres of bubble wrap. That's my back window that is.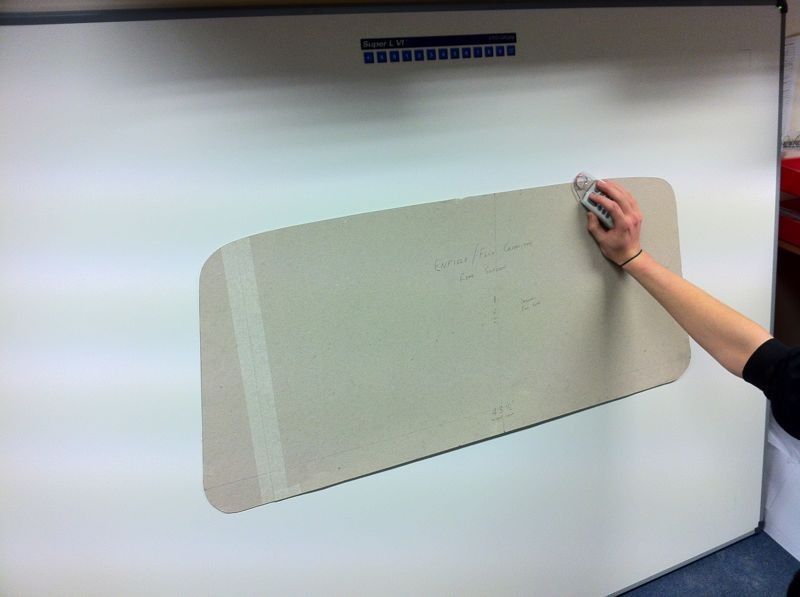 I wanted to use the same window rubbers with a chrome strip as per the original, but these thick extrusions ended up becoming a headache to work with, especially in a cold wintry workshop. Sore finger tips and hours later, we wrestled them into place.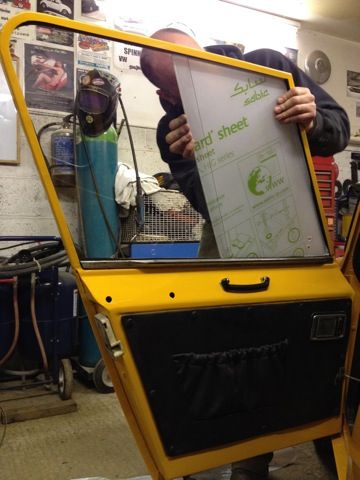 All that was left then was the dreaded task of fitting a 37-year old totally obsolete and ruddy priceless windscreen. It took three hours but Tim got it back in with a ton of profanities, but without any cracky bits. We've even retained the original Ozone Friendly sticker.
It will be amazing to have a Lexan duplicate made in 2013, but I'm not sure my heart can cope with the stress of removing the original again. According to the Enfield buffs at the BVS (Battery Vehicle Society) the value of one of these cars hinges on whether the windscreen is intact.
MMM, STICKERS
I must give Pete at Black Cat Race Graphics a plug, because he went above and beyond the call of duty to get some sponsor decals sorted for the Flux Cap (npower, Adrian Flux Insurance & Red Maple IT consultants). Not only that but he stayed up half the night helping out with other odd jobs on the car to get her looking finished for the NEC show.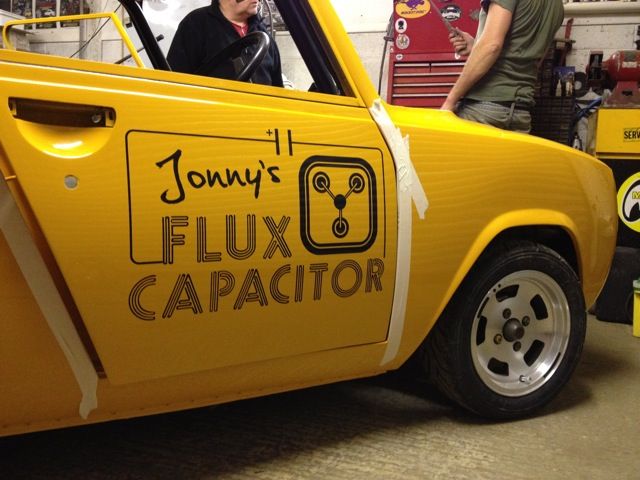 So what's happening next? Down to www.currentracing.co.uk in Hungerford for the wiring and control unit (EV ECU brain). These guys still hold the record for the world's fastest full bodied EV, and they've been kind enough to let me use their years of r&d within electric drag racing to start the Flux Capacitor's heart beating. Exciting times, as the finish line of this project seems to be within sight.
Retro to the Future. Well, not far off...
So, the Enfield is beginning its journey of reassembly. The idea was always to keep the body looking stock, but with a Hot Wheels rim choice and suspension stance. Things are taking shape. Personally, I'm chuffed to bits with the little 'leccy thing thus far.

In the last 10 days the Lambretta Giallo Ossido (Yellow Ochre) painted bodyshell has been machine polished and then taken on its wooden dolly from Roadhouse Retro back to the boys at Webster Race Engineering.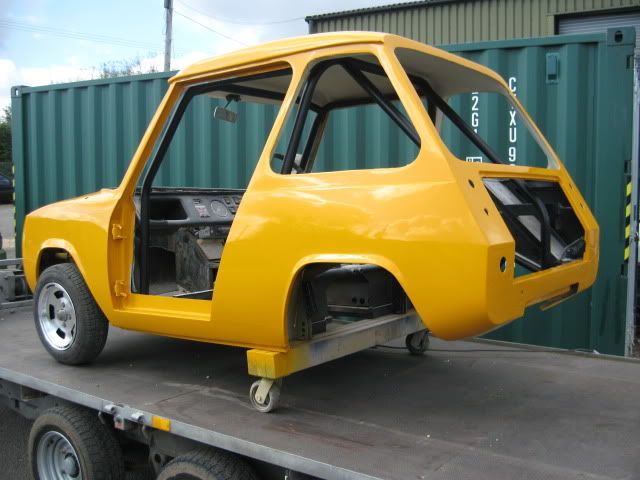 As mentioned in a previous blog, the Enfield very nearly got killed by a fire just hours after it had been painted. But it's a born survivor, so it still stands. The fire broke out in the neighboring industrial unit, which meant Tim from Roadhouse Retro lost power to his premises for over a week.
Undeterred, he found a very very long extension lead and worked tirelessly with the polisher by floodlight. The proof of his panel-working efforts are in the pics.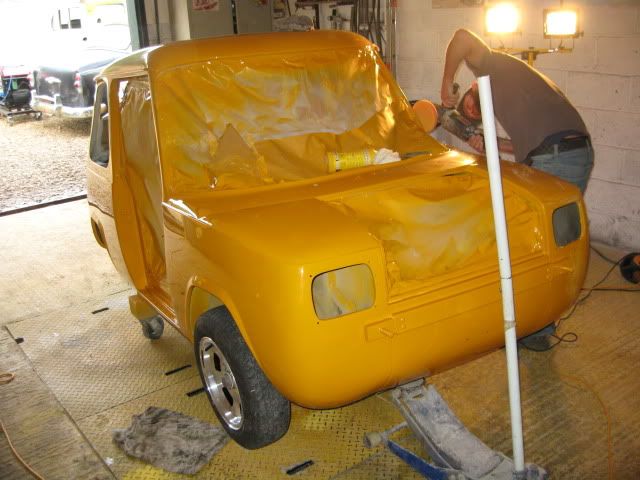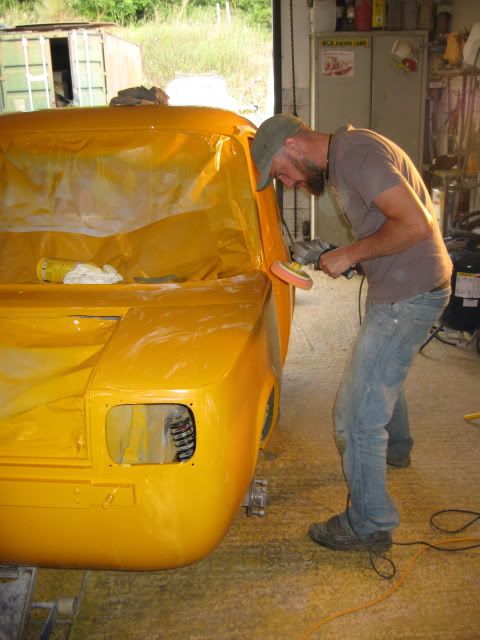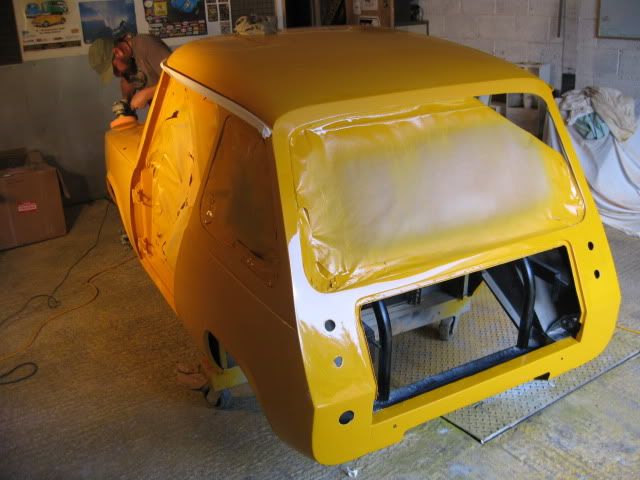 At Webster's race HQ the Flux Cap has had the adjustable four-link rear suspension, Ford 9-inch axle and twin motors (bolted inside a cradle) refitted. Oh, and then there's the propshaft. I say 'propshaft' because it's the shortest one Webster Race Engineering has ever ordered. Or seen.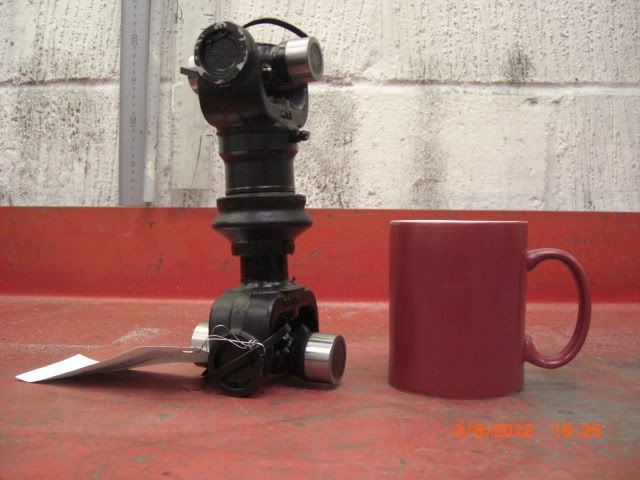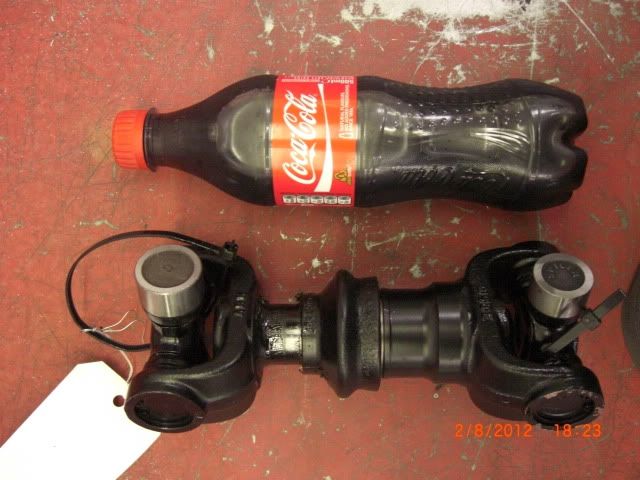 You can see from these images that it's about the same length as a bottle of tooth rotting Cola. It is definitely longer than a mug of tea, though. So the tube of metal that carries the power straight from the motor to the back axle is just six inches long. Less, if you take into account the universal joints.

What else? Well the handbrake now works, as the rear drum brakes are hooked up. In fact the only thing I've got left to sort in the braking department are some decent front discs and calipers. Easier said than done, as the car is such a bastard child of British car parts bins.

The tinware over the back end is all painted satin black to match the roll cage, and riveted in place. In terms of its shape, it's hardly any different to the original vinyl-covered panels of the factory original Enfield.

BACK ON ALL FOUR SLOT MAGS
As of now (4/10/12) the Enfield is back rolling on all of its wheels. I hauled it back onto a trailer and tugged it in the Evoque from Webster Race Engineering back Roadhouse Retro. Now they're fitted up, don't the rear wheels look massive? You'd never guess they were 14s. The front suspension looks high in the pics, but that's because there are not yet any batteries fitted. All in good time!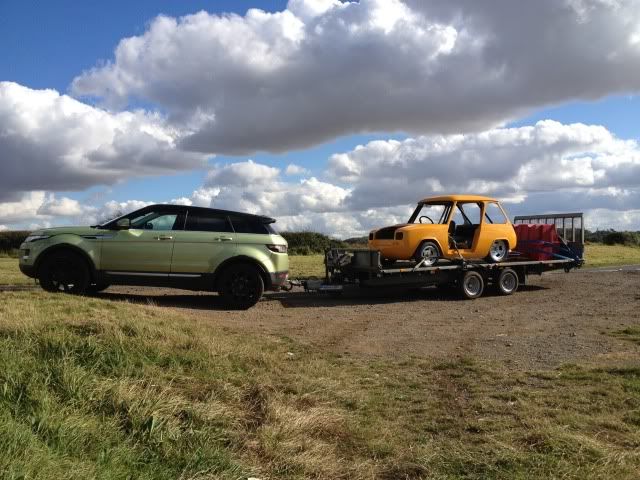 It's looking pretty hot rod now, right? That's my hope.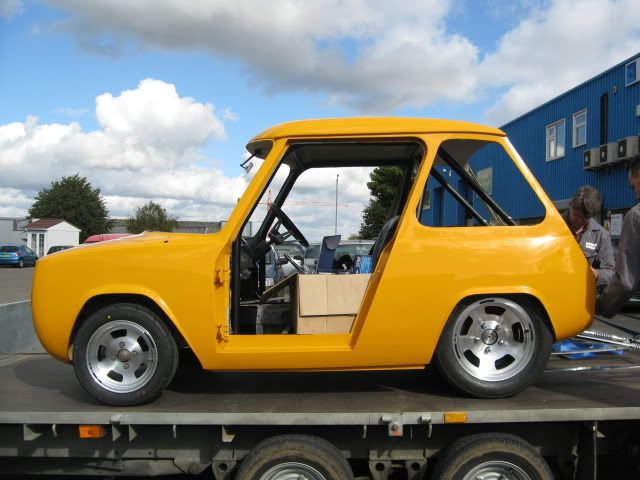 Over the next few days Tim will finish spray fillering and painting the doors, bonnet and bootlid to then refit them.


Then I'll collect the glassfibre replica bumpers to fit (I borrowed a pair of original steel bumpers from a chap with this totally stock Enfield he uses weekly – more on this soon) and bolt up the lights.

In other exciting news we've just received a parcel with the Enfield's replacement glass in. Only it's not glass. Thanks to motorsport glazing gurus Plastics 4 Performance, each original pane of glass on the car has been replicated in high quality scratch-resistant Lexan. This is not only lighter than glass, but safer if something very bad and accident-like were to occur.

So yeah, it's coming together now. It's starting to look like a midget weapon. Once again, I wouldn't be able to get this far without the support of Adrian Flux Insurance and Red Maple IT Consultants. Cheers guys for being as smiley and optimistic as me...

Nemesis
Congrats to Dale Vince and the chaps behind the Nemesis EV. An average speed of 148mph is nothing but impressive for a leccy chariot, and apparently the needle will hit 100mph in 8.5 seconds. Gulp. Let's get it on the quarter mile drag strip and see what it will do, then I've got a bench mark with which the Flux Capacitor needs to try and beat. I think I'll have my work cut out.

The Nemesis looks to be road legal and based upon a Lotus Exige. It recharges via Ecotricity's wind turbines in Gloucestershire. It uses twin 125kW motors and is powered by 96 x 100 A/h 4.2 V pouch lithium polymer cobalt cells. The cost? Under a million pounds. Crikey. My budget is quite a bit smaller.

For more info on the intriguing Nemesis project click: http://www.ecotricity.co.uk/about-ecotricity/eco-labs/nemesis

Now in TechniColo(u)r
Bye bye crap home-brewed blue paintwork, hello yellow. Actually, the Flux Cap has not been gunned over in a straight-forward yellow. It's an orangey yellow. Officially speaking Lambretta scooter Yellow Ochre (Giallo Ossido) – a colour used predominantly on GP models throughout the 1970s.
So it's a period hue, and it's actually not dissimilar to one of the original colours offered on Enfield 8000s when new…. as this arty promo photo shows.


Working tirelessly on prepping, spray filling and priming the 'shell, Tim at Roadhouse Retro (www.roadhouseretro.com) has really gone above and beyond his call of duty to ensure the bodywork is arrow straight and ready to stand the test of time. The worst bit was that less than 12 hours after he'd painted the car, a fire broke out in the industrial estate unit next to Tim's.
I got the call the morning after a particularly heavy stag night. 'You heard about the fire at the units?' I thought he was joking. By sheer miracle the fire was controlled before it hit Roadhouse Retro. The Enfield was literally feet away from getting fried - fresh paint and all. Phew. Massive relief.
Before the exterior could get sprayed, Tim fired some satin black 2-pack around the re-engineered back axle area and rear wheel tubs. Then the headlining was carefully masked up (I didn't want to remove it and risk it getting damaged) so Tim could paint the roll cage in black. Detailing takes time, but it's always worth it.
Ultimately, the project has got behind because of several factors, but I couldn't bear to cut corners and rush it. I'd rather not do it at all. The Enfield has to raise a smile, but also show people that every area has received attention. Equally, it's important to me that people see that almost all of the body (and much of the chassis) is still as the factory intended.
Rim refurb

It's not been butchered into a pure race car, but rather sympathetically altered. It's a EV hot rod, and as British as I can get it. Talking of which, the (British) Wolfrace slot mag wheels were sent off to be refurbished by Wicked Wheels (
www.wickedwheels.co.uk
). They collected them from my front door and turned the whole set around within a week, with results that blew me away.
The CNC-machined finish has made me think twice about ever risking putting them on the car – I want to lick them and mount them over my fireplace. Much better than bloody horse brasses and worthless porcelain ducks.
From here the Enfield will soon go back to Webster Race Engineering to have the (powdercoated) Ford 9-inch back axle fitted, and the twin motors. I'll then take it straight down to Olly Young at Current Racing (he's the bloke who built/owns the world's fastest full bodied EV) to start the battery build.
It's going to be down to the wire to get a proper shakedown run in the Flux Cap before winter, but I'm going to do all I can to achieve it. Just got to sort the problematic front brake caliper/disc situation and choose the right batteries.
A owe a lot of people big thanks for their interest and enthusiasm with project Flux Capacitor. It seems to be striking a chord across a cross-section of people, car nuts and otherwise. Me? I'm enjoying every single minute.
That Bloody Grille
When I bought the Enfield some bright spark (the previous owner) thought it wise to bolt the rad grille of some '90s Rover to its nose.
Understandably horrified, when I dropped it off at Webster Race Engineering me and Jon Webster took the responsible role of taking the orrible thing off and showing it the pedal bin. We did this back in March but I lost the pictures.
I Hate That Blue Paint
It was time to collect the Enfield from Webster Race Engineering and begin stripping the bodyshell of 30-odd years of paint, filler and primer. Webster had finished everything bar the front brakes.
They'd fitted new hard brake lines, fabricated a new master cylinder reservoir and plumbed in a Moroso line-lock. The latter is for gripping the front wheels when you want to warm the rear rubber. A big naughty smoky poetic burnout.
The paint and bodywork was going to be taken care of Tim at Roadhouse Retro (www.roadhouseretro.com) in Stamford. He's a good mate and is not only immensely talented, but also has such an infectious passion for the history behind each old car that passes through his workshop. The craftsmanship he did on my '73 Ford Taunus coupe and '68 Charger were second to none.
The Flux Cap was put on a dolly, as the back axle still hadn't returned from the powdercoaters. This was a blessing, as it'll be easier to paint the newly fabricated rear suspension and chassis mods.
With the weather baking hot, we decided to crack on with paint removal. As opposed to using solvent based chemicals, I decided to try stripping using a soda blaster. Borrowed from FROST (www.frost.co.uk) the blaster connects to a compressor and basically fires out bicarbonate of soda powder from a nozzle.
It's no harm to lungs or the environment, which is why I was happy to blast away outdoors. Although breathing apparatus and a cap for your head is recommended. Once I got in the zone, the soda blaster seemed perfect at bringing back the bodyshell to its pure bare aluminium skin, especially in the creases where a conventional sander couldn't reach.
You can see from the pics that I'm doing the gutters and panel creases first. Because the whole bodyshell was hand made from aluminium we're finding where all the joins and rivets are. There's a fair wad of filler in places, and I've unearthed some holes in the sill but we're hoping that the big strip goes smoothly. The sooner that NHS blue paint disappears the better!
Hell, even that (totally obsolete and totally priceless. Probably) windscreen came out without drama.
EV MUSCLE
The humble little Enfield EV has been down the gym and it ain't so humble anymore. Yes, it's still short, but now you're looking at an electric muscle car in the making. Well, hopefully.
There's a saying 'Short man syndrome' which, perhaps rudely, suggests some height challenged blokes make up for their stature with a bag of steroids. Or just the 'I'll take you all on' attitude of a Jack Russell.
Whilst it might still have standard bodywork, this 'lil Enfield could hopefully become a force to be reckoned with when we hit the drag strip. We shall see.
Last week I paid a visit to Webster Race Engineering to see how she was progressing, but more specifically to get measured up for a race harness. As I'm trying my damn best to keep the main car as original as possible, we're intending to keep the original black vinyl low-back bucket seats.

The trouble is they are mounted quite high in the cabin, because originally there was space beneath both seats for some of the electric control units. As the controller I'll be using is more modern, it is smaller, and so I'll probably be mounting it under the bonnet or dash area.

The latter has a huge slab of space under it doing largely nothing! I'll talk more about the seats in a future blog, as my brother Greg at is currently trying to half the thickness of padding in them, to make them more suitable. They should look original, but will mean you don't hit your head on the roof with a helmet on.
MOTORING AHEAD
As mentioned in a previous blog, the Flux Cap is running a twin motor set-up, where one motor runs into the other, with a direct drive propshaft out the most rearward one.
With the original chassis carefully modified to accept the bigger motors, it was time for Webster Race Engineering to fabricate a framework to carry the motors and be mounted/removed from the car as one.
The motors weigh 60kg each, so the twin set-up tips the scales at 120kg (excluding the metal cradle). Who said electric muscle was light? That's still light compared to a combustion engine though.
You can see from the pics what the motor rack looks like on and off the Enfield. There has been a subtle extension of the trans tunnel too, but with carpet over it you'll never know.
REAR RUBBER
You can see from the pics that the rear axle and four-link suspension is all mounted but still bare steel. This is called a dummy build, as it will shortly come off to be powdercoated.

Because of the tiny space under there, the (Avo) shocks are mounted in front rather than behind the axle. The wheelie bars connect from underneath the axle tubes and can be unbolted for trips to Waitrose.

The 14x7J Wolfrace slot mags are now well tucked under the standard back arches. They are wearing the best 14-inch tyre we could source for the purpose: Nitto Extreme NT555R drag radials in 205/55/14s. These are street legal treads for weekend drag racing guys, basically. I've heard good reports. We shall see.
The front tyres I've yet to source, so if anyone has any performance orientated 12-inchers to recommend I'm all ears.
ANCHORS
The Ford 9-inch rear axle has got matching drum brakes fitted, which only just clear the slot mag 14s! As for the front end, I've binned the original Mini drums and have some tasty Tarox calipers/discs on order from Italy.
There's not really any option to put a servo on the master cylinder, because there's no engine to produce vacuum assistance.
Next up? Finishing the brakes. Need to fit line-lock on the front anchors for burnouts. Very important indeed.
RIMS
Wheels make or break a car. My zero emission hero needed appropriate rims, but it was easier said than done due to the sizes required not being in huge demand these days.

The trouble is, we needed to bin the 10-inch originals for 12-inch front and 14-inch rear wheels. That meant most styles were either for old Minis (going up to 13-inch) or most other styles didn't stoop as small as 12-inch. Bummer.

A big thanks to Bling Rims and R Tec for their efforts, but ultimately barely any brand new wheels could fit the bill. I decided to go old school and secondhand.
Delving into British alloy wheel history was the solution. The classic 41-year old Wolfrace slot mag design was not only era perfect for the Flux Capacitor, but lightweight. Oh, and I managed to easily find a pair of 12x5s (in Bristol, for £50) and a pair of deepish dish 14x7s (in Coventry, off the front of a Trans-Am, £100). So seventies, but so yum.
These immediately went to the workshop to be measured and fitted up. Webster Race Engineering needed them to set the suspension level and rear axle width. This side shot shows the final stance, with a pleasing amount of rear arch tuck.
When the body's in paint I will have them refurbished by Wicked Wheels (www.wickedwheels.co.uk) because the job they did on my Lotus Eclat rims was absolutely mint.
Hello Motor(s)
It's a bit odd trying to constantly remind myself that we're putting together this hot street/race car, with tasty hot rod stuff like a custom narrowed back axle, roll cage and dropped stance. And yet...
...it will never have pistons. Or exhausts. Or valves. Or a distributor. Or a carb/injection. Or radiator. In fact, the core components of electric cars amount to very little.
The way you have to train your brain is to imagine that the motor is the engine, while the batteries are the fuel. So here, then, is the Flux Capacitor's new 'engine'.
Fresh off the pallet from Olly Young at Current Racing (www.currentracing.co.uk), this is known as a twin 9-inch set-up. A pair of 9-inch diameter motors, with one connecting the other via an input shaft. The motor mounted closest to the back of the car will then have a small universal joint bolted to it, which connects to an even tinier prop shaft.
Total cost of these two 9-inch race prepped leccy motors, together with their Helwig carbon split brushes and silicone insulation? £4440. They are DC series motors, modified to cope with 2000 amps at 170v with a maximum revvage of 5500rpm.
The decision for this motor came about through a combination of tried/tested knowledge and cost - the latter getting quite horrific when you realise that I could have easily spent £24,000 on the very latest liquid cooled motor.

As you know the Enfield isn't long, and because the chassis has been adapted to carry this twin motor set-up, the prop will be positively minute. As per the original, the Enfield will be direct drive, so no gearbox to faff about with. When the throttle is pressed, the motors will shove torque straight into the axle, hence why said axle has been built to cope with 1000lbft of twist.
Granted, they might not look as sexy as a supercharged V8, but they should be as quick. A part of me hopes that in a few years EV motorsport will be well respected enough for blokes to point at leccy bits like this and grunt with appreciation. If you squint, you might see the AA battery we've put in the photos to show a sense of scale...
18/06/2012
We're getting closer. The Enfield is starting to look more Hot Wheels than cold custard.

It's hard to believe looking at these pics, but we've tried to keep the Enfield as close to its original design as possible. Take the rear suspension for example - it started off as a solid axle with a four-link system.

Now? It's still a solid axle with a four link set-up, albeit much more heavy duty. The rear axle is now housed by a tubular steel frame that's tied into both original chassis and roll cage.
Equally, the twin motors will be living in the same space occupied by the original motor - inside the transmission tunnel. This has been widened to accept the fatter motor casings, and more serious mountings were advised. And let's forget the motors are still direct current (DC), just like the original was.
I showered my keyboard with coffee the first time Webster Race Engineering emailed me the wheelie bar photo. It really made me grin. Whilst cool, they are removable because they won't be relevant in short road commutes (might take out a cyclist or two - not on my agenda).
The wheelie bars mount underneath the axle and can be adjusted to control how much the front lifts under full acceleration.
The gap behind the front seats is ultimately the same shape as it was in factory spec, but now Webster's have fabricated metal panels over the axle, as opposed to wood and black vinyl. I have to take my digital hat off to Jon and the team - they don't just talk the talk.

I am doing all I can to keep the interior rock stock, so the low-backed vinyl seats (immaculate headlining and steering wheel) are staying. You can see where the roll cage crossbar tucks tightly behind the seat backrests, whilst race harnesses will be mounted to the vertical cage bars that run down to the back axle.

This old black and white photo shows what a bare Enfield chassis looked like before the aluminium body was dropped on. The area under that rear kick-up is the only part to get surgery. Everything else on the Flux Cap is structurally sound and deemed ok to remain. As I probably said before, it's a surprisingly well-built little thing.
14/06/2012
The Enfield started surgery at Webster Race Engineering back in April.
 
By this point Jon Webster and I had discussed at length how I wanted the Flux Cap to sit, look and what would be required in order to make it as stable and strong as possible on the quarter mile.
 
I didn't want people to think I had simply lifted the body off and plonked it onto a custom race chassis.
 
This was more about sympathetically modifying the original car and butchering as little as possible.
Before they could start carefully cutting up the ECC 8000, it had to be stripped naked. Well, partially naked. Luckily there's not a lot to it and all of the mods would be taking place at the back end (behind the seats).

Out came the original eleccy 8hp motor, drive coupling and spindly Reliant back axle. The original wiring for the lead acid batteries was never going to be re-used so that got introduced to the bin.
Once on the axle stands you can clearly see the square-section tubular chassis through the rear arches.
 
The first task was to start cutting away the chassis structure to allow space for the custom Ford 9-inch race axle and its respective mounting.
 
The existing box chassis could then be married with the axle housing and the all-important roll cage.
05/03/2012
Bar looking at the work of the Black Current EV Beetle and White Zombie EV Datsun, I wasn't really sure what motor(s) or batteries would work best. The main issue here is cost, because there are some outstanding electric motors out there, but you can easily spend £25,000. I didn't have that.
Several dozen emails ping-ponged to and fro with Olly Young - the guy who owns, designed and built the Black Current EV Beetle. He soon realised that I was serious about attempting to make the Enfield properly quick.
It was important to have the support of Current Racing, because Olly and his brother have the world's fastest EV. They have done over six years of R&D with trying to make a 'leccy chariot run hard up the 'strip', which would kickstart my project.
Olly agreed to help and it was decided that Current Racing would be the best guys to assemble my motor. Or should I say motors. More on the motor spec very soon, but, as we speak, the motors have been modified and sent off to Webster Race Engineering...
22/02/2012
I collected the Enfield from its shed in Bristol.
 
It had at least two flat tyres and, despite having no batteries, was still ruddy heavy.
 
Big shout of gratitude to Top Gear magazine's Tom Wookie Ford for lending me his big red Hilux. I don't think it noticed the extra load.
I drove straight from Brizzzzzol to see Jon Webster at Webster Race Engineering in Rushden, Northants. W.R.E are about the best drag race car builders in Europe, and I just wanted to let Jon see it and gauge whether he thought I was mentally ill.
He's a quiet bloke anyway, but after walking around it with a tape measure for 10 minutes, he looked up and said 'Yeah, it should work.'
Rear wheel drive?
Check.
 
Four-link rear suspension?
Check.
 
Fairly strong chassis?
Check.
 
Ability to locate motor/batts low down?
Check.
 
Having seen the automotive weaponry he turns out, Jon will be entrusted to perform the main chassis, steering and suspension part of the car. Oh, and the roll cage. I don't fancy going for a tumble in the Enfield at 100mph. It was only designed for 40mph.
Why Bother?
People have long lavished time, cash and polish on classic petrol powered cars, so I think it's time retro EVs deserve the same pampering.
Electric car ownership is totally new to me. I nearly bought a mk1 Honda Insight hybrid recently, and used to daily drive a chip fat-powered Mercedes diesel, but that's as close to alternative fuel as things have got.
The essence of this project is about resurrecting a forgotten EV underdog and giving it some 21st century hot rod inspired treatment, but with tongues in cheeks. It's all about taking an unlikely contender - an automotive Rocky Balboa - and turning it into a pint-sized zero emission hero.
I fancied building a hot rod electric car a while back, but rather than convert a piston-propelled relic, why not remind the world that EVs aren't a new invention?
Sure, they've got prettier, more efficient and less laughable, so I figured now was a good time to sprinkle some hot rod dust upon an unloved EV. Some cars were born for no other reason than to make people laugh.
The Flux Capacitor is as much about celebrating Great British eccentricity as it is pushing zero emission boundaries. In effect, it is taking retro to the future.