Because it was designed to live in the urban jungle and never travel beyond 40mph, the Enfield 8000's 7-inch (non servo assisted) drum brakes seemed perfectly satisfactory in 1974…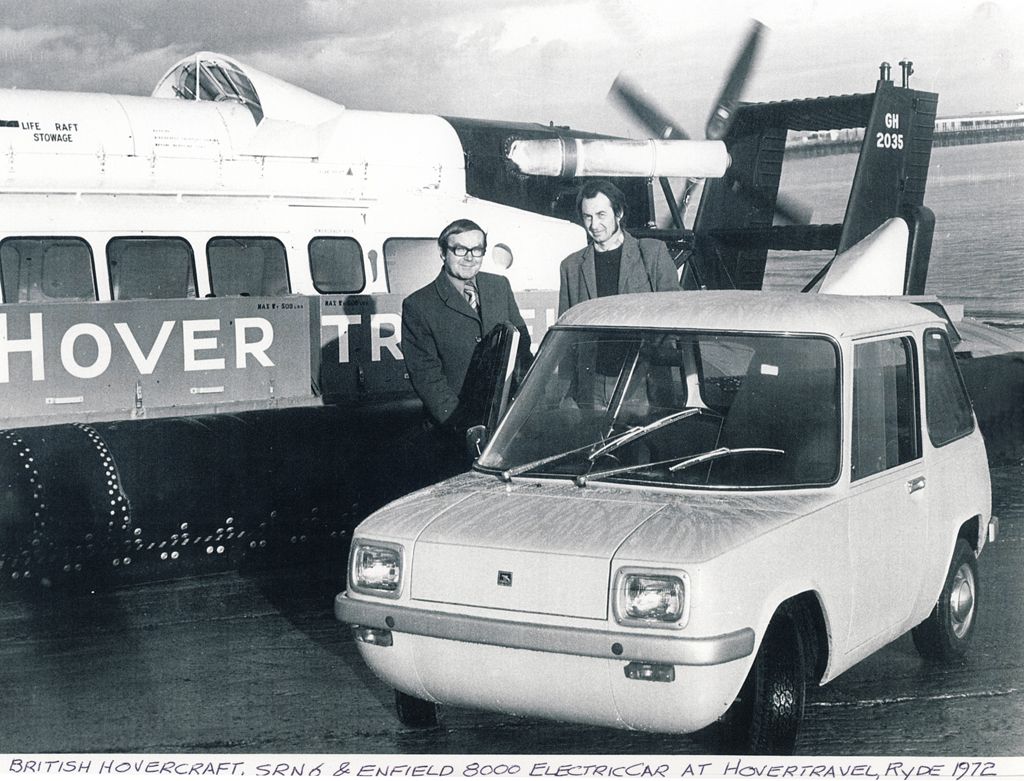 …but they were never going to be too useful on my Flux Capacitor project. For although it will weigh significantly less than the lead-acid batt laden 975kg original, mine will probably be crossing the quarter mile drag strip finish line north of 100mph. And then you have to stop the thing before you run out of road.
The Enfield's 7-inch rear drum brakes had already been binned when Webster Race Engineering remodelled the rear chassis to fit the new custom built Ford 9-inch race axle. This came complete with beefy drums capable of stopping something made in Detroit weighing closer to two tons. Pretty substantial, then.
The front end was a bit more complicated. We saw no reason to seriously alter the Hillman Imp front wishbone suspension, as it is strong and easy to set-up since fitting the AVO adjustable dampers/springs.
The problem lay with the fact that Hillman Imps were never fitted with disc brakes, and we needed disc brake stopping power up front. I don't know when the last time you looked, but there aren't many rear wheel drive cars in the world that have 10-inch wheels.
After dismantling the hub assembly and doing weeks of head scratching (pretending to know what to do), I was put in touch with performance brake gurus AP Racing, who loved the Flux Capacitor and were happy to get involved upgrading its anchors.
AP is a name that can be found on many race cars throughout the world, and what those guys don't know about stopping isn't worth worrying about. AP expert engineer Kevin McDonnell then discussed my project at length with one of their distributors BG Developments.
I have to take my hat off to BG Developments (01527 873716) boss David Fuller, who really went out of his way to help. Based in Bromsgrove, these guys specialise in custom machining or restoring older car brake systems. Back in time they were charged with building the brakes on Ford's original GT40s, and not long ago were recommissioning the anchors on Tyrrell's ground-breaking six wheeler P34 Formula One car. 
BRAKE BUILDING
David asked me to post him a wheel, the hub and stub axle assembly – then give him two weeks. Sure enough, a fortnight later BG Developments had created something truly amazing. David personally drove the parts to my house and we sat down over a cuppa to admire a disc brake conversion that was so pretty it was almost a crime that most of it will forever be hidden behind a wheel.
So how did BG Developments make a disc conversion from scratch for an oddball car with small wheels (albeit upgraded from 10-inch to 12-inch front rims)? Simple really. They machined up bespoke 267mm x 10mm cast iron disc rotors, as milling down an existing disc wasn't an option – as nothing came close in size.
Then using CAD BG drew out a bracket for where a caliper could mount onto the disc, which was then CNC machined out of aircraft grade 2014 T6 aluminium and anodised to match the caliper.
In my case BG used an AP Racing caliper usually found on the front of a Caterham – monoblock aluminium with lightweight piston. This was then carefully machined down in places to clear inside the 12-inch Wolfrace Slot Mag wheel.
And then to my favourite components – the featherlight CNC machined caliper mounts. These took three CNC operations to complete, each one 6 minutes. Where the bracket bolts to the caliper is where things are manually machined for clearance and shape. It's beautifully detailed, and somewhat upsetting that these bits are hidden from view when they're bolted on.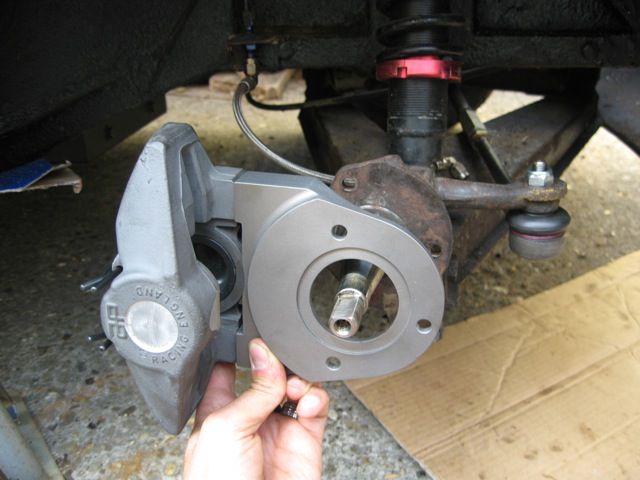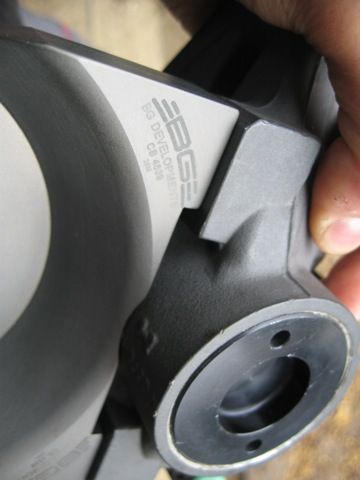 I am proud to report that all of the brakes were designed and built in Great Britain. Hurrah.
DISC FITTINGÂ 
As I was mid-house move during this part of the project Tim Glover at Roadhouseretro (who did the Enfield's body, paint and reassembly) let me fit the disc conversion at his premises. It was the perfect chance to photograph the little 2.84-metre yellow peril next to Cadillac land yachts.
Against a backdrop of rockabilly music and Tim's perverted dogs, I set to work fitting the disc kit fresh from BG Developments. The side which I had had to remove the stub axle (to send to BG) needed new bolts, but these were quickly sourced through local fastener firm Welland Supplies.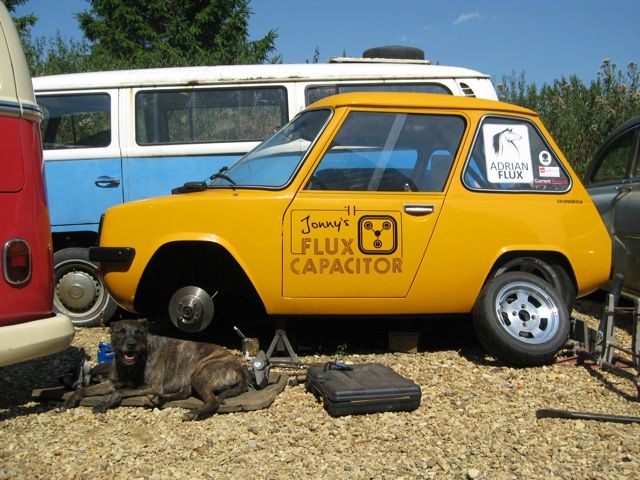 I don't fancy having worn steering components when racing at 100+mph, so decided whilst the track rod ends were disconnected I'd investigate a possible upgrade. I'd read on a few forums that the original spindly Hillman Imp rod ends could be upgraded to fully adjustable beefier Ford Fiesta items, so ordered a pair from Imp guru Malcom Anderson (who happens to live 5 miles from where my parents live). You can see the difference in size here.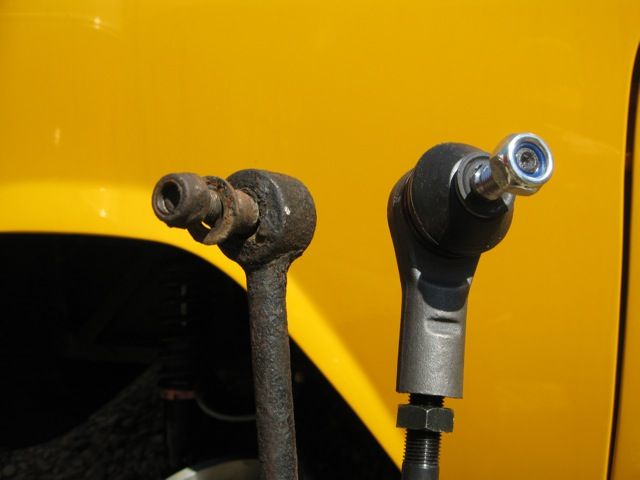 Once the stub axle was back on, the custom machined backing plate could be bolted to the three existing holes in the stub axle. It looks like an original factory upgrade.
Then the hub could go back on (with regreased bearings), including the original Enfield speedo drive.
The disc goes over the wheel studs and locates onto the hub with two countersunk screws.
The caliper simply connects to the mounting bracket with two allen bolts, with the Ferodo racing pads located in place with a pair of simple spring slips.
The whole job was done within an hour, helped by the fact all disc conversion parts bolted up like they were factory fitment.
BG Developments managed to squeeze the biggest caliper they could inside the 12-inch wheel, and they weren't lying. I've had to remove the stick-on balancing weights from inside the wheel rim as they were fouling the caliper!
Next week I'll explain how we had some glassfibre bumpers moulded for the Flux Capacitor, the sticky front tyres I'm using and the mammoth rewiring job for lightness and LED lights.
Thanks for reading and thanks again to the Flux Capacitor's sponsors Adrian Flux Insurance, npower and Red Maple IT consultants. Without them I wouldn't have got this far…